Groundbreaking, start of work on dams is big achievement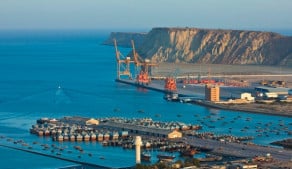 ISLAMABAD:
Work on the China-Pakistan Economic Corridor (CPEC) has picked up pace in the past few months.
We have seen a series of groundbreaking ceremonies and inauguration of completed projects. While every institution is playing its role and deserves appreciation, the real change can be attributed to the CPEC Authority.
The authority has given a fresh impetus to activities and streamlined the work. Though every project is important, the groundbreaking and start of work on dams is the biggest achievement.
Dams will help Pakistan to enhance its storage capacity, which is only 11 million acre feet (MAF) at present. It is lower than the required capacity and can only meet demand for 30 days in case of any emergency.
Estimates suggest that during the period of 1980-2010 Pakistan lost 1,049 MAF of water due to a lack of storage capacity. It was equivalent to 10 years of canal water withdrawal in the country.
Dams have a multiplier effect on the economy in the form of cheap electricity for households and industries, food production and a sustainable flow of water throughout the year. Under CPEC, work has also picked pace on the Special Economic Zones (SEZs), Gwadar Port and many social development programmes.
SEZs are the key to materialising the dream of industrialisation. We have witnessed the inauguration of SEZs and acceleration of work on different SEZs. However, there is a need to do a lot more for operationalising the SEZs, especially in terms of policymaking and incentive packages. The business community makes investment decisions on the basis of policies and incentives.
The other critical area is to create backward linkages with the SEZs. Such linkages will be a source of livelihood for many and help to tackle poverty in the respective areas. For instance, the Rashakai SEZ can create business opportunities for the newly merged districts of Khyber-Pakhtunkhwa. It will help tackle poverty and promote peace through improved economy. The Gwadar Port and Free Economic Zone there have also switched to a faster mode. Gwadar Port has started operations and is facilitating transit trade with Afghanistan.
The transit trade through Gwadar is a step towards regional connectivity and beyond. The government has also announced a special incentive policy for the Free Economic Zone, which will attract investment in coming days. Work on eco-tourism along the coastal line is also in full swing.
Social development projects have also got a fresh impetus. China has already extended $300 million for different programmes this year. It is worthy to note that $100 million has been diverted to agriculture to meet urgent needs of the sector. The areas of housing and healthcare have been offered $100 million each for meeting basic needs of people. The assistance is part of the overall social development programme under CPEC.
However, the government needs to be mindful that all such work will also attract criticism. Opponents of CPEC will try to hinder progress and slow down the speed of project implementation.
A new wave of criticism on dams may start in the name of environment and water rights. Although Pakistan has developed a mechanism for water sharing, such matters will be raised for public debate. Thus, the government needs to be vigilant and work on these lines too.
It is advisable that all the political parties should join hands for a successful implementation of CPEC. The government will have to play the prime role by devising a mechanism for building consensus.
It can consider creating a CPEC planning and execution group comprising representatives of all political parties. The key job of the group will be to steer the decision-making and implementation process.
Second, the government should devise an engagement strategy to counter propaganda. The engagement strategy should not be mixed with the social media strategy and marketing strategy.
Third, the government should gather real-time and verifiable data and disseminate it among all stakeholders. Besides, it should seek suggestions based on facts and in line with development needs of the country.
The writer is the Director of Asia Study Centre, SDPI
Published in The Express Tribune, August 10th, 2020
https://tribune.com.pk/story/2258767/new-wave-of-progress-under-cpec?amp=1