AXIOS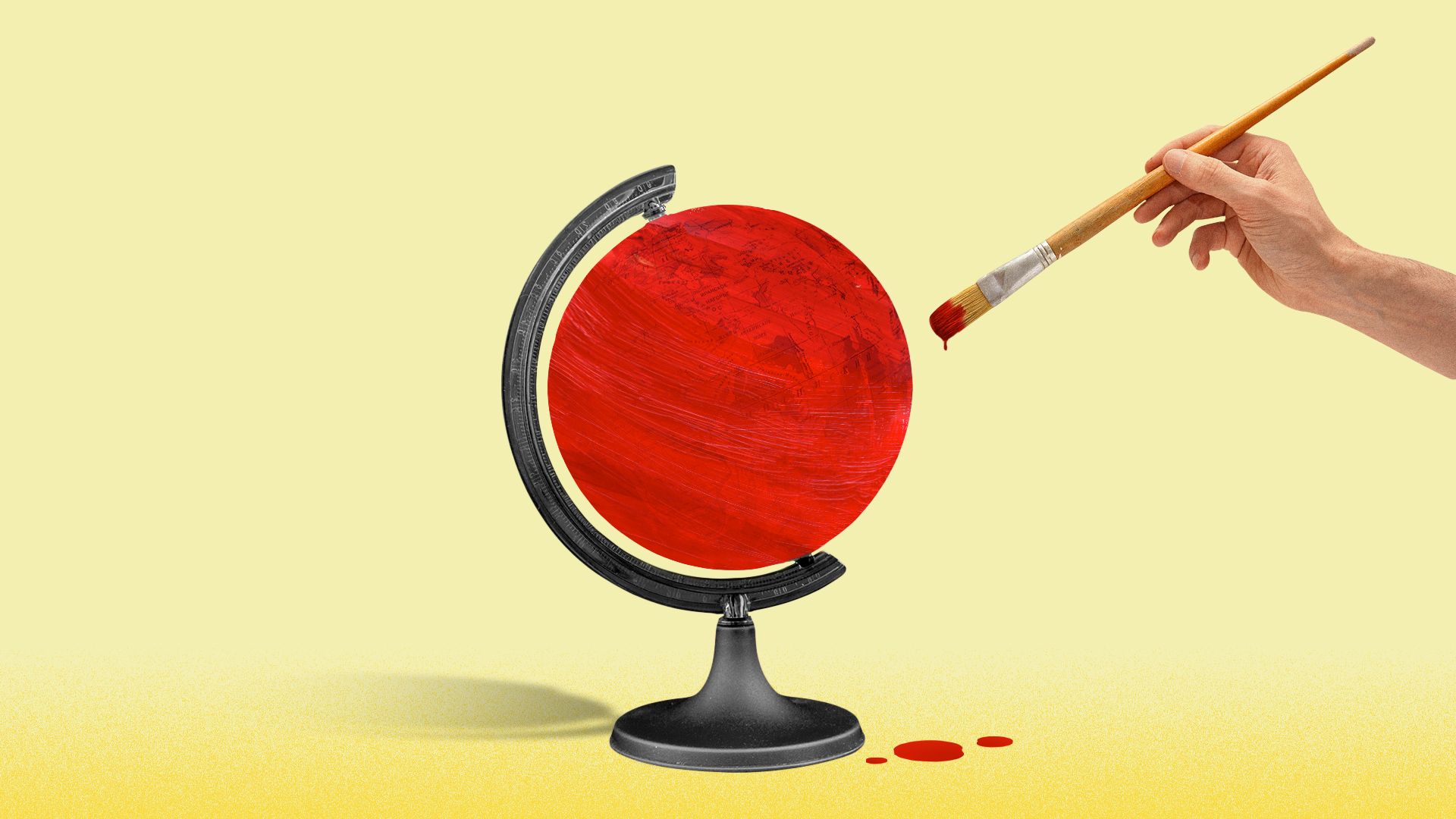 Illustration: Aïda Amer/Axios
With the U.S. paralyzed by political gridlock and western institutions stagnating, China is positioning itself as the primary architect of new power structures in the 21st century.
Why it matters: If the U.S. continues to anger allies, withdraw from global institutions, and ignore much of the developing world, in 20 years it may wake up to find itself resigned to a small corner in a world defined and dominated by China.
Chinese President Xi Jinping's sweeping vision — the Belt and Road Initiative (BRI) — puts China at the commanding center of global economic and geopolitical relationships.
Between the lines: The BRI is strengthened by Beijing's efforts to co-opt the World Bank and other institutions and to interfere in the politics of democratic countries like Taiwan and Australia. Its ultimate goal is the "creation of an alternative world order," says Nadège Rolland of the National Bureau of Asian Research.
Details: Beijing's strategy is readily apparent in...
1. The global economy: As the world's top exporter, Beijing economic heft is acutely felt.
2. Tech and telecommunications: The global showdown over the future of 5G has only just begun, but it's clear Beijing views Huawei's position as global 5G leader as a key geopolitical strategy.
3. Scientific research: The Chinese government has poured hundreds of billions of dollars into research and development, with the aim of becoming a global tech superpower.
4. Military: Chinese military power in East Asia is approaching parity with the U.S., and China is constructing or leasing military bases for its own use around the Indo-Pacific.
The bottom line: China's power and leverage with nations around the world is at a new level. Some of the Chinese-led power structures are obvious, some are hidden from view, but all are shaping the world on a grand and long-lasting scale.
Go deeper: The global economic threat of coronavirus (Axios)