The G-7 initiative to counter Beijing's infrastructure diplomacy can't end up as a bridge to nowhere. Here's what it should look like.
By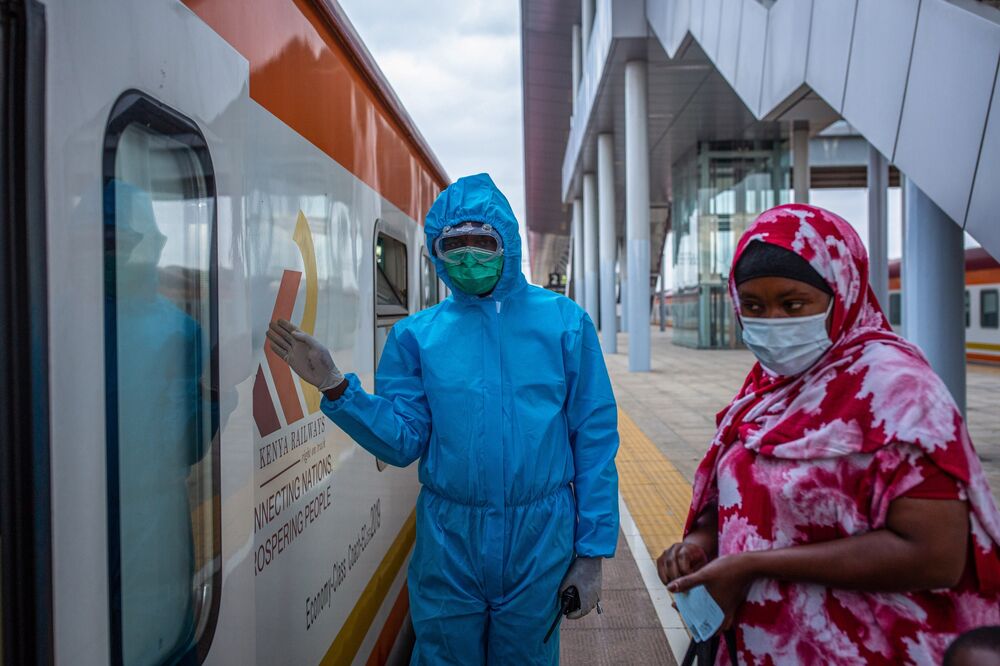 There's good reason to be skeptical about U.S. President Joe Biden's plan for an alternative to China's Belt and Road Initiative, the infrastructure-building bonanza that Beijing uses to expand its global clout. Sure, the Group of Seven nations committed to the idea last month, calling it "Build Back Better World," or B3W. But that's no more than a start. Success will require a focused program outlining what to build, how to pay for it, and how to convince needy nations to sign up.
Unfortunately, such details are in short supply. Fiscally stretched by Covid-19 outlays, the advanced economies can barely afford needed infrastructure at home, let alone splurge on roads, bridges and telecom networks in the far corners of the earth. Even the Chinese have been scaling back lending to developing countries in recent years, possibly a result of deleveraging pressure at home and too many troubled loans abroad. It's tempting for the West to hope that Belt and Road runs out of highway entirely on its own.
But betting on China to fail isn't a strategy. The Western powers need to realize they are entering a prolonged period of competition with China, and that requires a renewed commitment to global action. B3W could be an important part of a revitalized agenda. Not only is it a smart way to contend with rising Chinese power — without direct confrontation — but could also help the creaking U.S.-led global economic system prove to the world that it can provide prosperity well into the future.
China has left the door wide open for a Western resurgence. The poorly planned Belt and Road isn't the high-minded model of sustainable development Beijing says it is, but a boondoggle for Chinese business. In some cases, poor countries have paid the price. The program has suffered from too many ill-conceived projects — from a railway in Ethiopia to a highway in Montenegro – that have left governments unable to pay back their Chinese loans. Research outfit Rhodium Group figured that as much as a quarter of the money China has lent overseas has had to be renegotiated.
That offers opportunity for Biden and his friends to promote B3W as a source of financially sound, high-quality and well-organized infrastructure. They can capitalize on the long experience that their development institutions and programs, such as the World Bank, have had vetting, planning and financing infrastructure. The rich donor countries have also designed wise guidelines for lending to governments of low-income nations (albeit after much painful trial and error) to help prevent them from amassing unsustainable debt. This isn't to say that the Western institutions are infallible; far from it. But they have at least learned from previous, often tumultuous, experience with debt crises and other controversies.
Of course, a better-designed project also comes with stricter conditions and controls, and that's often been seen as a disadvantage versus Chinese-backed efforts, which, though not exactly "strings-free" as widely perceived, don't get overly hung up on labor rights, debt dynamics and other pleasantries. But the West's more stringent methods may actually be a selling point. A recently released survey of nearly 7,000 leading figures in the developing world by research lab AidData revealed that the respondents preferred programs with greater transparency on financing, stronger environmental and labor protections, and tougher measures to combat graft. To appeal to such sentiments, B3W should be promoted to a wide swath of society in borrower nations – NGOs, legislators, and the taxpaying public at large – to woo support and increase political pressure on governments to make better choices.
This suggests that B3W's success will depend as much on marketing as money. The fact is that the Western world is far from stingy. According to data compiled by the Global Development Policy Center, China's two main state-owned policy banks – the Export-Import Bank of China and China Development Bank – extended $462 billion in financing to foreign governments and state-owned entities between 2008 and 2019. A huge sum indeed – but still $5 billion less than the World Bank lent over that same time period.

More resources would be helpful. The White House intends to mobilize private capital to minimize B3W's burden on strained fiscal budgets – a good idea. But existing development spending can also be reoriented toward more physical infrastructure. An analysis by the Council on Foreign Relations makes the intelligent point that the Western powers don't need to match Chinese largesse, but should target resources where they have an edge, such as technology.
Biden can also make the program more attractive by making it more inclusive. Though China's project managers do share the pie with locals, Belt and Road doesn't live up to Beijing's broad claims of international cooperation. Chinese companies overwhelmingly benefit, shoving other firms to the shoulder. B3W can distinguish itself by being as open as possible to companies and workers, international and local. This would help build support in the borrowing countries, and likely bring greater expertise and top technology to the projects.
Such inclusiveness is key to this superpower contest. Beijing uses Belt and Road as a tool to tie developing countries to its economy by reorienting trade toward China and entrenching its own technologies in foreign markets. China also hopes the money can purchase political influence – and there are some indications it has. In a recent interview, Imran Khan, prime minister of Pakistan, a major Belt and Road recipient, acknowledged that he is silent on the treatment of minority Uighurs in part because China is an important economic partner.
B3W could reaffirm economic bonds between the advanced democracies and the developing world, and keep these markets open to Western business. But most of all, it would be proof that the U.S. and its allies can continue to lead in positive ways. Rather than just criticizing China and its initiatives – Belt and Road has been derided as a "debt trap" – Washington is more appealing when proposing real alternatives reflecting its ideals. The global contest with China is about more than who can build ports or power grids. It's about which system can offer what the world needs – one based on agreed international norms and free enterprise, or one rooted in state capitalism and illiberal practices. Allowing Belt and Road to go uncontested suggests that the U.S.-led global economy can no longer provide prosperity and progress. And that's truly a bridge to nowhere.
This column does not necessarily reflect the opinion of the editorial board or Bloomberg LP and its owners.
To contact the editor responsible for this story:
Patrick McDowell at pmcdowell10@bloomberg.net
https://www.bloomberg.com/opinion/articles/2021-07-22/how-biden-and-g-7-s-infrastructure-initiative-can-take-on-china-s-belt-and-road