The four-year Trump rule has been a tumultuous ride for US-China relations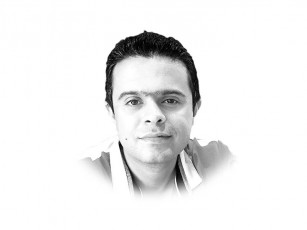 The 10th Joint Cooperation Committee (JCC) meeting on CPEC is about to happen. The agenda is being finalised and preparations are in full swing. The Government of Pakistan intends to discuss a host of infrastructure projects during the meeting, besides the three priority special economic zones.
But in the meanwhile, some interesting developments are taking place globally and regionally that will shape China's economic agenda in the years to come and as a corollary will have significant bearing on Pak-China relations. It is therefore important to take stock of these developments to be able to firm up our approach towards CPEC.
The four-year Trump rule has been a tumultuous ride for US-China relations. The simmering rivalry between the two giants became more evident, as trade war and technology feud intensified. Come January, Trump will be out, and Biden will be in. This change in the White House may soften the undertone of this conflict but is not likely to altogether reverse the policy of US-China decoupling.
Moreover, the Covid-19 pandemic has created a severe dent in the global trade. The bleak economic outlook, especially across the Western hemisphere, is the harbinger of bad news for global consumer markets and hence the future of global trade.
In parallel, some interesting developments are also taking place in China with its 14th five-year plan (2021-2025) being finalised and the country's focus now shifting to technological excellence and the newly coined 'dual-circulation' approach. Under this approach, going forward, China's primary focus will be on the domestic economic cycle of production and consumption. The international economic cycle through continued efforts in opening up the Chinese market and taking the Belt and Road Initiative (BRI) forward will nevertheless continue, but only as an add-on to the domestically centered strategy.
Given the global imperatives, China's dual-circulation approach seems like an apt strategy. In simple words, China is refusing to fight on the global trade battleground set by the United States and is instead carving out a new arena for itself. If China is successful in significantly increasing its domestic consumption, either by narrowing the rural-urban divide or by any other means, it would provide unprecedented economic and commercial opportunities to the world, and in the process, will cultivate new economic interests and bonds that would be harder to break. After all, who would want to forgo on a growing middle-class market of 1.4 billion people.
For Pakistan, these changes can have profound impact, yet it seems that their magnitude has not been fully realised in the policymaking circles. Pakistan's economic compulsions and the IMF programme are not going anywhere at least in the near future. This means that CPEC will now have a much lesser focus on new loans for infrastructure and more on other areas. This shift has also been resonated by the new Chinese ambassador in his recent article, where he emphasised co-operation in "industrial development, agriculture, science and technology, information, and livelihood", but missed mentioning the infrastructure. If policymakers are listening, then this should form the basis for setting the agenda for the 10th JCC meeting.
China has its eyes set on the year 2035, a new milestone set by the Chinese leadership, by when it is aiming to achieve 'socialist modernisation'. Pakistan remains a close ally and a strategic partner for China and that's why the Chinese side has been emphasising on the goal of a 'shared future'.
If our policymakers are doing their homework right, they should reciprocate with their own 5- and 15-year plans of how Pakistan can benefit from co-operating with China in the areas of industry, agriculture and science and technology, built on a deeper understanding of China's dual-circulation approach. Otherwise, the 10th JCC will remain a progress-tracking routine exercise with little coming out of it.
Published in The Express Tribune, November 10th, 2020
https://tribune.com.pk/story/2271664/cpec-and-chinas-dual-circulation-approach?amp=1