Bajwa says the hydel project would create 16,000 jobs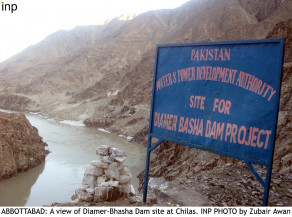 ISLAMABAD:
China-Pakistan Economic Corridor (CPEC) Chairman Lieutenant General (retd) Asim Saleem Bajwa said on Wednesday that Prime Minister Imran Khan has inaugurated the construction work of the mega hydroelectric project, the Diamer-Bhasha Dam, which is a historic milestone in the development of the country.
The authority's chairperson said on social media that the dam's 6.4MAF (million-acre feet) of water would irrigate at least 1.2 million acres of the agricultural area in the country.
The hydel power project would generate 4,500 MW of affordable, environmentally-friendly electricity and along with boosting the cement and steel industry sectors, he added. The project would also create around 16,000 jobs in the country.
Mobilisation for Diamer Bhasha:Historic milestone as PM kicks off mega construction work at Diamer Bhasha Dam today.6.4 MAF Water reservoir,will add 1.2 M acres for agriculture,4500 MW cheaper,greener Hydel power, steel/cement/construction boost,16000 jobs.#pakistanmakingprogress pic.twitter.com/4moytVC2tp

— Asim Saleem Bajwa (@AsimSBajwa) July 15, 2020
Earlier June 25, it was reported that the Diamer-Bhasha Dam contractors had started mobilising to the project site to start the construction, the participants of a meeting held at the Water and Power Development Authority (Wapda) Complex were informed.

Federal Water Resources Minister Faisal Vawda presided over the meeting to review the implementation plan of the project. The other participants included Wapda Chairman Lt Gen (retd) Muzammil Hussain, member (water) and project general manager Amir Bashir Chaudhry, consultants and contractors .

Vawda expressed his satisfaction over the pace of the project despite the Covid-19 pandemic slowing down routine activities.

The minister noted that following the signing of the project's contract earlier, work was continuing at a good pace that reflected the government's commitment to the construction of mega dams to avert the looming water crisis in the country and add low-cost hydel electricity to the national grid