Provincial govt had faced harsh criticism for its earlier nomination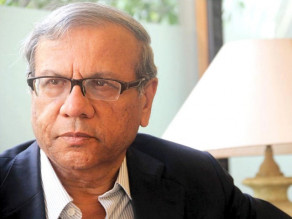 The Balochistan government on Wednesday appointed leading economist Dr Qaiser Bengali as the non-statutory member of the National Finance Commission (NFC) from the province.
Provincial Finance Minister Zahoor Buledi said Dr Bengali was a good choice for presenting a strong case for the province at the next NFC meeting.
The provincial government had earlier faced harsh criticism from opposition parties and lawyers for nominating former minister and intellectual Javed Jabbar to represent the province in the 10th NFC.
Lawyers associations and political parties, including MNA Aslam Bhootani, had challenged Jabbar's nomination in the Balochistan High Court following which he stepped down.
Dr Bengali is an economist with over 45 years' experience in teaching, research and policy advice.
He also served in a number of government positions. Till recently, he was consultant for economic affairs and head of the chief minister's policy reform unit, government of Balochistan. Earlier, he was adviser to the chief minister of Sindh for planning & development. He was also the first head of the Benazir Income Support Programme and designed it. He was Sindh's representative for the 7th NFC.
Interestingly, Dr Bengali has also challenged composition of the 10th NFC award by filing a petition in the Sindh High Court and contended that the May 12 notification for formation of the commission was contrary to Article 160 of the Constitution.
In his petition, he stated that the non-statutory members of the commission had been elected without consulting the provincial governors and its ToRs were also unconstitutional.
Jabbar's critics were of the view that being an inexperienced member for the position, he would need more time to comprehend the technical intricacies before putting up a robust case for Balochistan's share in the federal divisible pool.
Jabbar is primarily a writer and has served as minister for information and media development and as advisor to the chief executive on national affairs during the rule of General (retd) Pervaiz Musharraf.
Previously, the provincial government had nominated former senior bureaucrat Mahfooz Ali Khan for the 9th NFC award. Being a technical person to deal with the affairs, Khan had a keen eye on the country's finance and economics. However, in a sudden move Khan was replaced by Jabbar.
https://tribune.com.pk/story/2256211/nfc-dr-bengali-to-represent-balochistan?amp=1