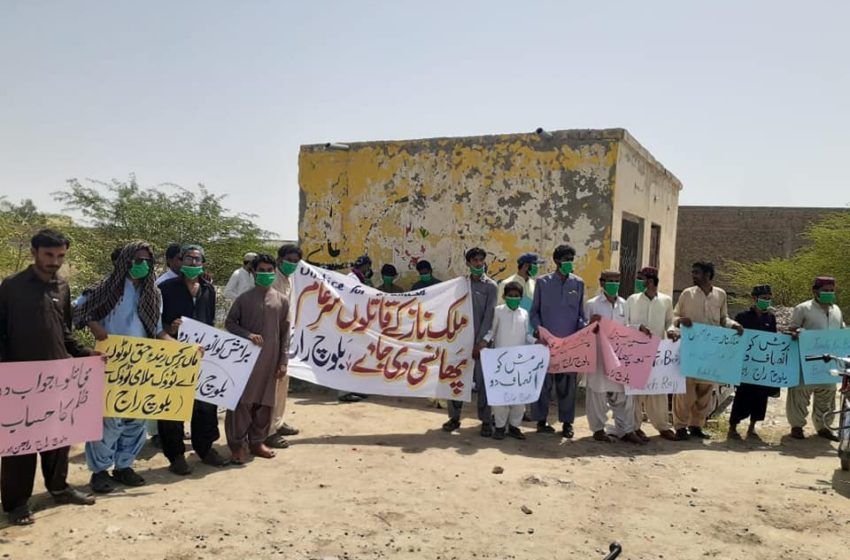 QUETTA: A rally was organized against the Dannuk tragedy under the auspices of Bramsh [Baloch] Solidarity Committee on Monday and a second protest was held Tuesday whereas, on Wednesday Baloch residents of Rajanpur, Balochistan also took out a rally to express their support to Bramsh Baloch.
A large number of women and children participated in the protest and raised slogans against the murder of Malik Naz Baloch and wounding her daughter Bramsh Baloch.
The tragic incident took place in Turbat's Dannuk area of district Kech Balochistan on 26 May 2020 where armed men a Baloch woman Malik Naaz and severely injured her daughter Bramsh Baloch at their home during a robbery, which triggered protest across Balochistan.
The second protest against the incident in Khuzdar started from Tine Hall and ended at Azadi Chowk where speakers addressed the participants and demanded immediate action against the culprits and an end to the bloodshed in Balochistan.
The protesters chanted slogans and demanded the resignation of the provincial government as, they said, the current government failed to protect people from the criminals and death squads.
Protesters held placards saying, "Justice for Burmash, and "stop terrorism in Balochistan".
It should be noted on Tuesday in Ornach also the citizens protested against the Dannuk incident.
It is also pertinent to mention that Dr Deen Mohammad Baloch was abducted from his resident in Ornach on 28 June 2009 and his whereabouts remain unknown to this day.
Sammi Baloch, daughter of Dr Deen Mohammd, was one of the Baloch protesters who March from Quetta to Islamabad to seek justice for the Baloch missing persons.
To defy tyranny and oppression citizens of Khuzdar have always come out in large numbers whenever there was any tyranny in any part of Balochistan, the first loud voice would be raised from Khuzdar, but for some time now there has been silence in Khuzdar Jhalawan.
It was rumoured that their [People of Khuzdar] own survival was in jeopardy, but the recent consecutive rallies refreshed old memories and proved that the people of Khuzdar will not remain silent against oppression and injustice.
Meanwhile on Wednesday (today), Baloch people in Rajanpur area of Balochistan – currently under the administration of Punjab province of Pakistan – have also organised a rally in Lundi Seydan area of Rajanpur.
In Rada Sham region of Rajanpur also Baloch people organised a rally to support the movement 'Justice for Bramsh [Baloch]. The protesters demanded that the perpetrators must be arrested and punished
https://balochwarna.com/2020/06/10/balochistan-hundreds-join-bramsh-baloch-solidarity-rally-in-khuzdar-and-rajanpur/