https://www.miragenews.com/scanning-horizons-of-belt-and-road-initiative/

China's Belt and Road Initiative (BRI) is a project of unprecedented scale and ambition. Spanning 65 countries – with others included under expanded BRI branding – the BRI is an attempt to recreate the ancient Silk Road, with the primary aim of increasing trade and connectivity between China, Central and South Asia, the Middle East, Europe, and Africa. Global expansion is underway.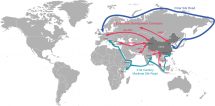 Until now, few analyses of the project have involved the interdisciplinary teams needed to encompass the range of potential impacts of the BRI. In an article published in Trends in Ecology and Evolution, Macquarie University's Anthony Chariton and colleagues from around the world – including China – provides an in-depth discussion of the project's possible environmental and social impacts.
The authors identify 11 'frontier horizon' issues likely to have major impacts within the next few years, but not yet well known to policymakers or academics. Their findings serve as a valuable contribution to informing policy discussion.
The issues they identify are:
Groundwater pumping may threaten the viability of freshwater ecosystems
Incidental spread of fungi, bacteria, and viruses
Impacts on limestone ecosystems caused by vastly increased cement production
Environmental impacts of a Polar/Arctic Silk Road, enabled by the thawing Arctic ice cap
Threats to coastal ecosystems
Traditional Chinese Medicine supporting and stimulating a market in wildlife trade
Harmonising international and national environmental standards in BRI foreign investment projects
The need to secure inclusive governance and management of 'Territories of Life' and recognising the role of 'culture' in conservation of biodiversity by indigenous and local communities
Potential environmental consequences of geopolitical rivalry over infrastructure financing
The impact of 'anti-desertification' and 'restoration' programs on natural ecosystems
An apparent willingness to build infrastructure in existing conflict zones.
These issues raise further questions, explored in the article. Some of the pressing concerns involve appropriate tools, techniques, and frameworks for identifying threats to ecological systems, species, and cultures. Others relate to measuring and monitoring impacts.
A third category involves multi-faceted questions. Will the Belt and Road will promote higher standards for sustainable development, realising the vision of 'eco-civilisation', or will increasing geopolitical rivalry weaken standards and drive increased environmental degradation?
How will China reconcile the trade-offs between economic and environmental losses and gains in developing the Belt and Road?
Will China also use the tools and frameworks it has developed to enable sustainable development within its borders beyond them, in concert with the BRI, and can these tools be adapted for the diversity of conditions?
They argue that, for the project to be environmentally sustainable, China will need to participate more actively in the structures of global environmental governance. There is a clear possibility that increased economic competition within the international system may fuel a race to the bottom. New cooperative modes of governance will be needed to accommodate a wide range of geopolitical, societal, and environmental interests. To ensure a more sustainable and equitable BRI that plays a role in safeguarding the future of ecological systems and human societies, upgrading global environmental standards is a vital task.
/Public Release. View in full
here
.