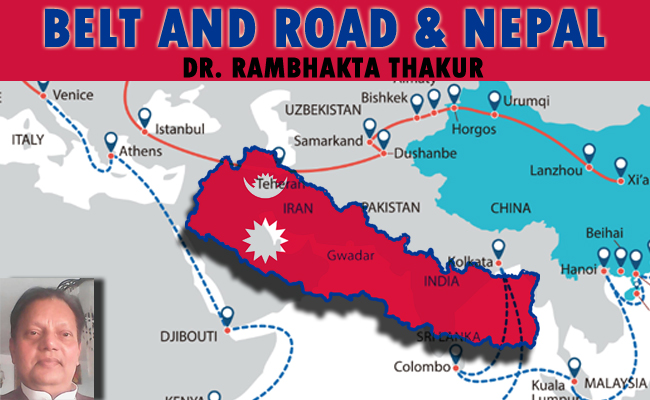 Dr. Rambhakta Thakur, Kathmandu Nepal
Geo-economics of the world has been taking rapid turnings; as a result, all old economic growth equations have been failing one by one in attempt of addressing the destabilizing graphs of the global economy. Belt and Road Initiative (BRI) of China is one of the economic waves that emerged at a time when the world economy, with trade war, protectionism, and syndrome of recession, was looking for a safe rescue .As Chinese leaders claim BRI has come to meet the challenges of time. Nevertheless, at this time it emerged as an opportunity and a threat both to the dominating capitalistic powers in the fields of trade, infrastructure and investment.
Inception and Aim:
In fact, this concept was coined in 2013 by Chinese president Xi Jingping who drew inspiration from the concept of Silk Road established during the Han Dynasty 2000 years ago, an ancient network of the trade route that connected China to the Mediterranean via Eurasia for centuries. First time the world came to know about it when President of China Xi originally announced the strategy during official visit to Indonesia and Kazakhstan in 2013.
Since then it was known with various names as One Belt One Road Strategy, Silk Road etc. but finally, on 14 May 2013 Beijing Conference on BRI officially announced its birth. There were 29 Heads of State and Govt. and representatives of over 129 countries and 70 international organizations.
As a matter of fact, BRI is a global development strategy adopted by the Chinese government involving infrastructure, development and investment. It is an ambitious program to connect Asia with Africa and Europe via land, maritime networks through six corridors with the aim of improving regional integration, increasing trade and stimulating economic growth. Chinese claim it as more open and efficient international governance systems.
The most ambitious project BRI, China has a target to be completed by 2049 which coincides with its 100th anniversary. China wishes Nepal, as she was the ancient partner of the Silk Road, should continue in BRI for reaching out of vicious effects of landlockedness towards open international market by joining roads in the North and South.
BRI 1 & 2 and Nepal:
China being the second biggest trade partner of Nepal and has a 1414 kms. Boundary with it, sincerely wishing Nepal to be the partner of BRI. Similarly, the domestic pressure had also been built inside Nepal for signing BRI with an aim to enhance economic growth and, furthermore, to reduce the dependency with India. Government could not resist these pressures, although, India and USA, EU intended to keep Nepal aside of BRI for the time being. But Nepal's then Finance Minister, Dr. Ram Saran Mahat went to Beijing and signed in the Understanding Paper of OBOR in December 2014.
The West and India, both were suspicious about the interior intention of China as she has got the comparative advantages over the capitalist countries in the field of trade, infrastructure, pipelines, roads, highways, seaports and manufacturing goods. Many named the BRI as ' Chinese New Economic Order'. Some observers see it as push for the Chinese dominance in the global affairs with a China centered trading network. West was looking at it as most powerful plan than the Marshall Plan of 1945 for Europe. Amidst hope and fear, majority of world traders and international organizations including UN have been continuously watching and participating as well in the activities.
Nepal, with a character of small, poor, landlocked and very much depending on south neighbor, finds its vulnerability in playing an active role in almost unfavorable global and regional situation. Besides the outer reasons, its own production in agriculture, industries and other sectors are insignificant and economy is much dependent upon remittance stand as bottleneck for realizing any giant project.
Any infrastructure is built; road, tunnels, railway or others, means trillion dollars involvement therein, and if it is not sustainable, would simply be an unbearable burden on the shoulders of Nepal which may fall in to a debt trap in future. In the meantime, the situation in Nepal after great earthquake of 2015, had become so painful that compelled it to develop roads and other connectivities with China not only for survival in natural calamities, but also to develop its trade for development. The decision to accept BRI was further validated when there was economic blockade imposed in the southern border. These two strong reasons became determining point for Nepal to take part in the BRI for rapid economic development and also to end up the monopoly of one country.
Although opening to north is very expensive, but for Nepal, there was no option left out for survival in the future than signing a protocol of transit with China along with construction of road in Rasugadhi to Kathmandu at the end of 2015.
It is quite understandable the panic and troublesome period of 2015-2017 of Nepal as she was engaged in the protection of the lives of the people and repairing and rebuilding the roads as well as other infrastructures. Because of devastation effects, Nepal during this period could not take any decisive position towards BRI that created irritation and misunderstanding with China as to the intention of participation, because by that time India had openly criticized and refused to join it-the BRI. In countering BRI diplomacy, India's intention was to drag Nepal in its sphere of influence and delay the adherence of Nepal as much as possible. Under much pressure, finally, Nepal presented 36 projects to China to be considered in BRI. The then Deputy Prime Minister Krishna Bahadur Mahara and a team hurriedly flew to Beijing to participate in the opening ceremony of BRI where he signed MOU on May 12, 2017.
Partnership:
After participation in first BRI, Nepal became very much engaged in selecting few very important out of 36 proposed projects. India, on the other hand, tried to allure Nepal by giving many attractive projects offer, Rexaul-Kathmandu railways, Motihari-Amelekhgunj Petrol Pipeline, Arun 3rd hydro power and more. As the 2nd BRI conference was near, so a great pressure on Nepal was mounted to present only a few concrete projects in the BRI conference 2019. For this reason, government has formed two committee to prepare a few selected projects out of the long list. This committee selected altogether 9 projects i.e., 3 roads, 2 hydroelectricity plants, 1 cross border railways, 1 cross border transmission line and 1 technical institution in the name of late Madan Bhandari. With this list, President Bidhya Devi Bhandari led a high level delegation to Beijing to participate in the second BRI on February 24, 2019. This summit of BRI was a success.
Participants from 100 countries, 90 international organizations including United nations and Head of the States and government from 37 countries raised the hope of smooth developing of BRI in global economic network from the signing the agreement to support BRI by 115 countries including Italy and Greece from European Union. However, USA and India have not participated in the forum.
But, Chinese with a great satisfaction revealed that deals worth of $64 billion has been signed. President Xi additionally announced in the inauguration function to provide $125 billion for the project from China on special concessional easy term loan for investment. With promising 38 points communique, the Second BRI was closed on February 27, 2019.
Nepal's concerns of connectivity, as President Bidhya Devi Bhandari had expressed in the summit, were incorporated in the communique. Trans-Himalayan multi-dimensional connectivity network and Nepal-China cross border railways are two projects taken care under the BRI flagship. The MOU which was signed allows landlocked Nepal to use seven sea and land ports in China for its international trade. Modalities have to be finalized. BRI could be very effective tool with the projects passed in the summit for the socio economic transformation of Nepal.
Belt Road Initiative projects are sustainable and eco-friendly, and well received by the partners, despite USA, Japan, Australia, European Union and India's non participation. BRI covers 115 country members including, 65% of the world population and more than 40% of the global Gross Domestic Product as of 2017. China on its success says its trade with Belt and Road countries has exceeded $5 trillion. One study on future BRI trade reveals 3.4% more trade within BRI countries and 2.4 % trade will grow in the world.
In view of the encouraging economic scenarios of BRI; USA, EU, India, Australia and Japan are worried about the possible further dominance of China in the world economy. India and USA are taking steps to speed up the India-Myanmar-Thailand trilateral highway as an option of BRI. Similarly, Japan and EU have signed a new agreement to link Asia and Europe for the uninterrupted speedy trade to countries like the ' New Silk Road' of China. America has introduced 'Indo-Pacific Strategy' to mitigate and neutralize the effect of Chinese entry in the Pacific region.
But BRI was designed to reshape the world economy and its global strategic balance. There are huge opportunities. Improved infrastructure means more trade, more investment, higher growth, developing land-locked status to a land-linked, means in total a prosperous country. Higher numbers of countries with BRI indicates their faith and confidence in BRI future. Paradoxically, at the same time, few countries engaged with BRI are conspicuous and facing hard time in the domestic fronts about the risk of being trapped in debt.
Debt Traps:
Let us take few cases as to how the Chinese debt, a tight rope walk, has been gradually tightening around the neck of the borrowers because of its unsustainability. Sri Lanka is a burning example to be cited here-she was forced to cede of deeper water port harbor of Hambantota in the control of China for 99 years because the loan and the interests are so huge that can't be paid by this non-profitable projects.
In fact, in the last five years, China's direct investment under BRI surpassed $60 billion in Africa, Latin America, and Asia; billions leaving several recipients vulnerable. The Centre for Global Development, a think tank says; BRI investments have significantly increased the risk of debt crisis in eight countries; Mongolia, Laos, the Maldives, Montenegro, Pakistan, Djibouti, Tajikistan and Kyrgyzstan. There is serious problem of balance of payment in Bali and looking for bailout by IMF. Few months ago, Malaysia, acted preemptively, shelving through China – booked projects including a $20 billion railway line' that it said it could no longer afford'.
Pakistan relied heavily on BRI loan for $54 billion project linking its Gwadar port to China. It is said 91% of the revenue generated by Gwadar port project over the next 40 years will benefit China. Poor and weak small countries situated in the strategic places are likely to be victims of this projects where their economic performances would not be rewarding and sustainable. Many African and Latin American, Caribbean are excited, but, at the same time afraid seeing the pitiable economic performances of some similar countries in their vicinity.
There have been serious concerns over the projects by a form of geo-colonialism. In BBC Hard Talk, some western governments have accused the Belt Road Initiative of being geo-colonial due to what they allege as China practice of debt trap diplomacy to fund the initiative's infrastructure projects. However, the Chinese government characterizes claims of geo-colonialism or debt trap diplomacy as manipulations to sow mistrust about China's intensions. Chinese further argued that such western perceptions of the Belt and Road Initiative are misconstrued due to western conceptions of development as seen through their own lens of exploitation of the other for resources-as exemplified by European colonization-instead of through Chinese conceptions of development.
Besides the fear of comparative advantage of China over India, seen and unseen threats, the government officials in India have repeatedly objected to China's Belt and Road Initiative specially because they believe the 'China – Pakistan Economic Corridor' (CPEC) project ignores New Delhi's essential concerns on sovereignty and territorial integrity.
But, whatever doubts casted over the ambition of China, it seems BRI amidst love and suspicion atmosphere taking its courses in a planned way with a calculated returns. Secondly, BRI conclusion also noticed in enlargement of Maritime Silk Road cooperation by thirteen with the special entry of Singapore. On the road rail chapter, freight train services between China and Europe were initiated in March 2011. The service's first freight route linked China to Tehran. The China-Britain route was launched in January 2017. As of 2018 the network had expanded to cover 48 Chinese cities and 42 European destinations delivering goods between China and Europe.
BRI and Nepal's Projects:
Going through in very brief, the inception, aim and the activities of BRI, now comes about Nepal. Financing of the project(s) have become a riddle to be solved. How to manage fund for the construction of huge infrastructure, roads, tunnels, and train from Kerung (China) to Kathmandu (Nepal) via Rasuagadhi, border of Nepal on China side? Should it be built on loans or grant or interest free loan/concessional loan? That has to be decided at the outset keeping in view of the bilateral, regional and international geo-economic situation. To understand the challenging concerns and cost precisely, construction done in the similar terrain and topography in China, in Chhentu-Lahsa sector, costed over 200 billion per km. Kerung-Kathmandu is 72 km but the terrains and topography are more difficult than Chentu that increase an additional cost 54% of the budget.
Nepal does not like to take any loan for this giant project rather wants that China should build it from the frame work of foreign aid. Reason is clear because of massive loan involved in materializing the project that would be out of capacity to payback in the present poor economic scenario for Nepal. Therefore, in this circumstances in one stretch only Kerung-Kathmandu road would be advisable. No further expansion to Pokhara and Lumbini at the present stage. The best solution would be to take interest free loan and develop the economic capacities of the northern mountain with fruits, animal husbandry, cottage industry, tourism, herbals, mines and hydro powers so that the import and loans could be paid by our own newly generated incomes. Estimated time of railway to come to Kathmandu would be no less than 15 years. During this time we can develop our paying capacity by developing economic activities as mentioned above. Our deficit of trade with China, at present, is very alarming over NRs 200 billion.
The loan and investment policies and strategies of China has already manifested in its infrastructure development activities that not such grants projects under BRI are being built .In these prevailing circumstances, Nepal should be cautious and calculative in taking loans and its rate of returns. Nepal should not fall in debt trap like many other countries have fallen. To make it sustainable, it is imperative to prepare Nepal in the term of export and income generating economic activities to be able to cope with the growing needs of strategic development.
Conclusion:
All activities and economic engagements taken under BRI, and its enthusiastic responses suggest that China has stood against the conventional theories and models of economic development. The dream of Deng Xiaoping in the 70s to make China more open and strong country by achieving four modernization by the end of 20th century, have become the foundation stone for President Xi jinping to march ahead with a new highest ambition like BRI for entering in to a new era of globalization. China is also using the BRI to address access capacity in its industrial sectors, in the hope that whole production facilities may eventually be migrated out of China into BRI countries.
A report from Fitch Ratings suggest that China's plan to build ports, roads, railways and other forms of infrastructures in under developed Eurasia and Africa is out of political motivation rather than real demand for infrastructure.
The BRI is believed by some analysts to be a way to extend China influence at the expense of the US, in order to fight for regional leadership in Asia. Some geopolitical analysts have couched the BRI in the context of Halford Mackinders Heartland Theory. Many find John Adams saying correct that the world can be controlled either by weapons or by the debt. China is perhaps doing the same. At present time, in the past few years only, China has already invested billions of dollars in several south Asian countries like Pakistan, Nepal, Sri Lanka, Bangladesh and Afghanistan to improve basic infrastructure. Results are yet to be seen to judge the suspicious remarks.
In free and open world economy, the rules of game and free market forces are the determining factors of most of the things. China, US, EU, Japan, Australia and India must understand that forcefully nothing can be applied. This theory is equally valid for China too despite its lucrative ambition of BRI. The US and its economic allies are not an exception and they also cannot make the deal on their own. A compromising point has to be found where the contradictory economic interest intersects each other. Solely BRI may not be capable to run with its name unless western forces support it, nor would newly developing linking points of roads in Asia and Europe emerge as alternative solutions without Chinese participation. It may be a concept of 'Global Road', 'New Economic Order Road', or similar ideas may take place to be functional with two giant economic powers. Undeclared but open idea of USA is that it wants to stop its rival China by any means from becoming first economic power. It would be a great defeat of USA and capitalistic economic models on which for the last two centuries the western countries were proud of. In this light, Chinese model of development has bluntly challenged all existing theories, models and principles by becoming second world economic power doing economic miracles in a very limited time.
While discussing the bright sides of newly emerged economic order initiated by China, all are not fine with its propounder. There are some strings attached in the smooth functioning of BRI which may cause hurdles for China that dissuades the full-fledged maneuvering of the goal to be achieved by 2049. In short, they may be outlined as below:
First, in BRI sprawling economic activities, not only China would expand its trade, technology, investment in those countries, but on the contrary, rest of the world would also like to receive the same benefits for entering in the vast market of China by demanding more relax on duty, non-tariff barrier, minimizing negative list and protectionism.
Chinese labors used in the BRI projects in foreign countries may not be appreciated.
Terrorists may get loopholes to enter in China
Arms and ammunitions may be explicitly transferred to China
Tibet and Xinjiang could be more destabilized.
Taiwan and Honk Kong may be targeted by so called liberal groups with a support of western world.
Italy and Greece may not be a reliable partner as they have signed a non- binding agreement with BRI.
These are some vital issues which China may not like to overlook at the cost of territorial integrity and unity of China. If these scenarios are provoked and create difficult situation in that case there is a greater possibility for China to curb the anti-elements threatening and hampering the sprawling economic diplomacy of BRI. This means China may be forced to slow down its own race voluntarily.
Similarly, Nepal should also be very cautious while taking loans from China under the BRI flagship. Unless it is rentable and sustainable there should not be hurry to start any project under Trans-Himalayan Multidimensional Network Project, Other projects, Kerung-Rasuwa Gadhi tunnel needs a careful study about the viability. Preparation to meet the cost and the interest is most important factor to judge the payback capacity of the project. In no case, the loans covering the project become a burden of debt turning its vulnerability into debt trap. But, again, if it could be realized, managing all liabilities and gains, perhaps, it may be a game changer for the economic development of Nepal.
Closing words are – BRI, in principle, is a very ambitious and powerful economic initiative launched by China which has a capacity to reshape the world economy by creating a new global economic order, but at the same time, it needs very careful and serious applications of all provisions to become sure of its sustainability.
Editors' Note: the author has served as Ambassador to Egypt: Ed.