Balochistan: Family of abducted Baloch singer appeal for his release, Pakistani forces abduct four people
Balochistan


about 9 hours ago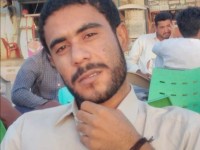 QUETTA: The family of Nisar Adil son of Khaliq Dad has appealed for his immediate release. The Balochi language singer was abducted by Pakistani security forces from Buleda-bet area in district Kech on 20 March 2020.
In addition to singing Mr Adil is also pursuing a BS Physics degree at Sindh University.
Two days prior to Nisar's abduction another Baloch writer and poet Inayat Saleem was also forcibly disappeared by Pakistani forces from district kech Balochistan.
Meanwhile, on 21st March Pakistani forces abducted a Baloch youth from Tump region of Turbat Balochistan.
The abductee has been named as Fida son of Mohammad Ali.
Humgaam News, an Urdu language news site, reported that Pakistan army abducted Fida when he went to a motor garage to fix his vehicle.
Also, on March, 20, Pakistani forces abducted three Baloch youth from district Panjgur Balochistan during two different offensives.
The victims have been identified as Hassam son of Fazal Karim, Qasim son Haji Saed Mohammad and Zahir son of Abdul Samad.
According to details, Hassam was abducted during a raid on a hotel in Chitkan road Panjgur, Qasim was abducted from his home in Chitkan and Zahir was abducted from Washbood area of Panjgur.
The whereabouts of all the above remained unknown at the time of filing this report.