By Cheng Si | China Daily | Updated: 2019-05-16 09:16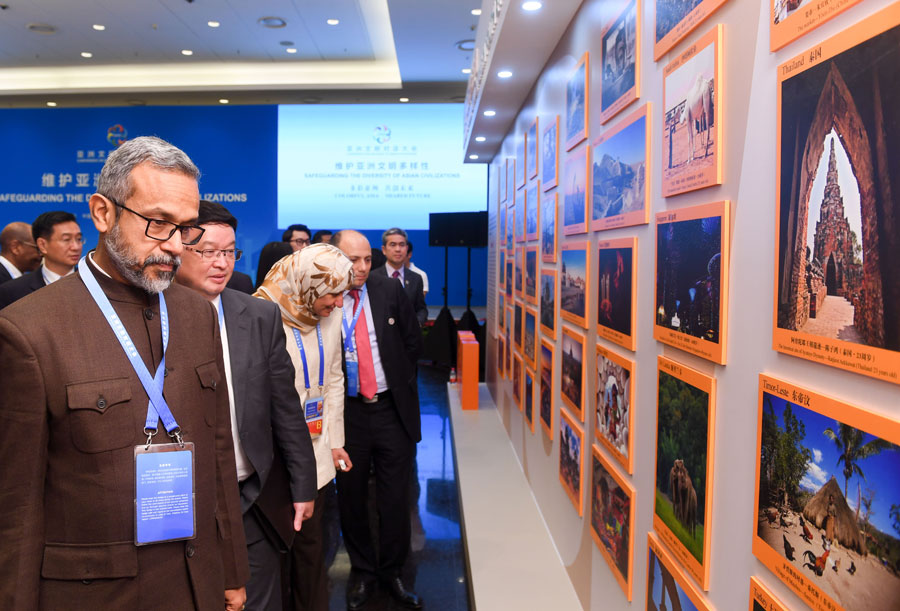 Guests visit a photo exhibition titled Diversity of Asian Civilizations in Youth Eyes during an interval of the forum in Beijing on Wednesday. [Photo/Xinhua]
An agreement to support young scholars' research into the Silk Road was signed between China and UNESCO during a session of the Conference on Dialogue of Asian Civilizations in Beijing on Wednesday.
Under the agreement, an international academic program will be launched with funding of $1 million from the Chinese government to scholars under 35 years of age from around the world.
Hosted by the Ministry of Education and UNESCO, the session - entitled "Safeguarding the Diversity of Asian Civilizations" - focused on cultural interactions among Asian people and discussed challenges in terms of revitalizing the multiple cultures of Asian countries and regions.
Lee Byong-hyun, chairman of the executive board of UNESCO, said at the session's opening ceremony that multilateral cooperation is crucial in tackling local, regional and global issues.
"My experience has taught me that the key for the success of international cooperation is dialogue," he said. "This requires being curious about others, willing to open up and ready to listen with real engagement."
Chen Baosheng, minister of education, said civilizations are enriched by exchanges, in which people learn from each other.
"To promote the world's peaceful development, we need to see more and think more in light of protecting diverse Asian civilizations. It's encouraging to hold a more inclusive and modest attitude about equal dialogue among Asian civilizations.
"We need to keep the principle of amity, sincerity, mutual benefits and inclusiveness in mind to make the dialogue among Asian civilizations an inspiration to the world and to future human development. It's also important to fully use education to help people learn more about the values of different civilizations and to pass down the cultures," he said.
At the session, 44 scholars and professors from Asian countries, along with France, Russia, Germany and Canada, voiced their opinions on exchanges by Asian civilizations in historical and modern times.
Chen Lai, a professor at Tsinghua University in Beijing, said some ancient Chinese philosophers had proposed values for different civilizations.
"Confucius said that 'A gentleman seeks harmony, not conformity', showing respect to different cultures," he said. "Mencius proposed that we should have good intentions toward others. I think it's an inclusive attitude toward other people and their civilizations."
He said that it's of great importance to promote such philosophies to enhance the exchanges and mutual learning of diverse civilizations.
Frederick W. Russell-Rivoallan, a program specialist and head of social and human sciences for UNESCO, hailed the dialogue of Asian civilizations.
"It's a great way to concentrate in this part of world, but it's also a global inspiration - bringing countries together, understanding other cultures, respecting each other and sharing with each other," he said. "That's the way that we can understand each other better and live together better."



http://global.chinadaily.com.cn/a/201905/16/WS5cdcb9dda3104842260bbe78.html