By Sun Shangwu and Cang Wei in Nanjing | China Daily | Updated: 2019-05-20 08:00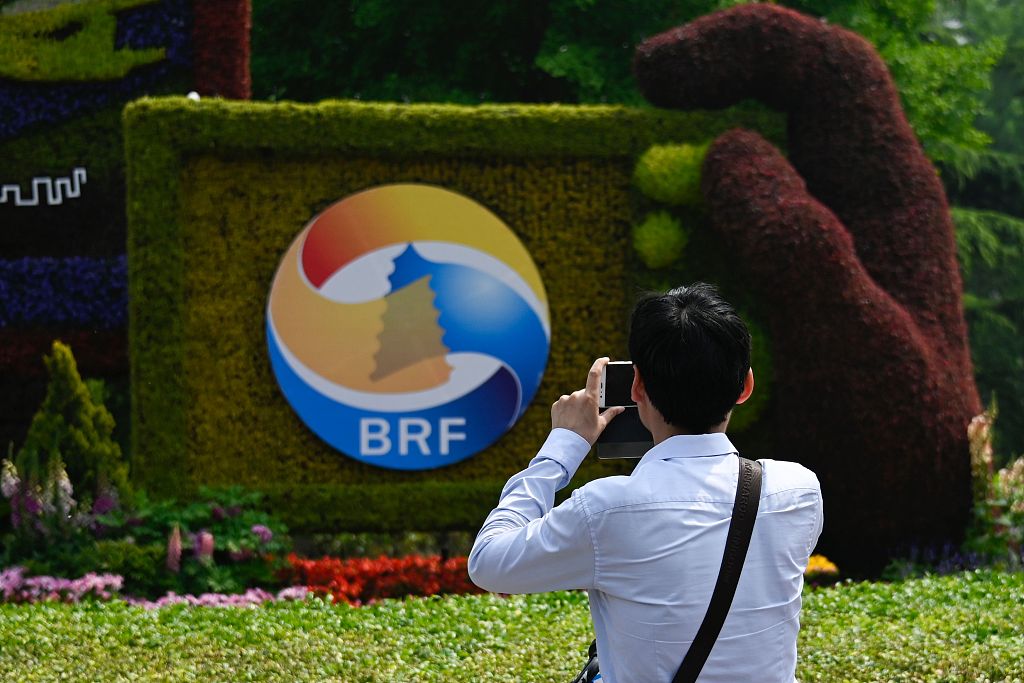 A man takes photo of a sign promoting the Belt and Road Forum in Beijing on April 22, 2019. [Photo/VCG]
The Belt and Road Initiative has been gaining more recognition globally and will help support economic development across Asia and beyond, according to survey released at a media and think tank exchange event in Nanjing, Jiangsu province, on Saturday.
The 2019 "The Belt and Road" Media and Think Tank Exchange Event attracted mainstream media representatives and think tank experts from 17 countries, including Russia, Pakistan, Mongolia and India.
The report released during the event, titled "Leading a New Round of Global Opening up and Cooperation-The Belt and Road in the Eyes of the International Community", found that the global community's recognition of the initiative has been increasing each year.
China's neighboring countries have the best understanding of it, according to the report. In a 2017 survey in six ASEAN countries-Indonesia, Thailand, Malaysia, Singapore, the Philippines and Vietnam-70 percent of respondents said they knew of the BRI.
In survey this year in 11 Asian countries-including Israel, Saudi Arabia and India-56 percent of respondents thought the BRI provides a new solution for global governance and a new mode for equal and win-win cooperation among countries.
The international community recognizes the BRI's positive impacts on the development of their own countries, the report said.
Last year, in a survey in 21 countries, 53 percent of respondents recognized the BRI's positive impact on regional and global economic development, and 74.7 percent of respondents from 11 Asian countries believed the BRI could bring more opportunities for their countries' development .
Since the Belt and Road Initiative was launched in 2013, it has shown itself to be fruitful and has generated higher expectations from the international community.
In a 2018 survey in 17 countries, 72.5 percent of the respondents thought of the BRI as a global public product with bright prospects, and 69.3 percent wished their governments would further participate in the initiative.
In another survey this year in 11 Asian countries, 76.7 percent of the respondents found that the BRI could bring more development opportunities to Asia.
Gao Anming, deputy director of China International Publishing Group, said that the event provides new opportunities for communication and cooperation between Chinese and foreign media and think tanks.
Mushahid Hussain Sayed, a senator in the Pakistani Parliament and chairman of the Foreign Affairs Committee, said that the media and think tanks have an important function in the international community communicating and avoiding conflicts.
"People are the best bridge to different cultures communicating," he said. "An initiative is needed for cultures to learn from each other, and we need to promote the development of such an initiative."
Hu Hong, vice-mayor of Nanjing, said that the Belt and Road Initiative can help promote mutual understanding and cooperation between China and other countries, and that the media and think tank exchange event will help countries to deepen communication and enhance friendship.


http://global.chinadaily.com.cn/a/201905/20/WS5ce1ee06a3104842260bc857.html