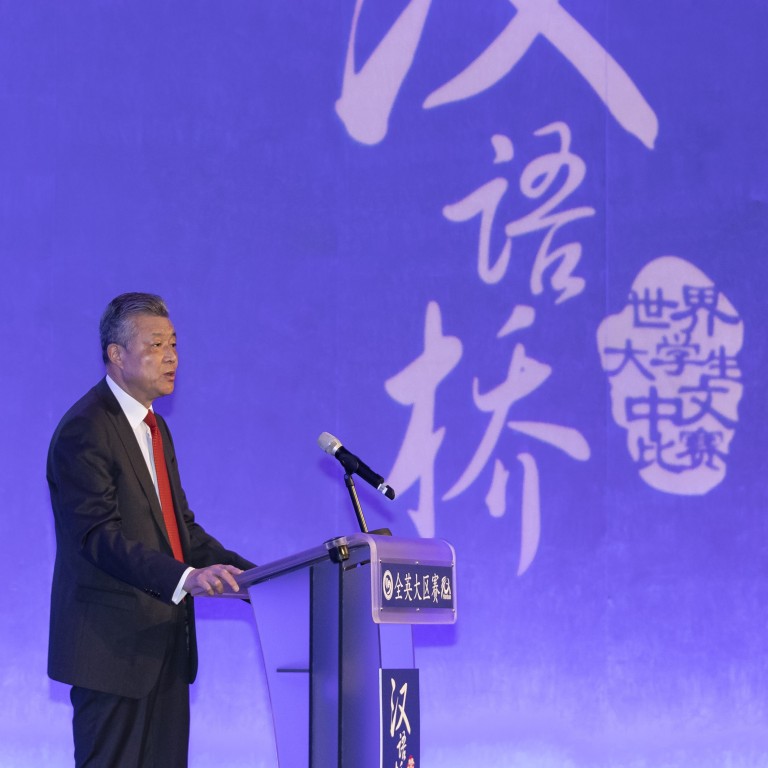 China's Ambassador to the UK Liu Xiaoming cites 'rule-making' as an area for bilateral cooperation with the UK
Topic |  Belt and Road Initiative
Published: 5:16pm, 19 Apr, 2019
China has asked Britain for help to offset claims its "Belt and Road Initiative" investments are opaque and justify its overseas spending to critics.
It made the move days before UK Chancellor Phillip Hammond was expected to head to the belt and road forum in Beijing.
In an article in London's Evening Standard on Wednesday, China's Ambassador to the UK Liu Xiaoming cited "rule-making" as an area for bilateral cooperation.
"Britain has played a leading role in the establishment and management of the Asian Infrastructure Investment Bank," Liu said. "In [belt and road] development, Britain could have a big role to play in ensuring that the projects are of higher quality, at a higher standard, with higher return."
Four years ago the UK defied the US and joined the AIIB.
Liu's comments followed news the UK's Department for International Development (DFID) was asked to join a new initiative aimed at improving China's international accounting and transparency standards.
China is thought to see DFID as a model for its new aid outfit, China International Development Cooperation Agency (CIDCA), which was established last year to oversee Beijing's foreign aid.


The everyday headache for China's belt and road firms: labour relations
The DFID was the third most transparent donor in the world after the Asian Development Bank and UNDP, according to the aid data-crunching website Publish What You Find. China was the least.
Critics say part of the problem is Beijing prefers to deliver loans and other investments through local elites. There are also often several government departments involved, each directed by their own rules and priorities, making financial reporting more complex.
"I think the Chinese are instead playing by a different set of rules, not all of them in conflict with the West's … but most definitely not fully aligned with what the West wants or expects", said Eric Olander, managing editor of Shanghai-based The China Africa Project. "Therefore, I would not expect to see the kind of meaningful change in its accounting and financial standards in the near term."
'Cooperate or stop criticising', China's foreign minister Wang Yi says as belt and road summit nears
The MOU proposed by China is more a statement of intent than a plan of action but the UK welcomed it as a positive sign
"China's proposal to set up a 'Multilateral Cooperation Centre for Development Finance' has real potential to ensure its huge investments in developing countries meet the key international standards that matter to all of us – on debt, transparency, environment and social safeguards," UK International Development Secretary Penny Mordaunt said at the World Bank Spring Meeting recently.
A source at DFID told the SCMP that the UK has not signed the MOU yet but said while other countries are aware of the proposal, it is the only country so far to be formally invited to participate by China.
France and Germany were two possible future signatories, and MCCDF has been discussed in EU member state meetings in Beijing.
"[China] is clearly frustrated that it feels misunderstood by the international community," said Olander.
"I have attended one seminar after another where African stakeholders ask the Chinese for more transparency and the Chinese respond with a sympathetic smile that says 'I'd love to but I'm not sure how we can do that given our political culture and the current political realities'."
With the Chinese economy slowing at home and the losses abroad in places like Venezuela starting to mount, there are indications that the Chinese policy banks are becoming far more risk-averse in places like Africa and the Americas.
Even so according to figures released on Thursday, the Export Import Bank of China provided more than a trillion yuan (US$149 billion) to more than 1,800 Belt and Road projects since 2013. China Development Bank (CDB) said in March it had provided US$190 billion in the same period.
"The UK is very concerned by rising debt levels, particularly in emerging market economies and in low-income countries," Mordaut told the World Bank.
"Unsustainable debt levels are a real risk that can undermine or reverse development gains."
The IMF said recently 24 out of 60 of the poorest countries are either in debt distress or at a high risk of falling into it.
China is also looking to the UK to help manage the BRI projects and organise part of the financing, something the City of London and the government are keen to do, Liu said.
Describing it as "third-party involvement in BRI development" he said: "The UK, with its unique strengths in professional services, project-management and financing, could tap into this potential."
China is keen for the UK to sign a BRI MOU like Italy, and soon Switzerland, but so far it has resisted. A report released earlier this month by the parliament's Foreign Affairs Committee called for a rebranding of the "golden era" started by the former chancellor George Osborne, now the editor of the London Evening Standard.
Britain is keen to cement closer ties with Beijing as the world's fifth largest economy looks to reinvent itself as a global trading nation if and when it leaves the European Union.





https://www.scmp.com/news/world/europe/article/3006915/china-asks-britain-help-boost-image-belt-and-road-initiative