24-01-2019
Ms. Yoana Barakova (EFSAS Research Analyst) and Ms. Danielle DePaulis (EFSAS Research Analyst) held a meeting with Ms. Ardi Bouwers, a prominent Sinologist, Director of the consultancy firm China Circle and Subject Matter Expert at the Hague Centre for Strategic Studies. Ms. Bouwers' expertise specifically focuses on China's intercultural communication, media and representation, its interaction with other international actors and its current rise in global politics.  
The delegation of EFSAS and Ms. Bouwers exchanged many viewpoints and analysed in-depth the presence and strategic objectives of China in South Asia. EFSAS profoundly explained the particularities of the Jammu & Kashmir conflict and the ongoing radicalization and terrorism in the region, which has had its spill over effects across the entire Indian subcontinent. The building of the China Pakistan Economic Corridor, which passes through the disputed territory of Gilgit Baltistan, part of the erstwhile State of Jammu & Kashmir, was additionally examined, especially in regards to its financial and legal implications. Not only the corridor comes forward as a violation of international law, but it has also been a moot point for growing resentment in Gilgit Baltistan, Pakistan Administered Jammu & Kashmir and Pakistani regions such as Balochistan and Sindh.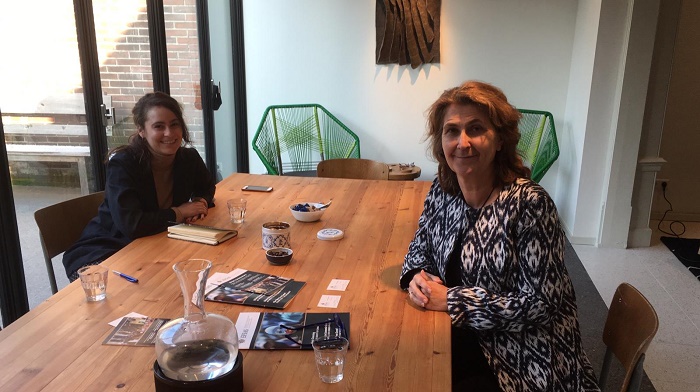 Ms. Danielle DePaulis (EFSAS) with Ms. Ardi Bouwers (HCSS and China Circle)
Ms. Bouwers argued that China's economic investments in Asian and African countries should be seen through the prism of its strategic global expansionist design. Therefore, Pakistan must draw its lessons from the financial burden and unbearably high interest rates that States such as Sri Lanka, Malaysia, the Maldives and Myanmar, also part of China's Belt & Road Initiative, are currently struggling with. She further stated that Western countries, inclusive of the Netherlands, have recently started recognising how the 'carrots', which Beijing initially offers are subsequently followed by 'sticks', highlighting China's harshness when pursuing its strategic interests.
The human rights violations against the Muslim Uyghur population in the region of Xinjiang were further deliberated upon. Ms. Bouwers expressed her apprehensions that, as long as the Islamic community, especially those living in territories bordering China, is unwilling to manifest its support for its fellow Muslim brethren out of fears of antagonizing China, the inhumane oppression of the Uyghur minority will continue. In addition to that, considering the history of radical elements on the territory of Xinjiang, which have managed to establish a 'terrorist arch' with other extremist groups in Afghanistan and Pakistan in the past, EFSAS and Ms. Bouwers both agreed that the stability of the region of Xinjiang is of vital importance when envisioning a successful and sustainable South Asian counter-terrorism strategy.
Topics such as the future of the US-China trade war and the existing nuclear security of the South Asian region, especially after the potential US withdrawal of the Intermediate-Range Nuclear Forces Treaty with Russia, were additionally touched upon. EFSAS expressed its willingness to collaborate with Ms. Bouwers in the future by inviting her to share her expertise on China's socio-economic and geopolitical strategic objectives regarding South Asia during upcoming events.




https://www.efsas.org/events/meetings/efsas-raises-chinas-influence-in-south-asia-with-a-prominent-sinologist-in-the-hague/