EU's rival infrastructure fund could lead to better deals for Asia but China's belt and road still leads the way
The European Union is set to join the US, Japan and Asean in competing with China's Belt and Road Initiative

Keegan ElmerUPDATED : Saturday, 13 Oct 2018, 11:39PM
The European Union is poised to become a stronger player in Asia with the unveiling next week of its alternative to China's belt and road investment strategy.
The Euro-Asian connectivity strategy is expected to be agreed by the member states on Monday and formally unveiled at Thursday's Asia-Europe Meeting in Brussels.
In addition to the strategy, the EU is also working on plans to boost investment in India and Central Asia.
Observers said the moves would increase competition for badly needed infrastructure and investment across Asia.
The EU says it intends to engage with other strategies, including the Belt and Road Initiative, the Free and Open Indo-Pacific strategies of Japan and the US, as well as Asean's Connectivity 2025.
EU's bold move to rival China's belt and road in Asia
Asia needs more than US$1.7 trillion in infrastructure development per year, according to estimates last year by the Asian Development Bank, and observers say the increased competition to fund projects will mean better deals for the region.
Official policy documents directly contrast the EU plan with Beijing's belt and road strategy, describing the European approach as "sustainable, comprehensive and rules-based" with the aim of "creating a level playing field and equal opportunities for all".
The Euro-Asian connectivity strategy is "implicitly" in competition with China, said Frans-Paul van der Putten, senior researcher at Clingendael, the Netherlands Institute of International Relations, and is part of a broader push by the EU to show a united front on China policy, like the EU's moves to introduce a foreign investment screening process following a buying spree of European high tech companies.
The text of the strategy "screams China at almost every paragraph", said François Godement, director of the European Council on Foreign Relations' Asia and China programme, adding that calls for transparency and openness were meant for Beijing's attention.
The proposal "emphasises very heavily the role of other partners" across Asia beyond Beijing, as well as those outside Asia like the US and Canada, which is part of a "balancing strategy" against China, he said.
The Commission has proposed an increase of €60 billion (US$69 billion) to the bloc's foreign investment framework, a large portion of which will go to Asia, and which it expects will leverage further financial resources from the private sector.
Trade between Europe and Asia stands at €1.5 trillion (US$1.7 trillion) annually, according to EU documents. Foreign Affairs spokeswoman Federica Mogherini has said the connectivity plan could lead to three to four times more European Union investments in Asia.
Plans do not specify, however, how much will be directed towards infrastructure, or to Asia specifically, as the final details will still be subject to budget approval by the European Parliament next year, and will not come effect until 2021.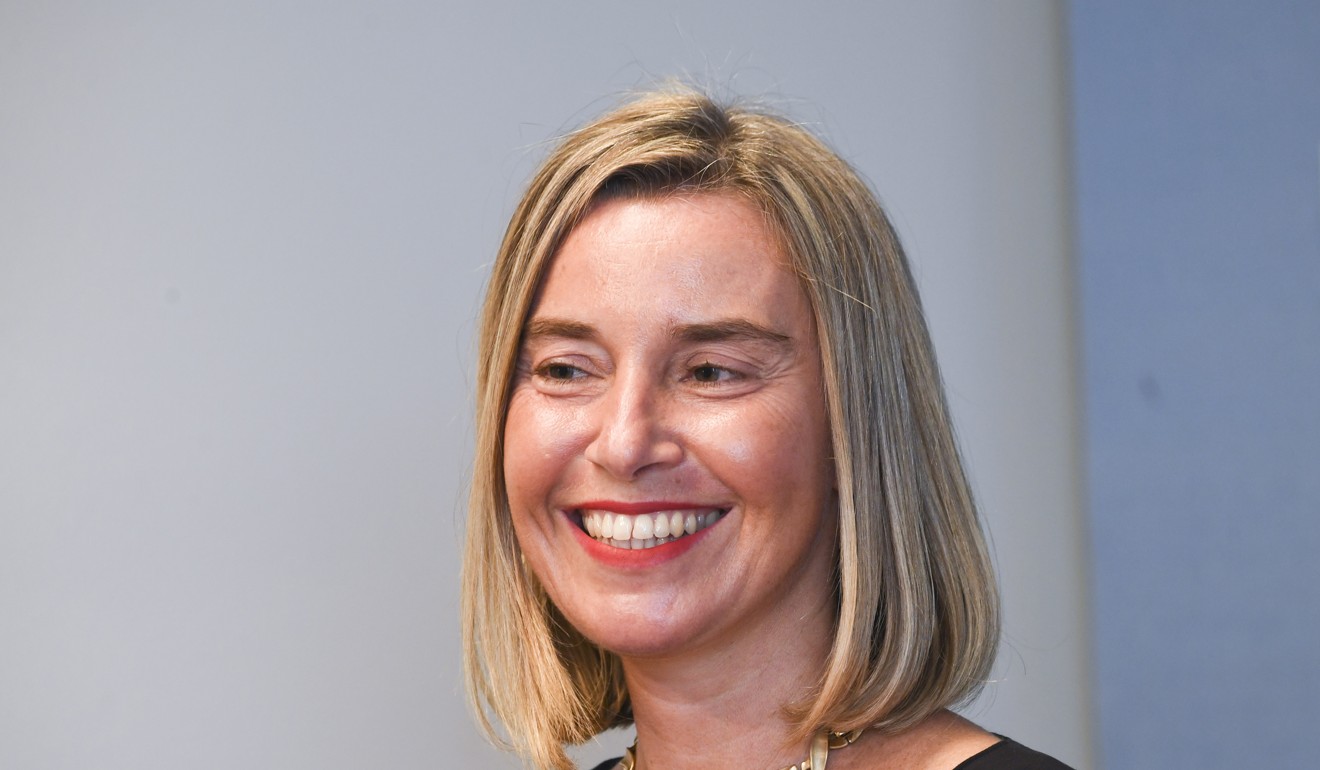 While the plan could amount to hundreds of billions of dollars in investment for Asia, the sheer size of China's years of infrastructure work through its own initiative could leave the EU and others "simply contributing to a system in which China is the most powerful player," said van der Putten.
Beijing has already signed US$390 billion in deals as of this year, according to China's Ministry of Commerce.
In July the US announced US$113 million in infrastructure and energy initiatives, followed by nearly US$300 million announced in August as security funding for the Indo-Pacific region.
On Tuesday at the Mekong-Japan Summit in Tokyo, Japanese Prime Minister Shinzo Abe pledged to promote 150 "quality infrastructure" projects in five Southeast Asian countries, as part of Japan's own free and open Indo-Pacific connectivity plan.
"All parties recognise that upgrading basic infrastructure is what is needed for economic and trade activity," said Cui Hongjian a senior fellow with the China Institute of International Studies.
Cui said increased competition to fund Asian projects could spur Chinese enterprises to perform more efficiently with belt and road partners.
But he warned that Europe would need to increase its communication with partner companies and Beijing in the early days of its initiative to clarify what the rules mean in practice and China would want to see how the first EU projects perform.
EU pushes China to speed up process of opening markets to agricultural products
Greater competition for projects would mean better deals for Asian states said Garima Mohan research fellow at the Global Public Policy Institute, but she agreed with van der Putten that no other actor could match the resources China had dedicated to infrastructure development in Asia.
Mohan said the connectivity plan was a "good first step" for the EU. "The initiative is an umbrella to frame all the activities the EU is already doing in Asia," she said.
Mohan also said the EU could use the plan to develop partnerships with others actors like India, Australia and Japan that were already involved in Asia.
"It's a way for Europe to say 'we're a player' and to start building relationships," she said.
Some across Europe have been frustrated that the strategy has not gone far enough, among them Jan Weidenfeld, head of the European China Policy Unit at the Mercator Institute for China Studies.
"The connectivity plan is not the major counter strategy some had hoped for," he said.
Moreover, the plan is meant primarily to address regions in Europe's immediate backyard, and counter Beijing's influence in Europe's immediate neighbourhood, like in the Balkans and Central Asia, Weidenfeld added.
Instead, the importance of the plan lies in the ability of the EU to make a stand as a global player, and align its standards with other nations to counter Beijing.
"The EU is clearly signalling to China 'this is what you should be doing.' No global player can effectively nudge China on its own," he said.



https://www.scmp.com/news/china/diplomacy/article/2168428/eu-infrastructure-fund-could-lead-better-deals-asia-china-still