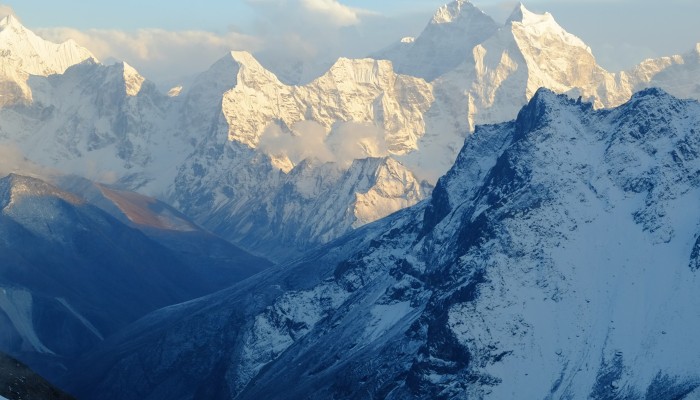 BY GEJA SHARMA WAGLE13 SEP 2018
The Himalayan country's pull-out from an army drill in India and its new-found access to China's seaports represent a psychological victory over its southern neighbour, but real gains are still a long way off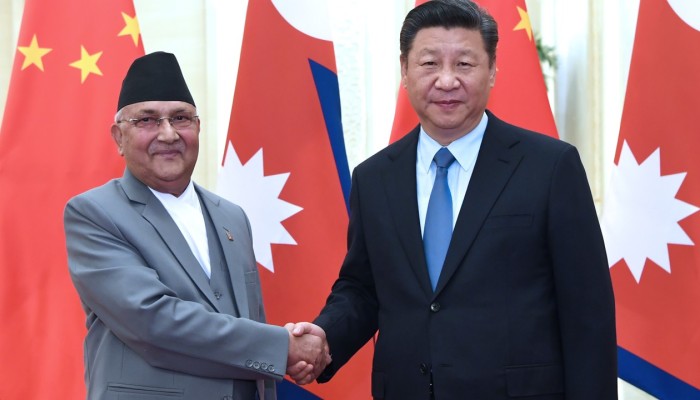 Chinese President Xi Jinping meets Nepal Prime Minister Khadga Prasad Sharma Oli on his 2016 Beijing visit. Photo: EPA
The timing of a surprise decision by Nepal to withdraw from the first-ever joint military exercise in India – which comes exactly a week before a scheduled joint military exercise with China, and on the heels of a vital transit agreement with the Middle Kingdom – may have been merely coincidental, but is loaded with strategic meaning for the small country sandwiched between two regional giants.
On Saturday, Kathmandu let it be known that the Nepalese Army would not participate in the first-ever joint military exercise of the so-called BIMSTEC nations in India that started on September 10. The Bay of Bengal Initiative for Multi-Sectoral Technical and Economic Cooperation, or BIMSTEC, is a regional bloc comprising Bangladesh, India, Myanmar, Sri Lanka, Thailand, Bhutan and Nepal.
Driven by India into China's arms, is Nepal the new Sri Lanka?
The military drill, which follows a BIMSTEC summit of leaders in Kathmandu earlier this month, came under criticism in Nepal as it was said to have been sprung on the member countries – apparently there had been no discussion of the India-initiated proposal at the summit itself. In a parliamentary statement squarely aimed at India, Prime Minister Khadga Prasad Oli said Nepal would not join any military alliance, and would not deviate from its foreign policy based on non-alignment and peaceful coexistence.
India has been looking to develop a robust regional organisation excluding China and Pakistan. It is therefore strategically using BIMSTEC to project its power because the other regional bloc, the South Asian Association for Regional Cooperation (SAARC), has Pakistan as a member and China as an observer.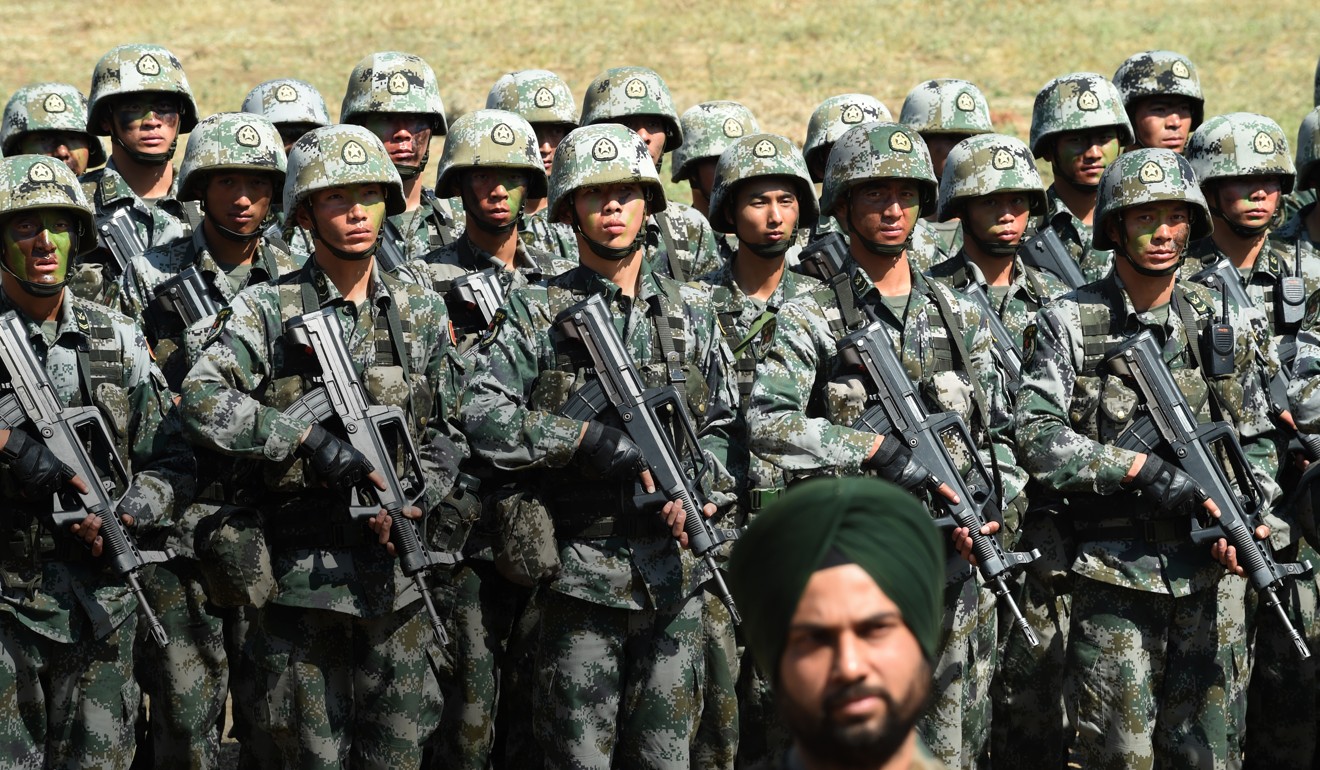 An Indian Army soldier in front of a group of People's Liberation Army soldiers in a 2016 anti-terror drill. Nepal has pulled out of a military exercise with India, but plans to conduct one with China. Photo: AFP
Nepal's absence from the weeklong platoon-level joint military exercise in the western Indian city of Pune will be a major diplomatic setback for Indian Prime Minister Narendra Modi. He has been trying to woo back Nepal after a punishing Indian blockade on the tiny Himalayan nation in 2015 strained relations between the two traditionally close countries, which share an open border and common culture.
Nepal and India cooperate closely on defence as their forces jointly man the 1,800km open border between the countries. India has been the major arms and ammunition provider for the Nepalese Army, and in a rare arrangement, Nepal's army chief is an honorary general of the Indian Army and vice versa. Therefore, Nepal's abrupt pull-out from the military drill may not immediately impact relations, but it will widen the cracks that have appeared between the two nations since the blockade.
THIS WEEK IN ASIA
Get updates direct to your inbox
By registering you agree to our T&Cs & Privacy Policy
Nepal leader vows to revive Chinese dam project, open to review pact over Nepalese soldiers in India
Exacerbating the situation is Nepal's plan to conduct a joint military exercise with China from September 17 in Chengdu, the capital of southwestern Sichuan Province, in a bid to share experience in terrorism and disaster management. The BIMSTEC pull-out and joint drill follow a breakthrough agreement on transit and transport protocol between Nepal and China.
Since the 2015 Indian blockade, landlocked Nepal has been seeking alternative sea-access routes. The final agreement detailing China's granting of access to four of its seaports – Tianjin, Shenzhen, Lianyungang, and Zhanjiang – and the three dry ports of Lanzhou, Lhasa and Xigatse, represents significant progress for Oli's efforts to reduce Nepal's dependence on India.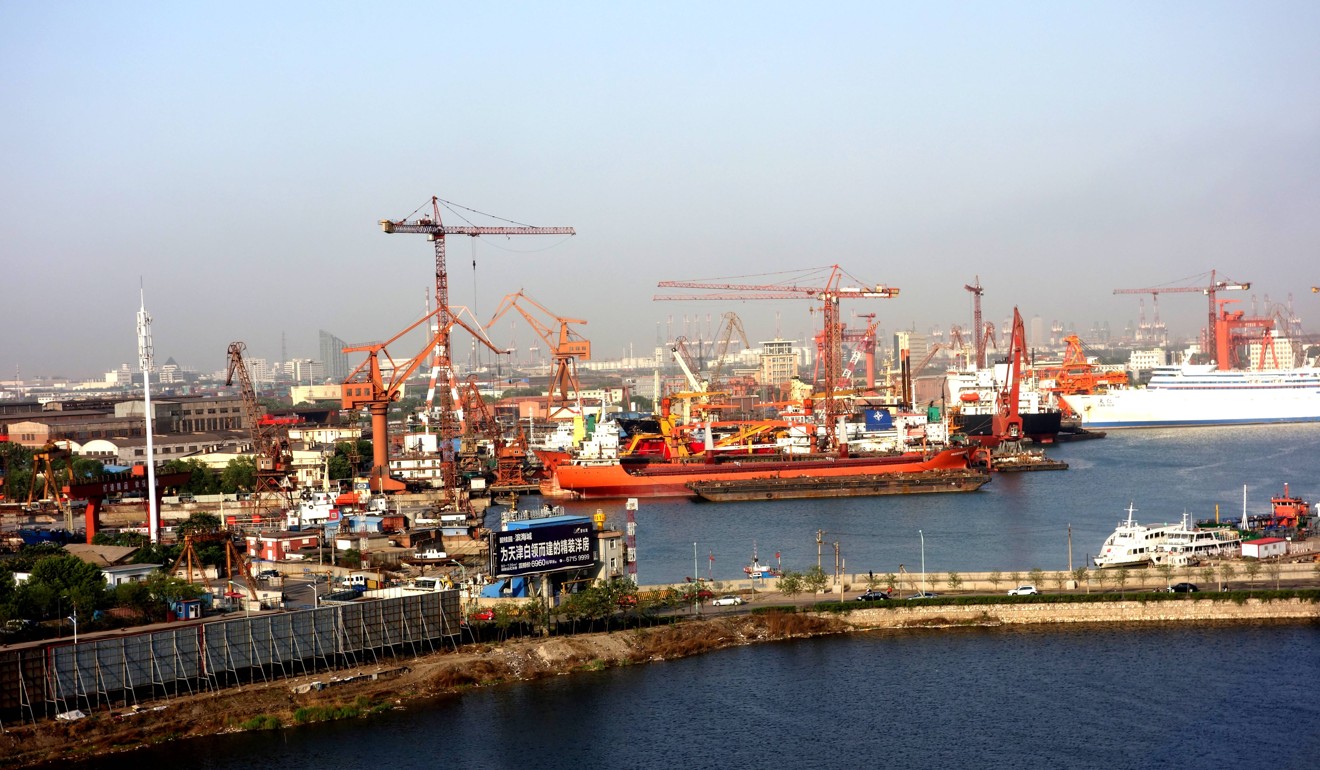 Nepal's access to Chinese seaports such as Tianjin provide it with an alternative in the event of another Indian blockade. Photo: ImagineChina
The agreement was signed in 2016 when Oli visited Beijing soon after the Indian blockade, during which Nepal was thrown into a major crisis as supplies of vital goods such as oil and medicine were cut off. China and Nepal have since been negotiating the agreement's details before its implementation, but there has been no significant progress. The negotiations gained pace only after Oli this year became prime minister for the second time; he has made rail and road connectivity one of his top priorities for Nepal, which joined China's "Belt and Road Initiative" last year.
While access to Chinese seaports is a major achievement for Nepal that consolidates its independence and sovereignty, it is still more a diplomatic and psychological victory than a concrete economic gain, given the distance between Kathmandu and Chinese ports and Nepal's poor connectivity with its northern neighbour.
As Oli comes calling, what does Nepal want from China?
Nepal still lacks all-weather roadways to Chinese transit points. The nearest Chinese port is over 3,500km from Kathmandu, whereas India's Haldia port is only 1,200km away – and more than 70 per cent of Nepal's trade transits through India. China is therefore hardly a substitute for India, but alternative sea access allows Nepal a lifeline in the event of more Indian blockades.
If implemented properly, the Chinese agreement will provide Nepal with more options, and hence confidence in dealing with India. The BIMSTEC military drill pull-out may well have been the first sign of the China-tempered steel that India might have to get used to while dealing with Nepal from now on as part of the changing geopolitical balance of the region.
Geja Sharma Wagle is a Kathmandu-based international and strategic affairs analyst



https://www.scmp.com/week-asia/geopolitics/article/2163950/nepal-bares-china-tempered-steel-india-better-get-used-it