South China Morning Post


BY TOM HUSSAIN16 SEP 2018
A new administration in Islamabad is spooking Beijing with its calls for transparency over the US$62 billion China Pakistan Economic Corridor, but it may be a reflection of internal rivalries that have long been a problem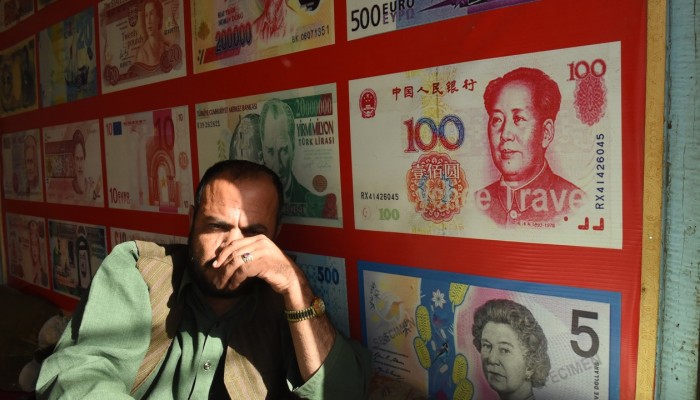 Pakistan's new government is leading the pushback against the China Pakistan Economic Corridor. Photo: AFP
In 2007, a hurriedly arranged ceremony took place at Gwadar, an Arabian Sea port financed by Beijing and built by Chinese state firms. But the keys to the port were not handed over to the Chinese state port operator by the Pakistani government, as was anticipated. Instead, they were handed over to the local representative of PSA Corp, the Singapore port authority. There were few Singaporeans at the event; the deal was sealed with their local partner Aqeel Karim Dhedhi, a self-made billionaire widely viewed in Pakistan as the blunt edge of powerful business interests centred in Karachi.
In one fell swoop, the Karachi business lobby prevented China from breaking the city's iron grip over Pakistan's international trades. Working in concert with United States-backed military dictator General Pervez Musharraf, Pakistan's president at the time, the lobby also did a massive favour to the US and European governments, on whose export markets and preferential tariff regimes it had depended since the 1960s.
What will Pakistan's new leader Imran Khan deliver for China?
Eleven years on, as a new Pakistani government led by World Cup-winning cricket captain Imran Khan settles in, West-dependent interests are leading the pushback against the China Pakistan Economic Corridor (CPEC), the US$62 billion showcase project of President Xi Jinping's "Belt and Road Initiative". They have secured key cabinet slots. Abdul Razak Dawood, a scion of Pakistan's biggest business house, Dawood Hercules, has been inducted as Prime Minister Khan's special adviser on the economy, investment, trade and textiles. He works closely with Finance Minister Asad Umar, a key Khan aide and the previous chief executive of Engro Corp, a business owned by the Dawood dynasty.
The usually media-shy Dawood granted his first official interview to the Financial Times as Wang Yi, China's foreign policy tsar, flew into Islamabad last weekend to engage the Khan administration in talks about the future of the CPEC.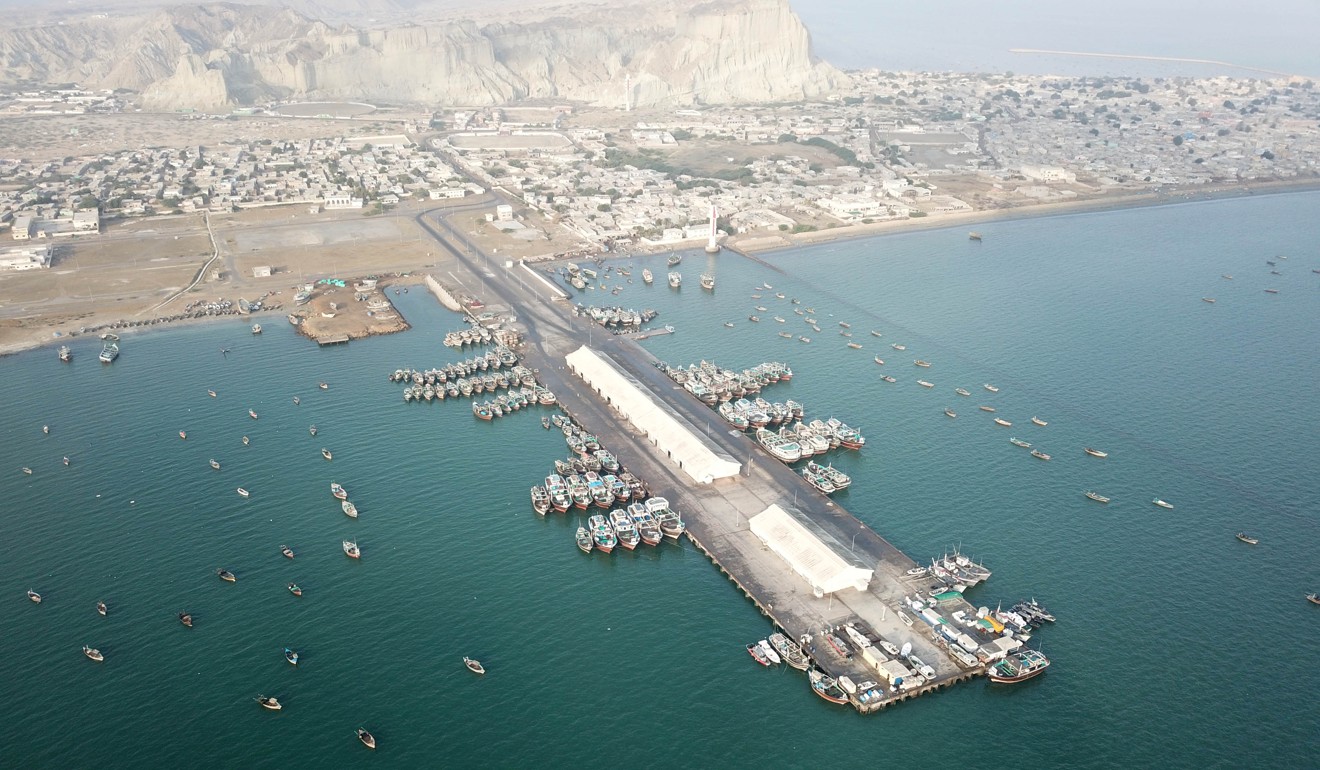 The port of Gwadar was financed by Beijing and built by Chinese state companies. Photo: Xinhua
"The previous government did a bad job negotiating with China on CPEC – they didn't do their homework correctly and didn't negotiate correctly so they gave away a lot," Dawood said in the interview, published as the Chinese team left for home. "Chinese companies received tax breaks, many breaks and have an undue advantage in Pakistan; this is one of the things we're looking at because it's not fair that Pakistan companies should be disadvantaged."
While subsequently rebutted by the ministry of commerce as having been taken out of context, Dawood's comments echoed what he had said in January to Dawn, Pakistan's leading English-language newspaper, in his capacity as chairman of Design Engineering Services and Construction (Descon), a billion-dollar company with a 40-year track record of building major energy and infrastructure projects.
THIS WEEK IN ASIA
Get updates direct to your inbox
By registering you agree to our T&Cs & Privacy Policy
From Hong Kong to US, expat Pakistanis wanted to vote. Now they Khan
The interview drew a rare public response from the Chinese embassy in Islamabad. Although it accepted the government's version of events and criticised the Financial Times, the Chinese ambassador to Islamabad visited the true arbiter of political power in Pakistan, army chief of staff General Qamar Javed Bajwa, the day after the report was published. Instead of the usual good-humoured chat between "iron brothers", official photographs showed a dead-serious ambassador Yao Jing talking, and Bajwa listening attentively.
The accompanying official statement issued by the Pakistani military said Bajwa "reiterated that CPEC is the economic future of Pakistan and its security shall never be compromised". But it was obvious the Chinese diplomat had raised some tough questions about the contradictions between what was discussed by Wang and his Pakistani counterparts, and what Dawood was telling the media.
"This stark FT interview with Abdul Razak Dawood on CPEC – just as Wang Yi wraps up his Pakistan visit – gives further grounds for thinking that the initiative will now be on go-slow mode," tweeted Andrew Small, author of The China-Pakistan Axis.
"According to the news in the last few days, they have been extending it, expediting it, slowing it down, prioritising new elements, prioritising existing elements, renegotiating it, and definitely not renegotiating it."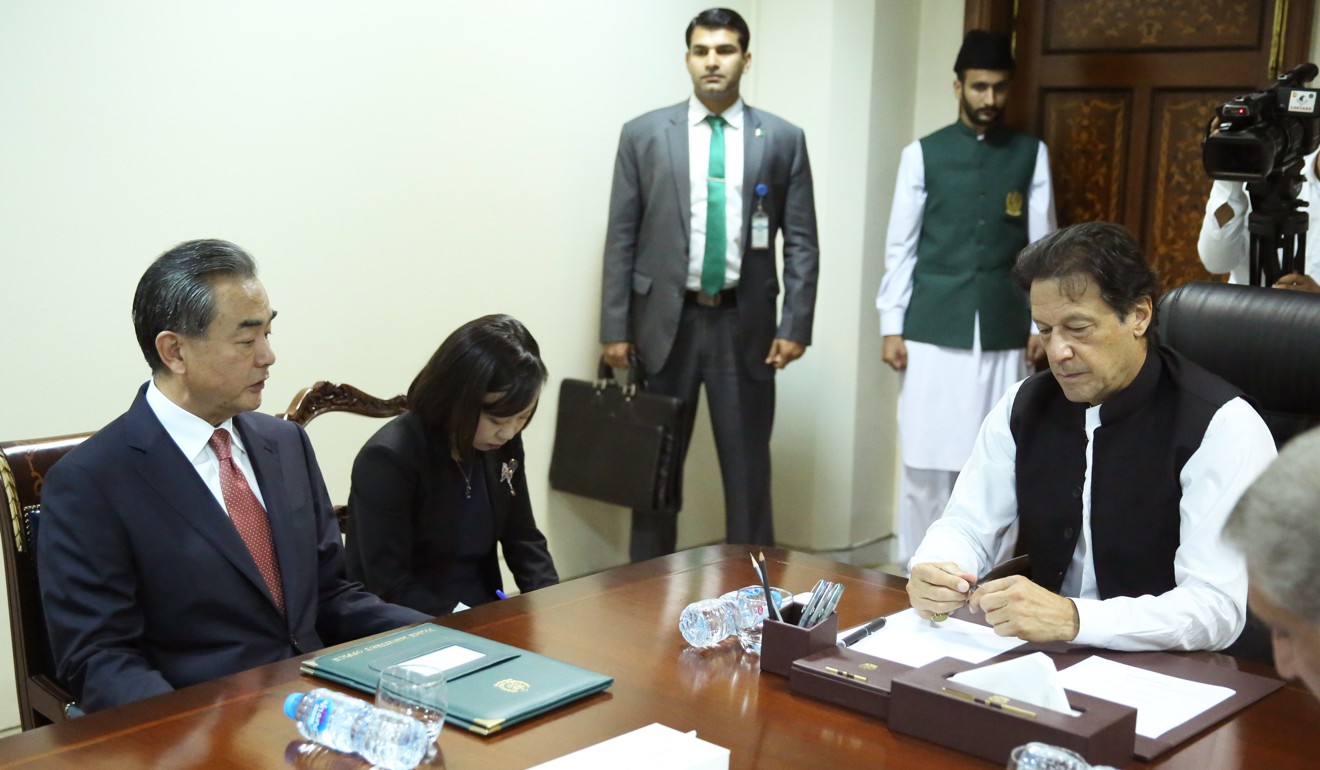 Pakistani Prime Minister Imran Khan meets visiting Chinese foreign minister Wang Yi in Islamabad on September 9. Photo: Xinhua
Mohiuddin Aazim, an independent economic analyst based in Karachi, said Dawood's statement and its subsequent retraction should be viewed in the context of the talks held during a brief stopover in Islamabad by US Secretary of State Mike Pompeo, the day before Wang arrived. Pompeo recently warned that the US would ensure tightened conditions in the event of a widely anticipated Pakistani application for an International Monetary Fund balance of payments bailout, so American taxpayers' money did not end up paying off Islamabad's CPEC debts.
"CPEC has attained greater importance in the backdrop of Pompeo's visit. Before Foreign Minister Shah Mahmood Qureshi visits Washington, Khan's government wants to signal to the US that CPEC is as transparent as it should be. It also wants to signal to Beijing that CPEC implementation will be carried out keeping the interest of local companies in mind," Aazim said. "The presence of American and other Western corporate interests in Pakistan, and the need to accommodate Chinese business interests here, means the government will continue to face internal pressure about 'right posturing' on CPEC from time to time."
Why is the US trying to bully Pakistan with empty China threats?
Dawood is a major source of such pressure. He is a prominent member of the richest of Pakistan's "22 families", which asserted their business dominance in the 1960s, encouraged by military dictator Ayub Khan who needed them to transform the US' cold war largesse into a political success story. As the local partners of the world's biggest multinational corporations, these family-owned business houses also enjoyed extraordinary sops from subsequent American-supported dictators – General Mohammed Zia-ul-Haq in the 1980s and Musharraf in the 2000s. Dawood and his fellow tycoons also occupied cabinet positions during their rule.
The support of the Karachi business lobby has been an important factor in Khan's rise to power.
This lobby has not been happy since democracy was restored to Pakistan in February 2008 because the politicians who took turns in power, President Asif Ali Zardari and Prime Minister Nawaz Sharif, were serious business competitors who sensed great opportunities arising in China.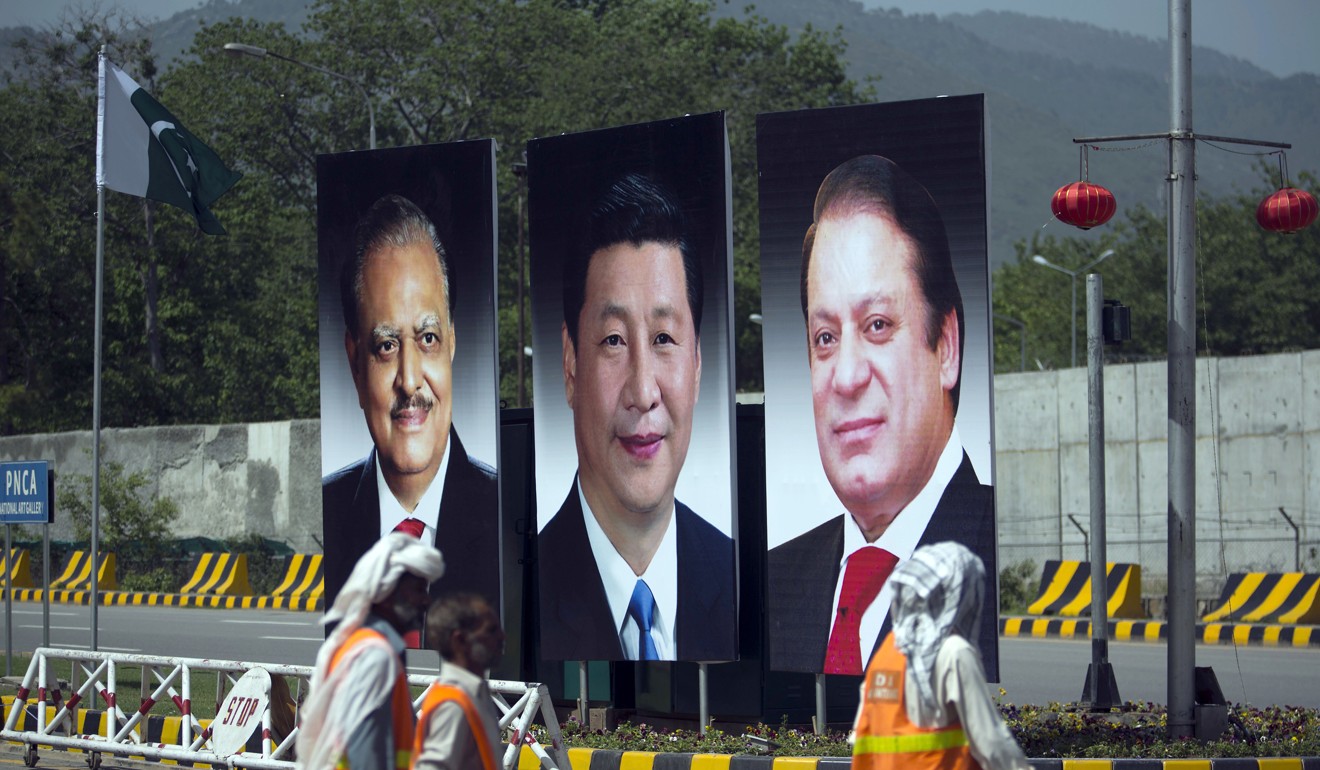 A hoarding showing pictures of (from left) Pakistan's then-President Mamnoon Hussain, China's President Xi Jinping and Pakistan's then-Prime Minister Nawaz Sharif during the 2015 launch of the China Pakistan Economic Corridor. Photo: AP
By paying an extraordinary 29 visits to China during his five years in office and handing control of the Gwadar port to the China Overseas Port Holding Company in February 2013, Zardari laid the foundation for CPEC to connect Xinjiang to the Arabian Sea. His rival, Sharif, followed through after being elected three months later. By the following year, Islamabad was awaiting the arrival of Chinese President Xi Jinping to sign the agreement for the showcase programme of his "Belt and Road Initiative".
They were made to wait a year by Khan, who emerged after two decades in the political wilderness to lead a five-month siege of the government district in Islamabad by a few thousand activists, who were emboldened by the military's refusal to intercede on the Sharif administration's behalf. The siege marked the beginning of a challenge, backed by the powerful military and politicised judiciary, to the entrenched political dynasties led by Sharif, Zardari and their regional allies.
Floods to farmer suicides: for Pakistan and India, real threat is the weather
Whereas Zardari was happy to partner his fellow Karachi-based businessmen, Sharif represented their major rivals in his native Punjab, Pakistan's most populous and relatively well-off province. He had no intention of doing business with rivals like Dawood, who was appointed commerce minister by Musharraf after he deposed Sharif in an October 1999 coup d'etat.
Sharif ensured that Punjab and its business lobby, rather than Karachi, benefited most from the CPEC's US$18 billion worth of early harvest phase energy and infrastructure projects. Chinese state firms were granted tax exemptions and generous guaranteed rates of return on the projects they undertook with export credits from Beijing's banks.
China's economies of scale effectively excluded competition from Karachi-based companies. Dawood's Descon had bid for the engineering, procurement and construction contracts of five CPEC power projects, but were undercut by Chinese firms. "We didn't get even a single job because we were expensive. They [Chinese companies] were cheaper because they got certain tax benefits that were not on offer for us," Dawood told Dawn. "It is not a level playing field."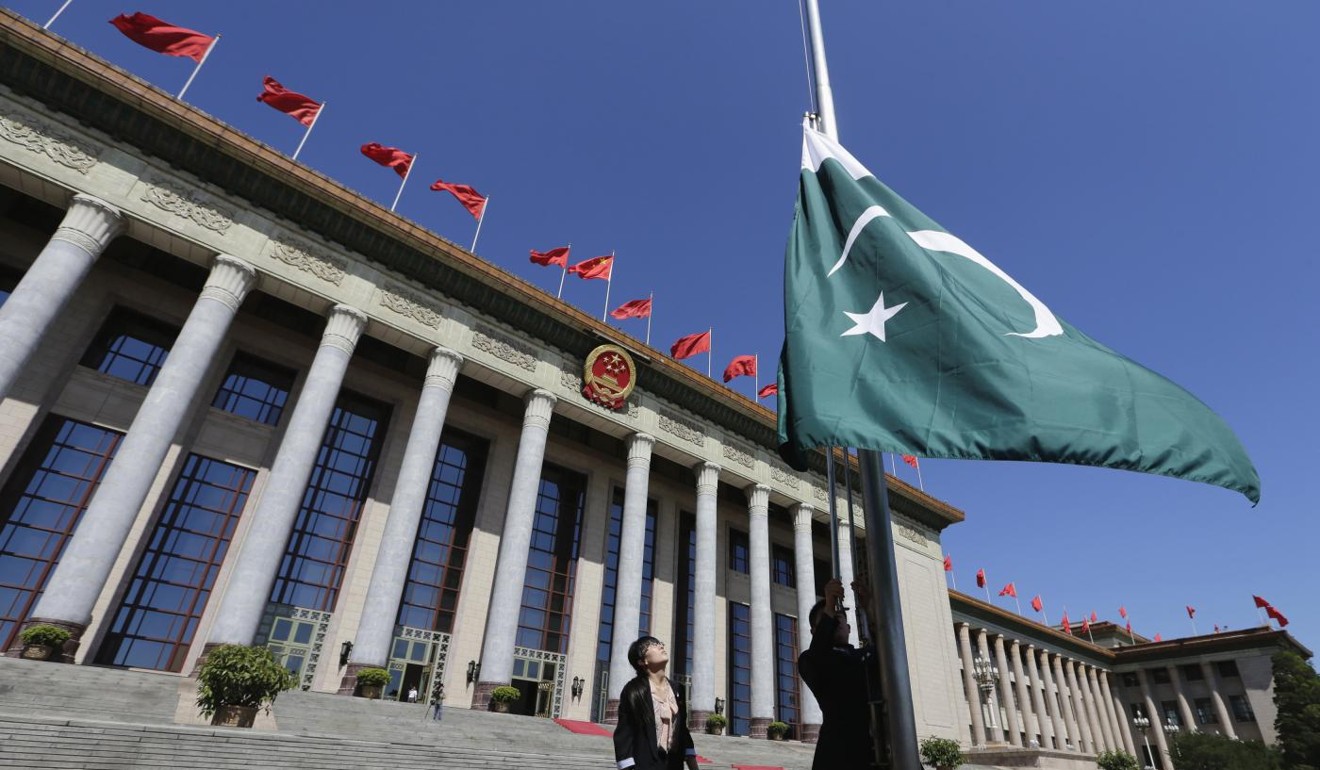 China's economies of scale allowed its firms to undercut Karachi-based companies bidding for CPEC projects. Photo: Reuters
Instead, Sharif's administration ensured that Punjab-based businesses made a fortune by working as sub-contractors for Chinese project developers and providing them with cement and other building materials. Mian Muhammad Mansha and other Sharif-allied tycoons based in Lahore and Faisalabad formed new ventures with Chinese partners in the automotive, cement, power generation and textile sectors.
Chinese influence on rise in East Timor? 'Nonsense', says former president José Ramos-Horta
Chinese firms also encroached on the home turf of Karachi's business lobby. The China Financial Futures, Shanghai and Shenzhen stock exchanges in December 2016 took a controlling stake in the Pakistan Stock Exchange, previously dominated by a coterie of stockbrokers including Dhedhi, the erstwhile partner of PSA at Gwadar.
Around the same time, Shanghai Electric launched a US$1.77 billion bid for ownership of K-Electric, the monopoly utility in Karachi, which sources a significant proportion of its power from the Hub Power Company, an independent producer co-owned by the Dawoods.
But the tide was soon to turn. Sharif was dismissed from office last July by the Supreme Court on convoluted legal grounds. Although his Pakistan Muslim League-Nawaz party remained in power until the completion of its tenure last May, Sharif's hand-picked finance minister Ishaq Dar, a Lahore businessman, was replaced under pressure from the courts and the military. His successor was Miftah Ismail, a Karachi-based confectionery manufacturer brought in to placate the major business interests based in the city, and China's business development plans began to suffer major delays.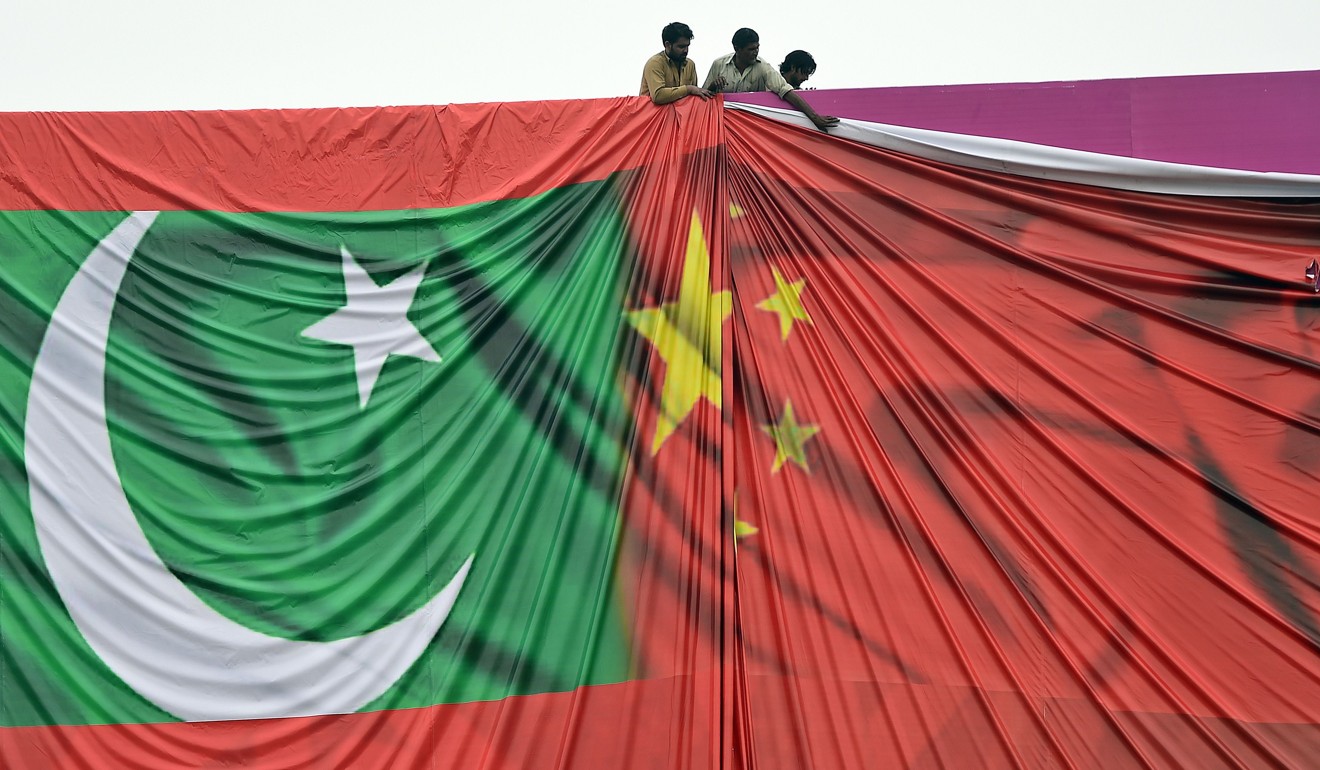 Beijing's next priority for the CPEC is to create special economic zones where Chinese industrial ventures would enjoy tax holidays. Photo: AFP
Beijing's priority for the next phase of CPEC, which runs until 2030, is the development of special economic zones, where Chinese industrial ventures would enjoy tax holidays, potentially at the cost of established businesses co-owned by Karachi's businessmen and their multinational partners. The project remains in limbo as Khan's administration weighs its options, although it is likely to get the go-ahead because he wants to create millions of jobs for his youthful followers.
Fascist fest as Trump's America meets Modi's Hindus
The K-Electric deal had languished while the government weighed up unspecified national-security interests. The cabinet finally granted its approval in April, but by then the project's Dubai-based owners, Abraaj Group, were in serious trouble with regulators in the United Arab Emirates, and Shanghai Electric withdrew its bid. Analysts, however, said China should not be overly concerned at the Khan administration's change of direction and its calls for greater transparency in CPEC projects.
"The importance of CPEC and, consequently, the importance of the Chinese take on Pakistan's economic issues would continue to grow in effect and acceptance in Islamabad," said Aazim, the economic analyst.
"At the same time, concerns regarding over-reliance on China may also be voiced more forcefully by those seeking some balancing act on the part of Khan's government."