As the U.S. dabbles in wars abroad and distractions at home, China invests in the world and grows more powerful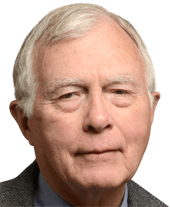 DAN SIMPSON
Pittsburgh Post-Gazette Columnist
A fundamental problem for the United States is that, while President Donald J. Trump engages in antics such as threatening to shut down the government if he doesn't get money for his border wall and floating the idea for a further $100 billion tax cut for the rich, China is well on its way toward eating our lunch on the global economic and strategic level.
The problem is that China has a game plan and we don't.
Chinese President Xi Jinping, tiring of trying to do business with the erratic American president, just keeps pushing along his Belt and Road Initiative (BRI), comprised of investment in infrastructure between China and Europe by way of the Middle East and Africa. It's been described as the Pacific Silk Road, the Silk Road on Ice (through the Arctic) and the Digital Silk Road (think: cyber-warfare.)
ADVERTISEMENT
The BRI will cost $1 trillion to $8 trillion to realize. It will take a long time. But Chinese leaders think in the long term, not in electoral cycles or television seasons. 
Backing up the BRI are the multilateral Asian Infrastructure Investment Bank, established in 2014 as a rival to the U.S.-dominated World Bank, and the China Development Bank. China's continuing efforts to buy American companies make it clear that it has excess investment capital. China also holds more than $1 trillion in U.S. national debt.
Many countries' needs meet China's capacities and ambitions perfectly. Apart from the Azerbaijans, Myanmars and Pakistans of this world, there are also cases such as Argentina and Greece. There has just been completed in Patagonia in Argentina a new $50 million Chinese military satellite and space station. The agreement for it was negotiated quietly when Argentina was in one of its periodic debt crises. Greece sold China a majority interest in its main port, Piraeus, when it was collapsing financially. It is also worth noting that China as a lender does not tend to be picky about corruption, human rights practices or a country's debt capacity.
In the meantime, the United States amuses itself by dabbling in wars, as in Afghanistan, Iraq, Libya, Somalia, Syria, West Africa and Yemen, an expensive hobby with little or no reward. Mr. Trump's flirtation with North Korean leader Kim Jong Un, which risks a big expensive war, isn't worth talking about at this point. It does, however, serve as one more burr under the saddle of U.S.-China relations.
ADVERTISEMENT
Among the reasons China's Belt and Road Initiative meets with such resonance around the world are that the United States has no plan for constructive economic involvement on a global level and U.S. development aid and investment funds are shrinking dramatically. There was a time when we understood that it was in our interest to help countries build themselves up. But the famous Yankee Trader has turned into Ivanka Trump's clothing company. The United States and its companies were big players in building the Inga-Shaba dam in the Democratic Republic of the Congo, then Zaire, when I served there in the Foreign Service. It was capable of producing enough hydroelectric power to light the whole African continent.
Perhaps it's better that our leaders don't put out some big plan to do useful things around the world because, as of now, there would be no money to put behind it. Mr. Trump seems even to have conveniently forgotten about his campaign promise to invest in fixing and building infrastructure here at home, which would have created U.S. jobs as well.
China's substantial advantages also include some 60 million Chinese living in 180 countries, including the United States. They and the large component of Chinese managers and laborers China includes in overseas development projects raise the specter of colonialism, but America should not count on that factor hobbling the Chinese as they quietly and adeptly put their plans into effect.
China's growing influence is an asset to the United States in one respect: combating Islamic terrorism. Beijing shows no tolerance for extremism among the Muslim Uighurs in Western China, for instance.
Chinese foreign policy must take into account that China borders 14 countries. It is perforce different from America's. We border only Canada and Mexico, but Mr. Trump has managed to alienate both of them and longstanding allies elsewhere.
U.S.-China relations are something of a mess, with trade tariffs and threats of tariffs. China is America's third-best customer, after Canada and Mexico. It is the largest provider of our imports. The United States last year was China's best customer. America was the second-largest provider of Chinese imports, after only South Korea. Scrapping with China over islands in the South China Sea is a major waste of American time and money. Ships and sand are so yesterday given the nature of modern warfare.
We need to do some big, global thinking and thoroughly review our overall foreign policy, free of personal business considerations and vulnerabilities.
Dan Simpson, a former U.S. ambassador, is a columnist for the Post-Gazette (dhsimpson999@gmail.com).



http://www.post-gazette.com/opinion/dan-simpson/2018/08/08/Dan-Simpson-China-has-a-game-plan-we-don-t/stories/201808080038