Tuesday, June 5, 2018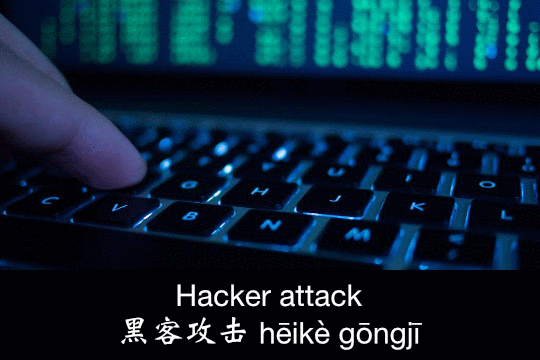 GIF by Lucas Niewenhuis. View pronunciation video from Jia.
Read this in your browser, see our newsletter archives, or view our Access archives for members.
Dear reader,
We were hacked
SupChina.com was attacked yesterday by feckless individuals of unknown persuasion. We are nearly done fixing the damage and our site will be operating normally soon, hopefully by the time you read this. Our apologies for the interruption in service.
If you're not an Access subscriber, you'll have missed our roundup of coverage of June 4 anniversary activities. One recommendation about 1989 in Beijing I'd like to repeat here, if you haven't seen it: the film Gate of Heavenly Peace, produced by Richard Gordon, Carma Hinton, and Geremie Barmé. You can watch the whole thing for free on YouTube.
Two upcoming events in New York
Thursday, June 7: Writer and Sinica Podcast guest Ian Johnson and scholar of Confucius, Mahāyāna Buddhism, and classical Chinese philosophy Tao Jiang 将韬 will discuss morality in China today, at the China Institute.Tuesday, June 19: Kaiser and I will record a Sinica Podcast with a live audience: a conversation with Kevin Collier, cybersecurity correspondent for BuzzFeed. Please write to sherida@supchina.com to reserve a space.
Now on with the show
We've got six things for you at the top today and the usual boatload of links below.
—Jeremy Goldkorn, Editor-in-Chief
1. Defense analyst made $800,000 selling secrets to China?
About a year ago, the New York Times revealed (paywall) that the CIA's operations in China had been "crippled" by the Chinese government from 2010 to 2012. The Times reported that "more than a dozen" sources had been imprisoned or killed in China, and that one informant was "shot in front of his colleagues in the courtyard of a government building," to send a message. American officials scrambled to contain the damage, though they disagreed on the cause — was it a hack of the U.S. government's covert communications system, or a betrayal within the CIA itself?
Since that sensational report, the U.S. government has pinned at least some of the blame on one man, former CIA operative Jerry Chun Shing Lee 李春兴. Lee was arrested in January 2018, and charged in May with "conspiracy to commit espionage and retention of national defense information."
But the ramped-up effort to root out bad actors in the U.S. intelligence community when it comes to China has not stopped there.
On June 2, the Justice Department arrested Ron Rockwell Hansen, a Defense Intelligence Agency (DIA) analyst, as the Utah businessman and army vet and fluent Mandarin speaker went to board a connecting flight bound for China, the Guardian reports.Hansen "received not less than $800,000 in funds originating from China" from May 2013 to now, the Justice Department claims in its notice of the arrest.Hansen has 15 charges against him,including "attempting to gather or deliver national defense information to aid a foreign government" and "acting as an unregistered foreign agent for China, bulk cash smuggling, structuring monetary transactions and smuggling goods from the United States."He also was allegedly attempting to give away the "U.S. position on North and South Korea, as well as its military operations planned against China," the Guardian says, which would explain the handsome payoffs.This is how Hansen describes himselfon LinkedIn: "China expert. My first trip to China was in 1981. Since that time, I have made over 175 trips to China and have lived in China on several occasions. I have an extensive network of Chinese government, business, military, and academic contacts at the national, provincial and local levels."
Additionally, two U.S. diplomats were arrested in the past year on charges relating to China. Former State Department official Kevin Mallory was found with $16,500 in his luggage last June and accused of selling defense information for a similar amount, and Candace Marie Claiborne was accused by the Justice Department in March of having received "tens of thousands of dollars in gifts and benefits" from Chinese agents in exchange for briefings on internal diplomatic discussions.
—Lucas Niewenhuis
2. Belt and Road woes
The course of the Belt and Road, China's "project of the century," is not running smooth. Today's problems include:
Nepal's finance minister said his country's deal with a state-owned Chinese firm to build a massive dam with a price tag of $1.8 billion "would be cancelled and Nepal would fund the project itself," according to the South China Morning Post, which calls the move "the latest blow" to the Belt and Road.Malaysia's finance minister today "announced plans to report to the anti-graft agency upfront payments of billions of ringgit the previous administration made to a Chinese firm for two pipeline projects that have barely begun," reports the SCMP.Mahathir Mohamad, prime minister of Malaysia from 1981 to 2003 and reelected earlier this month, is likely to scrutinize Chinese projects more closely than his predecessor: "Mahathir sees China as increasingly more of a geopolitical threat than an economic opportunity," according to Manila-based scholar Richard Javad Heydarian in an essay titled What Mahathir's return means for China and the region.In Myanmar, a planned $10 billion deep-water port to be built by China at Kyaukpyu was announced in 2007. Asia Times says that Myanmar "became sensitive about being indebted to China," and that recent reports "suggest that the project is now under government review."
—Jeremy Goldkorn
3. Road test site in trouble for inviting Buddhist monks
A road test site in Leiyang, Hunan Province, was ordered to "make a rectification" after it was found to have invited eminent monks to the location, to conduct Buddhist rituals to seek blessings for the facility. In a widely shared video (in Chinese) uploaded by an internet user on June 2, a group of five monks in robes can be seen hosting a blessing ceremony on the site.
The video soon drew attention from the traffic police bureau in Hengyang, which released a statement (in Chinese) on June 3, saying that the site is still under construction and hasn't been put into service.The police said the construction company requested the ceremony but did not get any authorization from the government. Also, the unfinished construction project has been suspended because of "the negative social impact caused by the monks' appearance.""What to rectify? Buddhism has been part of Chinese culture since ancient times. Buddhist followers didn't do any harm to others. Which law did this practice violate?" one Weibo user wrote(in Chinese).
—Jiayun Feng
4. Shanghai Cooperation Organization — a nothingburger?
Founded in 2001 in Shanghai, the Shanghai Cooperation Organization (SCO) is an annual forum for China, Russia, and a variety of Eurasian states to discuss political, economic, and security issues.
The SCO's full members are China, Kazakhstan, Kyrgyzstan, Russia, Tajikistan, Uzbekistan, India, and Pakistan. Observer states are Afghanistan, Belarus, Iran, and Mongolia.The SCO meets this year in Qingdao on June 9 and 10. Xinhua News Agency says the agenda focuses on "measures to fight the 'three evil forces' of terrorism, extremism and separatism, drug trafficking, and cybercrime," as well as "promoting the construction of the Belt and Road."
Evan Feigenbaum, veteran diplomat and vice chairman of The Paulson Institute at the University of Chicago, tweeted: "The Shanghai Cooperation Organization (SCO) summit approaches. Here's audio of a long interview about the SCO that I did with VOA's Uzbek Service in 2016. To my mind, absolutely zero has changed. Bigger, more diffuse, and even less functional." It's worth listening to that whole interview for a crash course in why the SCO is unlikely to achieve much.
5. Brainwashing Buddhist monks and nuns
Nationalist rag Global Times reports:
Buddhist monks and nuns in the Tibet Autonomous Region tasked with spreading government policies completed a three-day training last week to strengthen their political beliefs… Buddhist temples play a key role in Tibet's stability. The facilitators spread the latest religious and political policies and spirit from the central government to monks and nuns, leading them to advocate socialist development with Chinese characteristics.


The original Chinese report, with photos, is on Tibet.cn (in Chinese), which notes that "Tibet is the key to national security and the frontline of the anti-secession struggle," and that the 19th Party Congress report "calls for the acceleration of border area developmentand to ensure its security."
6. Three Chinese characters that describe Xi Jinping's thinking on the environment
Xinhua News Agency's top story on its Chinese website is an installment of its regular series of fawning texts that allows humble mortals such as your editor to enjoy "study time with Xi" (学习进行时 xuéxí jìnxíng shí).
Today's lesson (in Chinese) is about the environment, and it is titled "These three Chinese characters are at the heart of Xi Jinping's thinking on eco-civilization." The three characters are 老百姓 lǎo bǎi xìng — literally, "old hundred names," but meaning the common people, the hoi polloi.
—Jeremy Goldkorn
Viral on Weibo: Good Samaritan in Sichuan
A traffic police officer carried an elderly man across the road on June 4 in Mianyang, Sichuan Province. ​
TODAY'S NEWS ELSEWHERE ON THE WEB:
BUSINESS AND TECH:
Clash of the titans: Tencent vs. Toutiao
The siege of Douyin / TechNode
Tensions surrounding short video sites continue to rise as Toutiao's Douyin accused Tencent of removing "healthy" video posts while criticizing Douyin's content as "vulgar."Tesla factory in Shanghai
Here's what the Chinese government just said about Tesla's new gigafactory / TheStreet
"Over the weekend, China's Ministry of Commerce confirmed that Tesla will build a wholly owned factory in Shanghai."Peer-to-peer debt troubles
China's debt collectors focus in on $200bn P2P debt pile / FT (paywall)
"Thousands of online businesses connecting private lenders to people in need of cash sprang up across the country over the past five years, but a spate of scandals has put these lenders in the crosshairs of regulators…An estimated 1.3 trillion yuan in outstanding [peer-to-peer] P2P debt as of May."Investing in Peru
Chinese firms plan huge investments in Peru / China Daily
"Chinese companies are expected to invest up to $10 billion in Peru in sectors including energy and mines, telecommunications, construction and financing over the next three years."Alipay explainer
The Alipay phenomenon and how it works / Financial Times (paywall)
A video that introduces Alipay," the mobile payment platform of 662 million users that handles more than half of China's $15.5 trillion payments market."
POLITICS AND CURRENT AFFAIRS:
North Korea
China's trade with North Korea is set to soar with a Trump-Kim deal / NYT (paywall)
"On the border, the signs of North Korea's economic dependence on China are evident in a shadow economy of cash couriers, short-term workers and gray-market trading that has persisted despite the sanctions."
1 year later at the North Korea-China border, what's changed? / NPR
"China restricted trade with North Korea but where do things stand now that a summit is scheduled between President Trump and North Korean leader Kim Jong Un."
Air China resumes regular flights between Beijing and Pyongyang / SCMP
"China's flag carrier indefinitely suspended flights between the two cities in November citing poor demand. The suspension came at a time when ties had been frayed by Pyongyang's nuclear weapons programme and Beijing's backing of tough United Nations sanctions in response."Under the gaze of Xi Dada
Daddy dearest / Topic
"The most ubiquitous visual cue of the new era is a preponderance of images of Xi himself."Censorship
Unpublished Chinese censorship document reveals sweeping effort to eradicate online political content / Globe and Mail
"Chinese authorities have tightened their grip on the country's online broadcasting platforms, banning a long list of content — everything from tattoos to religious proselytizing, violations of 'mainstream values,' flirtatious dancing, images of leaders and Western political critiques — as the government seeks to stamp out any venue that could be used for dissent or behavior it considers obscene."Xinjiang
How should the world respond to intensifying repression in Xinjiang? / ChinaFile
"While several U.S. lawmakers have called for sanctions, much of the world remains silent, including the Organization of Islamic Cooperation, which calls itself 'the collective voice of the Muslim world.' What should the international community do?"U.S.-Taiwan relations and the South China Sea
U.S. 'considering sending warship through Taiwan Strait' / SCMP
The move "could provoke a sharp reaction from Beijing at a time when Sino-U.S. ties are under pressure from trade disputes and the North Korean nuclear crisis."
At delicate moment, U.S. weighs warship passage through Taiwan Strait / Reuters
"U.S. officials told Reuters that the United States had already examined plans for an aircraft carrier passage once this year but ultimately did not pursue them, perhaps because of concerns about upsetting China.
The last time a U.S. aircraft carrier transited the Taiwan Strait was in 2007, during the administration of George W. Bush, and some U.S. military officials believe a carrier transit is overdue…
Separately, it now appears unlikely the United States will send top officials to a June 12 dedication ceremony for the new American Institute in Taiwan, America's de facto embassy in Taiwan. Washington does not have formal ties with Taipei."
U.S. B-52s fly by Spratlys amid rising tensions with China / CNN
"The U.S. defense official, who has knowledge of the mission's original flight plan, said it called for the nuclear-capable B-52 bombers to fly about 20 miles from the islands."
China warns West of S. China Sea provocations / Global Times
"The U.S. and its European allies are determined to contain China…if Western naval forces repeatedly challenge China's legitimate maritime rights and sovereignty, the PLA will have to act tougher, which could lead to military conflicts."Australia-Taiwan relations
Australia says China pressured airline Qantas into website change on Taiwan / SCMP
While Australia adheres to the One China Policy, Foreign Minister Julie Bishop said in an emailed statement that "private companies should be able to conduct business operations free from political pressure from governments."
Qantas CEO: We're complying with China's demand on Taiwan / CNN
Australia's biggest airline will change how it describes Taiwan on its website after pressure from China, joining "dozens of other international airlines" that also refer to Taiwan, Hong Kong, and Macau as Chinese territories.
China blocks Australian journalists over 'frosty' ties with Canberra / SCMP
"Australia's diplomatic relationship with China has come under considerable strain in the past 18 months as Australia's focus on Beijing's influence in domestic affairs has increased."
Chinese security officials asked about Turnbull's adviser / Sydney Morning HeraldU.S. restrictions on Chinese student visas
Don't close the door on Chinese scientists like me / Foreign Policy (paywall)
"The United States may feel it's only playing defense in a global cold war over tech. In reality, these policies play into Beijing's preferred vision of the world."Beijing's influence in the U.S.
U.S. lawmakers target Chinese interference in new bill / Foreign Policy (paywall)
"The bill, 'Countering the Chinese Government and Communist Party's Political Influence Operations Act,' would require officials from across government agencies to investigate the issue and submit an unclassified report."Tiananmen memorials
Media roundup: Hong Kong's Tiananmen vigil as reported by local newspapers / HKFP
"Though mostly focused on the vigil at Victoria Park, some newspapers also covered alternative student-led events or the protest march afterwards."
China rebukes Taiwan president for Tiananmen comments / Reuters
"Taiwan's President Tsai Ing-wen said on Monday that if China could face up to what had happened it could become the bedrock for China's own democratic transformation."
SOCIETY AND CULTURE:
Crime novelist gains fame
How to catch a killer in China: Another Chinese crime novel goes global / NYT (paywall)
"Zhou Haohui, the latest author to catch the wave of Chinese crime fiction crashing on international shores, had an unsatisfying job teaching engineering at a university outside of Beijing in 2007 when he began publishing — online — the novels that would earn him a cultlike following in China."A list of fashion designers to watch
The magnificent 7: China's fashion designers of the future / Jing Daily
"With millennials no longer swept away by traditional luxury alone, China's young design talents are riding the wave of a growing appetite for alternative, fresh brands."Money falling from the sky
Meteorites for sale at US$8,000 per gram after fireball near China-Myanmar border sparks treasure hunt / SCMP
"About 200 meteorites have been recovered in southwestern China after a fireball event occurred last Friday, leading to a rush to find and sell the rare rocks."Comic book art in China
The underground artists giving China comic relief / Sixth Tone
"In a crowded train car, angry monsters are devouring passengers. Their wriggling tentacles smash through the glass windows, sending one hapless thermos flying before tearing travelers limb from limb. But these bloodthirsty creatures have humble origins: an average carton of instant noodles."Gun bootleggers
Chongqing cops bust rural gun ring / Sixth Tone
"Police from Chongqing in southwestern China have busted a large firearms manufacturing and trafficking ring, Sixth Tone's sister publication The Paper reported Monday. Officers arrested 20 suspects and seized 24 types of guns, as well as production equipment and large quantities of semi-finished firearms, ammunition, and spare parts."
PHOTO FROM MICHAEL YAMASHITA
Temple offering
A worshipper burns joss paper, also known as "ghost money" — fake currency for deceased family members or relatives to have in their afterlife — inside a Taoist temple in Chengdu, Sichuan Province, in 1998.
—Jia Guo