Wednesday, June 6, 2018
Janet Yang on cinema, China, and being an Asian-American woman
GIF by Lucas Niewenhuis. View pronunciation video from Jia.
Read this in your browser, see our newsletter archives, or view our Access archives for members.
1. Facebook, Huawei, ZTE — the drunken dance
American and Chinese tech industries and their regulators are like a bipolar couple doing a drunken dance where they alternately kiss and try to throttle each other. Today's dysfunctional behavior includes the latest Facebook scandal:
Facebook signed agreements that "gave private access to some user data to Huawei, a telecommunications equipment company that has been flagged by American intelligence officials as a national security threat, as well as to Lenovo, Oppo and TCL," reports the New York Times (paywall).
The four deals are still in effect, but Facebook officials "said in an interview that the company would wind down the Huawei deal by the end of the week.""Huawei said Wednesday it has never collected or stored Facebook user data," according to the Associated Press.
An update on ZTE, from the front lines of the ever-impending trade war: The company has "signed an agreement in principle that would lift a U.S. Commerce Department ban on buying from U.S. suppliers, allowing China's No. 2 telecommunications equipment maker to get back into business," Reuters reports.
ZTE would pay a $1 billion fine, "plus $400 million in escrow to cover any future violations." The company was found in April to have conspired to avoid sanctions on Iran, endangering U.S. national security.The company has already "sent out reprimand letters to 35 current and former employees involved in illegal sales to Iran and is seeking to claw back bonuses from those who have left the company," according to the South China Morning Post, which has previously reported that ZTE "sidelined at least three senior executives" in recent days in an effort to placate American worries.That isn't working, at least not on Capitol Hill. Republican senator Marco Rubio sent out two tweets (1, 2) blasting the Department of Commerce for apparently treating the executive reshuffling as an acceptable compromise. Democratic senator Chuck Schumer, meanwhile, told Reuters, "The president who roared like a lion is governing like a lamb when it comes to China."
In other U.S.-China trade war news related to technology:
It's a tech war, not a trade war: "This is not a trade conflict but rather a competition and comparison of technology," Foxconn CEO Terry Gou said on Wednesday, AP reports. Also relevant to this point is a Marketplace report on "China's quiet hunt to hire top U.S. researchers."U.S. Treasury Secretary Steven Mnuchin favors legislation, rather than the executive action that Trump almost definitely prefers, to limit Chinese investment in sensitive American technologies, Bloomberg reports (paywall). Perhaps we will soon hear reports of another shouting match between Mnuchin and more hardline members of the administration.Fighting state subsidies with state subsidies: "American tech companies are starting to urge their government to take a leaf out of the Chinese book, and steer the industry over the long run," also according to Bloomberg(paywall), primarily citing an editorial from Intel published last month that urged, "The U.S. needs a national strategy on artificial intelligence."
News from other fronts on the trade war:
China offered to buy "nearly $70 billion of U.S. farm, manufacturing and energy products" in exchange for the cancellation of major U.S. tariffs planned for later this month, the Wall Street Journal reports (paywall).U.S. officials are skeptical of the deal,which was proposed by Chinese economic envoy Liu He 刘鹤 to the American commerce secretary Wilbur Ross during his visit to Beijing over the weekend. The Journal says that "they argue that Chinese energy purchases would largely divert U.S. sales to other nations and have no overall impact on the U.S. trade deficit," and that "they also aren't sure that the U.S. could ramp up agriculture production that quickly."
—Lucas Niewenhuis and Jeremy Goldkorn
2. Chain restaurant blames 'contract' worker after viral video of feet on chopping board
A worker at a chain restaurant in Guangzhou has been fired (in Chinese) after a video of him resting his feet on a cutting board while preparing food went viral on the Chinese internet.
The video was filmed at a branch of Yangguofu Malatang 杨国福麻辣烫, a well-known chain restaurant with more than 1,200 locations across the country that serves a Sichuanese dish of meat and vegetables cooked in spicy broth.Yangguofu Malatang released a statement soon after confirming the clip's authenticity. It said that the worker featured in the video was a contractor who hadn't received much training before he started working, and that he had been fired. "Our management system is strict, but there is little we can do with contractors."
The revelation of the worker's job identity as a "contractor" shouldn't come as much of a surprise to anyone who's been following the news in China long enough. Two recent cases:
In May, a local government office in Hunan laid off (in Chinese) two "contractors" after people found there were 53 opium poppies growing in the backyard of a government building.Last year, a Jiangsu government official who was caught (in Chinese) playing mobile games during work hours turned out to be a "contractor.""You hired him. You made the decision. And when he caused trouble for you, you just threw him under the bus," says an opinion piece (in Chinese) published by The Paper.
—Jiayun Feng
3. Three things
The Belt and Road Bodybuilding Competition is a real thing: The International Federation of BodyBuilders has announced 2018 Belt & Road (China): "65 countries invited to an awesome bodybuilding event with $80,000 in prize money." (Thanks to China Dialogue editor Sam Geal for the link, and also for drawing my attention to the "Belt and Road International young fashion designers showcase tour.")Artist Cai Guoqiang 蔡国强, famous for his gunpowder art and pyrotechnics, has been given an honorary doctorate alongside photographer Annie Leibovitz from the Rhode Island School of Design.The future of a boat people: That's magazine reports on the past and uncertain future of the Tanka people: "The newcomers later divided the land of Guangdong into three parts. One part was to be inhabited by the so-called Guangfuren — the most powerful immigrants from the north who actually established and still inhabit the city and area of Guangzhou. Another part went to the Chaoshanren, or Teochew people of the east. And still another part went to the Hakka. The aboriginals, who we now know as the Tanka people, actually did not get a share. They were marginalized in this process of resettlement."
—Jeremy Goldkorn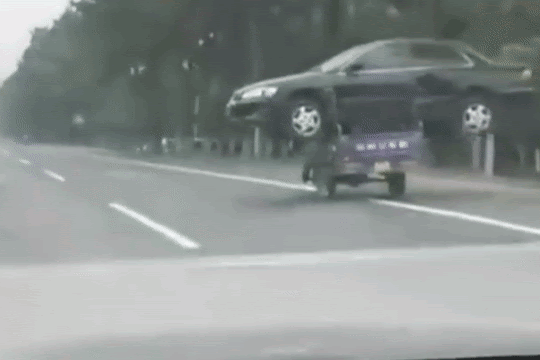 Viral on Weibo: Not your average way to tow a car
A fearless driver drove a motor cart with a car on top of it in Huzhou, Zhejiang Province, on May 30.
TODAY ON SUPCHINA
China Unsolved: A Scientist Vanishes
In June 1980, renowned scientist Peng Jiamu 彭加木 walked into the Tarim Basin desert looking for potash seams in the dried-up salt lake of Lop Nor — or Luobupo 罗布泊, a former nuclear-testing site and restricted military zone, said to be strewn with ancient burial grounds and mysteries. His body has never been found.
Kuora: The unlikely confluence of events that led to the 1989 Tiananmen Square protests
An almost absurdly unlikely convergence of factors made a protest of Tiananmen's size possible. They were, many who have studied the protests would concur, all out of proportion to the size of the initial grievance. The tinder was damp, and yet it caught fire. This is not a lesson that the Party leadership has since forgotten.
TechBuzz China: Lu Qi and Baidu: The Breakup That Broke China's Heart
This week on TechBuzz China by Pandaily, co-hosts Ying-Ying Lu and Rui Ma look at the resignation of Baidu's COO and tech genius Lu Qi and how the move sparked wave after wave of speculation, commentary, and reaction in the Chinese tech world. Why did his departure strike such a strong chord?
Subscribe to TechBuzz China on Apple Podcasts, Overcast, or Stitcher, or click here for the RSS feed.
Fan Bingbing's exposed contract ignites debate about celebrity salaries
On May 28, TV host Cui Yongyuan 崔永元 posted on his Weibo account an image of Fan Bingbing's 范冰冰 employment contract, showing the actress would earn $1.6 million (10 million yuan) for her work, plus other demands. "Stop acting, you're terrible at it," Cui wrote. Last year, People's Daily published a commentary that criticized China's stars for receiving exorbitant salaries despite their lack of acting skills and professionalism.
The Caixin-Sinica Business Brief, episode 50
This week on the Caixin-Sinica Business Brief: A new report that reveals the cost of living in Shanghai and Beijing, scandals surrounding LeEco's founder, Jia Yueting 贾跃亭, Google's new app Files Go, Doug Young on the latest in the Chinese auto and dairy sectors, and more.
Subscribe to the Business Brief on Apple Podcasts, Overcast, or Stitcher.
TODAY'S NEWS ELSEWHERE ON THE WEB:
BUSINESS AND TECH:
Medicine: HIV and cancer
CStone seals $386 million deal for three U.S. cancer drugs / Caixin
"The Chinese clinical-stage biopharmaceutical company CStone Pharmaceuticals Co. Ltd. has secured the exclusive rights to introduce three cancer drugs by America's Blueprint Medicines Corp. to the Greater China region. CStone is paying $386 million to the U.S. company, in addition to tiered percentage royalties ranging from the 'mid-teens to low twenties' on annual net sales of each licensed product."
China approves world's first long-acting anti-HIV drug / Global Times
"Developed by the Nanjing-based Frontier Biotechnologies Inc, the drug can block the fusion of the viral and host cell membranes, interrupting the HIV life cycle in its earliest stage."Who will buy Lenovo smartphones?
Lenovo's comeback plan? $94 smartphone / Caixin (paywall)
"Personal computer giant Lenovo Group Ltd. is aiming for a comeback on its home turf by launching a slew of smartphones priced as low as 600 yuan ($94). The once-prominent Lenovo has fallen behind its homegrown rivals. It sold 1.8 million handsets in China last year, ranking 10th among smartphone-makers, according to research firm GfK SE."Autonomous driving technology from Israel
Israeli autonomous technology developer Innoviz is entering China's car market / TechCrunch
"Innoviz, a developer of light detection and ranging technologies for computer vision and autonomous vehicles," has signed "a partnership with the Chinese automotive supplier HiRain Technologies."Southeast Asia tech investments
China's largest livestreaming app leads $272m funding round for Singapore's Bigo / Tech in Asia
"Southeast Asia's mobile entertainment scene just got a huge boost as YY, China's largest video-streaming app by revenue, is leading a US$272 million series D round in Bigo, the Singapore-based company that operates livestreaming app Bigo Live."Blockchain about-face
China is suddenly full of nice things to say about blockchain technology / Quartz
"Last weekend TV viewers in China learned that 'the value of blockchain is 10 times that of the internet.' The source? China Central Television (CCTV), the government-controlled main broadcaster."WeChat
Tipping WeChat content creators returns to iOS and Android / TechNode
"Tips for original content creators on WeChat is back on both iOS and Android after the WeChat team reached an agreement with Apple. The tips will go directly to the author of the individual piece or article, not to the public account itself."Smuggling ring busted
China arrests 245 over scrap steel smuggling ring / Financial Times (paywall)
"The General Administration of Customs said on Wednesday it had arrested the people over illegal exports of scrap steel to Southeast Asia avoiding a 40 percent export tariff on the material."Pollution solution
"Elon Musk and I are similar" – Meet the scientist who may have unexpectedly solved China's smog problem / RADII China
Meet Dr. Wayne Song, a Chinese academic bringing a multidisciplinary perspective to carbon reduction research.
POLITICS AND CURRENT AFFAIRS:
Mixed signals from the U.S. on Taiwan
To avoid Beijing's ire, Donald Trump won't send high-level officials to opening of de facto embassy in Taiwan / SCMP
"When the American Institute in Taiwan — the unofficial US embassy in Taipei — opens its new offices on June 12, the Trump administration will refrain from sending any cabinet-level official to the ceremony, three sources have told the South China Morning Post."
White House presses U.S. airlines to resist Beijing over Taiwan / FT (paywall)
"U.S. officials have asked United, American Airlines and Delta not to comply with a Chinese demand to write 'Taiwan, China' instead of Taiwan on their websites and maps, according to five people familiar with the issue."
Do American companies need to take a stance on Taiwan? / ChinaFile
As corporations face pressure and consequences from Beijing, eight writers weigh in on how American companies should respond to the Chinese government's requests on Taiwan.America alone, China empowered
Opinion, by Bonnie Glaser: America, hold on to your allies. You'll need them. / NYT (paywall)
Glaser highlights how the United States' recent reclusiveness has played in Beijing's favor, concluding that "if the Trump administration truly seeks to address the challenges posed by China that are outlined in the National Security Strategy and National Defense Strategy, it is essential to temper the president's unilateralist and protectionist proclivities, rebuild relations with allies and restore American credibility and leadership."India-China relations
China sounds positive bugle ahead of PM Modi's second trip in as many months / Times of IndiaAustralia-China relations
Chinese censors ban Australian play The Removalists / Australian ABC
"'Salty' language and violence in a Beijing production of The Removalists has resulted in Chinese censors banning the Australian play."
Australian winemakers press prime minister to end rift with China / Reuters
"As many as six Australian wine companies, including Treasury Wine Estates Ltd — the world's biggest-listed winemaker — have faced delays at Chinese customs since Turnbull complained of Chinese political interference late last year."South China Sea — missile removal and American commentary
Beijing may have removed missiles from disputed South China Sea island/ CNN
"New analysis from Israeli intelligence firm ImageSat International (ISI) suggests the Chinese missile systems may have been removed or relocated."
Vanishing borders in the South China Sea / Foreign Affairs (paywall)
"China continues to succeed in steadily restricting freedoms in the South China Sea, particularly those of its neighbors. This behavior exacts a direct economic toll on the region's developing countries, and, more broadly, threatens international law and the United States' interest in maintaining a rules-based order."
China is alone at sea. That means the U.S. has the advantage / Washington Post
"By reigniting age-old territorial disputes or else cooking up history to justify new claims, such as in the East and South China Seas and in border disputes with India, the Chinese leader has managed to alienate almost every significant naval power in the Indo-Pacific."Gui Minhai ?
37 Swedish newspapers urge China to free detained publisher Gui Minhai / AFP via HKFPHong Kong's mainlandization
Hong Kong's Harrow International School will no longer teach traditional Chinese characters / HKFPMine rescue in Liaoning
23 miners rescued after 11 killed in China pit blast / SCMP
"Rescuers pulled 23 workers out of a mine in northeast China on Wednesday, hours after they were trapped underground by an explosion that killed 11 and left two others missing."Wildlife trafficking
Hunan police bust cross-border monkey business / Sixth Tone
"A court in central Hunan Province has convicted 27 people of trafficking over a hundred protected macaques from Vietnam and reselling them all over China."
SOCIETY AND CULTURE:
College entrance exam week
China's exam migrants desperate for chance to sit life-changing gaokao / CNN
"His parents moved more than 800 miles from their home in Shandong Province to Fujian, in the south, in July 2017 to give him a better chance of scoring highly in the country's university entrance exam — the gaokao."
China's Generation Z gaokao candidates shrug off college entrance exam's reputation for making or breaking futures / SCMP
"Half of the 20,000 gaokao candidates who took part in the survey conducted by Chinese web portal and social media company Sina Corp...said they believed that the exam would not be their only opportunity to take hold of their future."
How China's biggest test-prep school transforms a rural town / Inkstone
"In the past few years, the population has grown by another 15,000, with families like Yuan's arriving to rent tiny studios, some hastily built in the courtyards of local homes, to take care of their studious teenagers. As one batch of families leaves, another arrives to take their place."A robot dog for lonely urban youth
Bad Dog robot is shocking China's youth out of their loneliness / TechNode
An industrial design graduate student, "supported by a panel of big-name companies" has produced a robot named Bad Dog (事儿狗) to comfort lonely single Chinese. "It can monitor your life signs, receive deliveries while you're out and mimic all the pros and cons of having a real dog for city living singles."Supporting breast cancer survivors
Lingerie social enterprise Comfort Me Health Wear caters to Hong Kong breast cancer survivors / SCMP
"The peace and quiet of a spacious lingerie shop in Mong Kok contrasts sharply with the cacophony of street noises downstairs. Here, patrons can feel at ease, but most of the women are picking out the clothing for a more poignant reason — they want intimate wear for life after a mastectomy."LGBT or not
China's love of bromance doesn't extend to actual gays / Sixth Tone
"Men in intimate relationships called 'jiqing' [激情] are more than just friends, but want you to know they're totally straight."A pedestrian lane for phone addicts
China shopping mall sets up lane for pedestrians glued to their mobile phones / SCMP
"A shopping centre in northwest China has built a special lane for pedestrians to walk on while gazing at their mobile phones, according to a newspaper report.""Dirty" and "clean" in China
The Chinese concept of "dirty" / Sinosplice
"Foreigners often think nothing of storing their bag on the ground next to their desks or chairs, but this frequently causes Chinese acquaintances to recoil in disgust. In China, you don't put things you want to keep clean (like your bag) on the ground."Learn Chinese: All the meanings of "heart"
Fun Chinese — the 'heart' edition. / All Things Bright and Beautiful via Twitter
PHOTO OF THE DAY
A rainy day vigil at Victoria Park, Hong Kong
Thousands of people streamed onto the soccer fields — still wet from the afternoon's rain — in Hong Kong's Victoria Park on Monday evening to commemorate the 29th anniversary of the June 4, 1989, crackdown at Tiananmen Square. Photo taken by C.J. Davis.