Wednesday, May 23, 2018telegraphnepal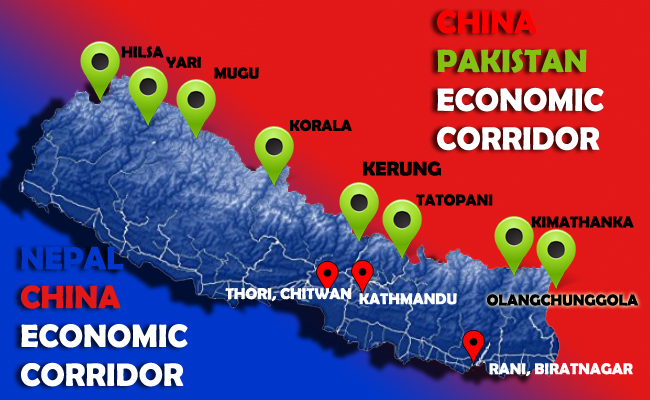 N. P. Upadhyaya: Chances have become high that China may help Nepal as per the needs and the aspirations of the latter when Prime Minister KP Oli lands in Beijing somewhere around the third week of June, 2018.
That China is serious in the fulfilment of its commitments made to Nepal in 2016, has begun surfacing.
Connectivity Matters:
As per the several agreement(s) made then with China on a variety of sectors, linking China's Tibet with the nearest location close to Kathmandu and elsewhere, a technical team from China has already arrived in Nepal, May 22, 2018, to conduct the pre-feasibility study for the cross border railway from KERUNG, China, to Kathmandu, so says Department of Nepal Railways official, reports Xinhua news agency.
Says Aman Chitrakar, a divisional engineer from Nepal Railways that the "Chinese technical team have visited the proposed sites of the planned Railway line ".
Nepal Railways official, Mr. Chitrakar further told the Chinese news agency that the friendly team is here in Nepal to conduct the initial study on geological condition and potential alignments of the proposed railways to enter Nepal through Kerung.
"By August 2018, the study will come up with pre-feasibility report", writes the Xinhua news agency.
The pre-feasibility team has come from China under the Chinese Belt and Road Initiative scheme.
To recall, Nepal is a signatory to the BRI scheme launched by China. The NCEC a la CPEC it is perhaps.
Reports have it that China is more than interested in bringing in Afghanistan in this Corridor which will also ease the irritants that exists in between Pakistan and Afghanistan. China's mediatory role is appreciated. China FM has taken the initiative, it has been learnt.
However, the Indian reluctance is creating troubles for Nepal in joining the China–Pakistan Economic corridor because the NCEC, Nepal-China Economic Corridor can only meet the CPEC and move beyond Pakistan and enter Western Europe only when India changes its "congested" attitude.
Whatever may be the case later, Nepal as a nation shall certainly benefit from the likelihood of the very existence of Nepal-China Economic Corridor taking a formal shape, NCEC, because it would be this corridor that shall accomplish miracles for Nepal at least in lessening the over dependency of Nepal on India. NCEC will then be equivalent to CPEC.
Interestingly, a road that is to link Kathmandu with Tibet through Rasuwagadhi has been shortened by some twenty five kilometers and has already been inaugurated by Nepal's defense minister just the other day. The freshly opened road will shortly be black topped, it has been learnt. The Galchi-Trishuli-Mailung-Syaphrubesi is the shortest route from Kathmandu to link China's Tibet. Moreover, it would be this road if time permitting India prefers to get linked with China for enhancing its tri-lateral trade. This road in Nepal will cross through Nepal's Bhandara in Chitwan district which will have its further opening into the Indian landmass through Thori jungles-a Nepali territory. It was this Thori jungle from where Ms. Sujata Koirala sneaked into India back in 2005 and reached Delhi-the seat of the former Mughal Empire and also of the British India Company that ruled present day India, born 1947, for centuries.
Ms. Koirala later worked hard in collusion with his father Girija Prasad Koirala (Rest in peace) to dismantle the Royal institution by residing in Delhi after the grand escapade.
(Late Koirala unfortunately was, in many more ways than one, working knowingly or even unknowingly then on behalf of the Indian regime which was under the control of Mrs. Sonia Gandhi and her disciplined student PM Dr. MM Singh).
In effect this route shall act, if agreed by India, as Nepal-China Economic Corridor which will definitely meet the China-Pakistan Economic Corridor eventually and find its way all along the Western Europe via central Asia covering some distance through Pakistan. The problem is that India is less interested in this trilateral initiative though China wants to include India in this scheme.
Meanwhile, in London, the Chairman of the Pakistani senate of Foreign Affairs Committee senator Mushahid Hussain urged the Parliamentarians and political leaders of Asia and Europe to promote connectivity and cooperation and opined that his country, Pakistan, was a pivotal player to tackle challenges that of Climate Change and combating poverty and Disease. Mr. Hussain during his speech at the Asia-Europe Political Forum organized by British Parliament said that Pakistan is now the hub of regional connectivity due to China-Pakistan Economic Corridor which will link up China, South Asia and central Asia through Cooperation in energy and economy, roads and railways, ports and pipelines. He also appreciated China's role in promoting globalization as trade and connectivity contributed to lessening political tensions.
Around the same time when Mr. M Hussain was making his speech in London, back home in Pakistan, the Islamabad based French Ambassador Dr. Mark Barety has said that French Companies would also like to explore the China-Pak Economic Corridor project, CPEC, and try to discuss entry points after in-depth negotiations.
This means that the CPEC has become a hot cake also in the heart of Europe and the French interests may also be copied by other European Nations for shared benefits sooner than later.
A story penned by Mr. Zamir Ahmed Awan in the Express Tribune, May 21 2018, says that with the launch of "One belt One Road", OBOR, initiatives and signing of China-Pakistan Economic Corridor, CPEC, both the countries have entered into a new era in their relationship. In addition, the already strong political and military relationship, economic relations have improved exponentially. Chinese investments are pouring in Pakistan, several mega projects have been launched in power generation and transmission. Basic infrastructure like motorways, railway, airports, sea ports, oil and gas pipelines, optical fibers linkages are being upgraded and strengthened.
Says a beaming Pakistan Minister of Interior, Ahsan Iqbal that "Pakistan is moving to Geo-economics from Geo-politics due to the Game Changer, the CPEC. Minister Iqbal recently said that the Chinese Ambassador to his country has assured to complete all the mega projects under prescribed terms and conditions and all concerned departments are directed to finalize their feasibility reports by September, 2018.
Some unknown domestic elements in Pakistan have had tried to kill Minister Iqbal but he survived luckily.
While the CPEC is making great strides inside Pakistan, its political ripples have all the way reached France, a very powerful country in Western Europe and a world power. To boot, the French envoy posted to Pakistan Dr. Marc Barety has said that French companies would like to explore the China-Pakistan Economic Corridor project and try to discuss the entry points after having needed negotiations.
Australia too appears to have begun exhibiting interests in mending its somewhat fractured ties with China.
The Australian Foreign Minister Julie Bishop said this Monday, 21 May, that her country values its relations with China and sees China's development as an opportunity rather than a threat.
Of late, a section of the Australian society including media had been making political statements that were in many more ways than one been damaging the China-Australian Friendship to which the Chinese foreign minister, Wang Yi, made it known to his Australian counterpart, Julie Bishop, when the two met on the sidelines of the G20 Foreign Ministers' Conference in Argentina.
The Australian Minister, Ms. Julie, assured her counterpart that China's sustainable success is good for Australia and the rest of the world also.
"And this is the mainstream opinion about China in Australia", she assured Chinese FM Wang Yi, May 21, 2018.
In the meanwhile, the BAP, Baloch Awami Party, is being termed as a "political revolution" in the Baloch province with its present day leaders citing its interests in making a success to the ongoing CPEC projects, and shall remain above any political agenda and personal interests.
The Baloch leaders have attached their destiny with the success of the CPEC.
The Central President of the BAP, Mr. Jam Kamal Khan, recently said that the party that he represents is adamant to make the CPEC beneficial for the entire province terming it as its main objective. This Mr. Khan said while talking his own party's senior leaders. (Twitter).
In a fresh development, the Chinese State Councilor Mr. Zhao Kezi has said in Beijing that "China stands ready to maintain close coordination with the Pakistan State under the Shanghai Cooperation Organization, SCO, frameworks and enhance bilateral cooperation on fighting transnational crime, anti-terrorism and security issues".
The State Councilor Mr. Zhao further said that the two countries will continue to maintain strong close collaboration to implement the China-Pakistan Economic Corridor, CPEC. This he said while talking to the National Security Advisor to the Pakistan PM, Mr. Naseer Khan Janjua.
State Councilor Zhao and Mr. Khan met each other during the 13th meeting of the SCO Security Council secretariat in Beijing.
China would consolidate all weather friendship and deepen strategic cooperation with Pakistan, Zhao concluded.
Since the Nepali Prime Minister is all set to land in Beijing shortly, it would thus be advisable for PM Oli to remain in close contact with Pakistani government officials in Islamabad and gain knowledge on issues related with the CPEC which could be applied in our own proposed Nepal-China Economic Corridor projects


http://telegraphnepal.com/nepal-china-economic-corridor-a-la-cpec/