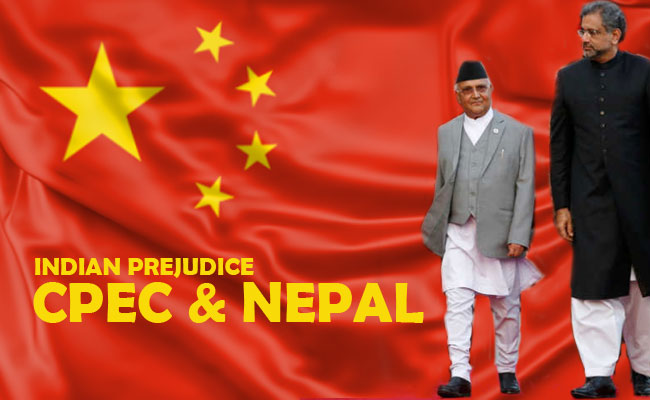 N. P. Upadhyaya:   India was playing double with China last month end. This is the Indian habit though and thus nothing to make big of it all.
While a nervous looking Indian Prime Minister Narendra Modi was having several rounds of informal talks with Chinese President, Xi Jinping, in Wuhan, men of the RAW and the Indian security agencies were also having secret talks with the US authorities in Goa, India around the same time.
Needleless to say, such surreptitious events must have come to the knowledge of the Chinese authorities whose intelligence agencies perhaps outsmart the Indians. Thus President Xi must have talked with PM Modi in a reserved manner as could be guessed. President Xi served Assam Tea to his Gujarati host and lauded the film Dangal directed by Amir Khan. Modi is a declared Muslim hater, who might not have taken President's Xi admiration to Dangal movie in a good taste.
India believes in domination and bullying which is what smaller neighbors of India have over these several decades experienced and have undergone through merciless penalties in having dared to ignore at times to the Indian compelling dictates and sermons. The former British slaves as they were, to recall.
Nepal perhaps knows what India means to her for the wearer knows where the shoe pinches. Nepal as a nation-state so far, as far as this scribe recalls, braved three economic blockades in series at different intervals of time.
The first one was by Mrs. Gandhi. The second one was imposed by Rajiv Gandhi-the aircraft pilot turned politician and the third one was by Chaiwala Modi in 2015.
The duration of the Modi imposed blockade was for over six months but Nepal braved this inhumane act in a manner that shall be recorded in history as the most glorious period for Nepal and its nationalist population.
It was around this time that the then Nepal PM Oli managed to sign some epoch making agreements that, if brought into action as per the agreements in a specified time period, with northern neighbor China can yield unimaginable benefits to this India, born 1947, tortured and locked nation.
It was perhaps this time that China offered to help Nepal much the same way as it has been assisting Pakistan through China-Pakistan Economic Corridor, CPEC, by advancing the idea of NCEC (Nepal-China Economic Corridor).
The corrupt Nepali bureaucracy is perhaps reluctant in giving a shape to this important vision and thus making unwanted delays in doing proper homework so that the top leadership could not initiate talks as regards the NCEC with the concerned Chinese authorities on time.
The NCEC has been taken as a gateway to South Asia and through SA, it, that is the Corridor, wishes to approach the Western Europe traveling Pakistan, Central Asia and finally to Western Europe the first step of it all beginning from the Nepali soil.
Some sixty five countries plus have already either joined the Chinese initiative, OBOR, or have expressed their keen desire to be a part of the OBOR scheme of China.
Pakistan has in a remarkable manner been enjoying since 2013 the fruits of development for having allowed the Chinese to assist her with mega projects through CPEC.
The CPEC, is about the whole of Pakistan from Gwadar to Gilgit. It is also not just about electricity, or energy, or highways, or other brick and mortar projects. It is in effect, about the transformation of Pakistan into a leading emerging economy.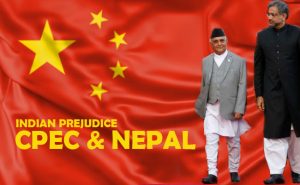 Indian Prejudice
Talking very high of the entire CPEC phenomenon, Pakistani Prime Minister Shahid Khaqan Abbasi said, May 3 that his country is now emerging as an attractive destination for investors after overcoming multiple challenges.
India for its own inferiority complex ridden syndrome has been opposing the CPEC projects for some mysterious political reasons.
Fresh reports have it that while India expressed its reservations for the OBOR while meeting with President Xi as former Indian foreign secretary Shyam Saran claims in his fresh write up upon his mysterious trip to Nepal, then in the meantime a veteran elderly tribal Baloch leader Jumma Marri said this Thursday, in his own words, "Our enemies are repeating the practice of luring Pashtuns as they did with Baloch nation, but their vicious ambitions would be wiped out through national unity".
According to this tribal leader, the "Indian army uniform is behind the terrorism in Pakistan", adding that the province future remains linked with Pakistan.
The elderly tribal leader termed Kul Bhushan Jadav's arrest from Balochistan was a clear proof of the Indian involvement in luring the Baloch people to achieve its ill motive and objectives.
Why the Indian establishment is doing such erratic activities in the neighboring countries, including Nepal, Bangladesh, Sri Lanka and the Maldives and of course baby Bhutan, is any body's guess because old ugly habits die hard.
Almost half of the Nepal's media and the intellectual sector, presumably, were in some way or the other helping India by defeating their own motherland.
Perhaps they have not been doing such foul acts for free. Just a guess work only.
Indian PM Modi is coming to Nepal to seduce PM Oli to keep China at a distance and in lieu of doing so, India shall do everything for Nepal as the latter's demands and desire together with preference, at least this much has been given to understand the Nepal's all time foolish population.
But the fact is that India has occupied Nepali lands to the tune of sixty seven thousand hectares in twenty four districts that adjoins India.
So if Nepal PM Oli gets lured by his Indian counterpart then Nepal is sure to lose its existence even and in turn the Nepali population will have the valid reason to take him as Nepal's Lendhup Dorje of the Sikkim dishonor. Or, PM OLi prefers to repay the Delhi's Medanta Hospital debt for his Kidney impairment?
But will PM Oli prefer to be awarded with this (dis)honor by his own people? Perhaps not, hopefully.
While India is having bad mouth and has been through its agents in cover criticizing the entire CPEC scheme of things, then on the other in a very surprising political development, much to the chagrin of the entire Indian machinery, the Ambassadors of the Central Asian countries based in Islamabad have said that CPEC will emerge as a gateway to Central Asian Region. Notably the Ambassador of Kazakhstan said that the prospects of development in CPEC are tremendous which will play an important role in furthering regional connectivity.
The fresh and the sudden eruption of love and honor in between the Russian Federation and Pakistan for each other will in all likelihood change the global politics as it stands today.
Pakistan is buying arms and weapons from Russian federation. To recall, the Pak Army Chief after Maldives, had landed in Moscow and toured many a Muslim Countries in the neighborhood. Block change of the Cold War allies.
With China already active in the South Asian political landscape which has now been joined by the Russian federation makes Pakistan to take a sigh of relief which perhaps needs no further elaboration for the students of International relations. All these political developments have come at a time when North and the South Korea have agreed to go in for a détente.
The Korean peninsula is now safe and out of danger. However, how the US takes the North and South Korean ties shall determine the future course of global politics. The Japanese factor is also there.
This means that Pakistan enjoys strong friendship of the two super powers who count in world politics. Pakistan is now flanked by China and Russia. The two heavy weights at a common point.
Pakistan needs to step up efforts to counter negative image in many countries and portray the real picture to highlight its huge economic potential, so said the Swiss Consul General in Karachi, Phillippe Crevoisier just the other day while talking to the APP at the inauguration of The Explorer Store-the first distributor of Swiss products in Karachi, Pakistan.
"It would help the country to increase trade with existing partners along with exploring new markets.
He emphasized that the China-Pakistan Economic Corridor is a big opportunity for Pakistan to build its soft image and also to boost its national economy.
He also pointed out that China was making big investments under CPEC and that would change the business environment in his host country which will, added the Swiss envoy, that "it will also increase Pak-Swiss trade and hoped that the scenario would change after the CPEC gets completed over time".
Touching upon the law and order topic, the envoy said that the issue in question has improved significantly which has been providing healthy environment for Foreign Direct Investment, FDI, in Pakistan. (May 4, 2018).
In the meantime the Project Director of the China-Pak Economic Corridor, Ministry of Planning, Development and Reform Mr. Hassan Daud Butt has said, Wednesday, that his country is the center of three engines of growth and will benefit the maximum from the successful operationalization of CPEC as the trade through the Corridor will surpass US $ 3 trillion in the coming days and months.
He informed the audience of a seminar jointly organized by the Center for International Studies, CIS, Bahauddin Zakaria University, Multan in collaboration with the Institute of Peace and Diplomatic Studies, IPDS, Islamabad on the CPEC theme that all the projects under the CPEC came with an interest of 2.39% which Pakistan would return within 25 years to China.
He was of the view that "in the history of the government of Pakistan there had never been a better deal than this.
"The CPEC will prove thus, said a beaming Hassan Daud, will prove a game changer for his country as the Gwadar port has the potential to surpass neighboring ports in terms of trading activities".
How India reacts to the fresh Russian and Pakistani friendship developed in the recent days will have to be watched.
Before I conclude, let me quote a Chinese proverb which appears relevant for this analysis:
"When the winds of change blow, some people build walls and others build windmills".
Perhaps India is the loser ultimately


http://telegraphnepal.com/indian-prejudice-cpec-nepal/