https://www.bloomberg.com/news/articles/2018-04-05/record-delegation-to-china-has-austria-preparing-new-world-order

Record Delegation to China Has Austria Preparing New World Order
By
Matthias Wabl
April 5, 2018, 2:18 PM GMT+5:30
Austria sees economy and markets shifting toward China, Asia
China's President Xi Jinping meets Austrian leader Sunday
Austria is sending its largest-ever trade delegation to China to strengthen the foundation of what the Alpine country sees as a new economic and political order tilting east toward Asia.
About 150 Austrian company representatives led by President Alexander Van der Bellen will fill a Boeing 777 on Friday headed for Beijing for a week of hobnobbing with China's economic and political elite. China's President Xi Jinping is scheduled to hold a working meeting with Van der Bellen on Sunday.
"We'll discuss what the geopolitical shift from a transatlantic world order to a Pacific one means," Austrian Foreign Minister Karin Kneissl told reporters at a press conference in Vienna. "Regarding the economy, 80 percent of our exports are focused on European markets, so there is room for improvement in Asia -- which is much more than China."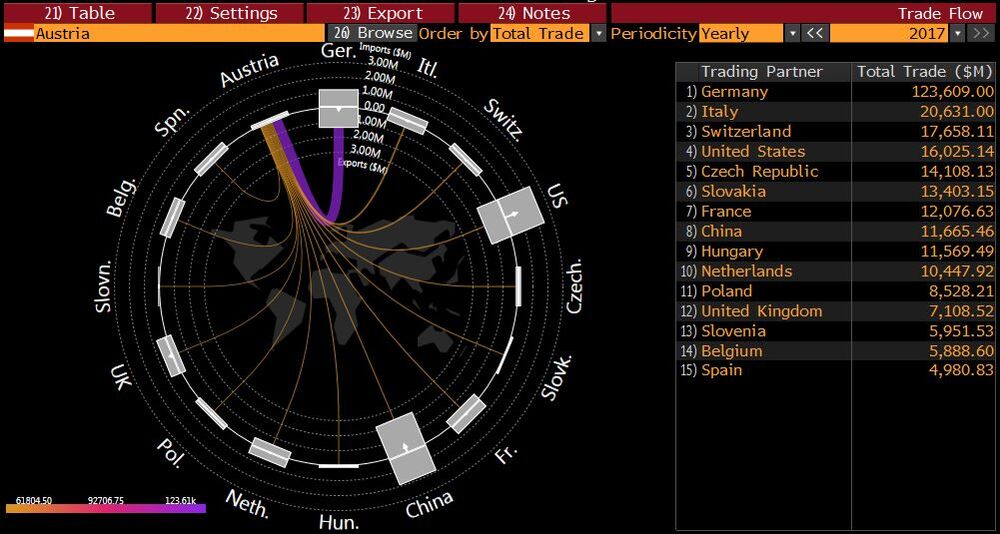 Austria's delegation, which also includes Chancellor Sebastian Kurz, underscores China's growing role in trade and technology. Austrian executives expectChina's so-called new silk road to spur demand of climate-friendly technologies like batteries and electric cars. The trade route known in Beijing as the Belt and Road Initiative has invested than $60 billion in countries participating in the transport network.
Read How Trump May Drive EU and China Closer on Trade: QuickTake Q&A
Austrian companies will present their products for potential customers in the energy, infrastructure, aviation and security sectors. Christoph Leitl, the head of Austria's chamber of commerce, is accompanied by senior executives from companies including Erste Group Bank AG, Andritz AG and Red Bull GmbH.
Companies are planning to sign about 30 contracts worth 1.5 billion euros ($1.8 billion) during their visit, according to Economy Minister Margarete Schramboeck. Austria will increase the frequency of large economic missions to Asia and is planning to present a new export strategy by the end of the year, she said.
Chinese companies have also started to take stakes in Austrian companies to gain access to technology and markets. They include FACC AG, a maker of aircraft components; Wolford AG, a luxury knitwear company; and C-Quadrat Investment AG, a Vienna-based asset manager.