https://globalnation.inquirer.net/163796/india-ready-help-boost-asean-maritime-security

A peaceful, very prosperous maritime neighborhood is very important to India
By: Jeannette I. Andrade- Reporter /@jiandradeINQ
Philippine Daily Inquirer / 07:44 PM February 04, 2018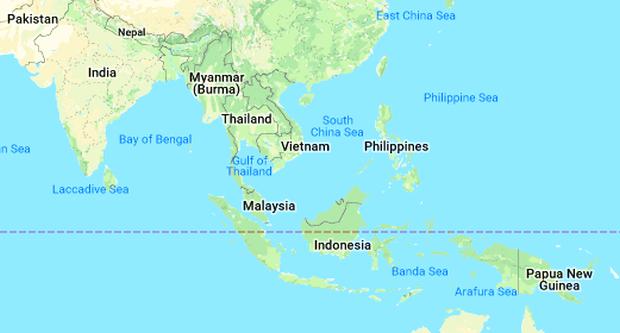 A peaceful, very prosperous maritime neighborhood is very important to India, 40 percent of whose commerce relies on unimpeded passage through international waters in the Indo-Pacific region including the South China Sea, according to East External Affairs Minister Preeti Saran. (Image from Google Maps)
DELHI, India — The Indian government has expressed readiness to help strengthen maritime security in Southeast Asia, particularly in ensuring that peace will prevail in disputed areas of the South China Sea.
But Vivekananda International Foundation (VIF), a think tank based in New Delhi, said that any assistance that the Indian government would extend to members of the Association of Southeast Asian Nations (Asean) would depend on the comfort level of every country, apparently referring to each one's ties with China.
A peaceful, very prosperous maritime neighborhood is very important to India, 40 percent of whose commerce relies on unimpeded passage through international waters in the Indo-Pacific region including the South China Sea, according to East External Affairs Minister Preeti Saran.
ADVERTISEMENT
"We remain very committed to Asean's centrality in the regional architecture," Saran said. "We supported Asean for freedom of navigation in the important stages of communication. We remain committed to a rules-based system, respect for international law and that there should be no threat or use of force by any entity in these waters which are the global commons."

Is Customs chief Lapeña playing dumb?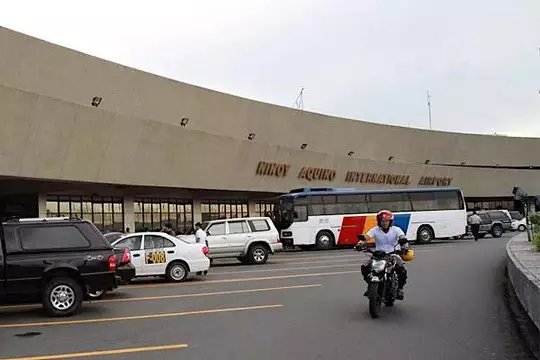 Japan-bound Filipino held at Naia for non-declaration of yen, pesos
"If there are disputes or territorial disputes of some the Asean countries with some other neighbors, we believe that all disputes should be resolved peacefully in keeping with international laws, notably the UNCLOS," she added.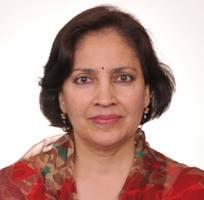 India'sEast External Affairs Minister Preeti Saran (Photo from her Facebook page)
UNCLOS – the United Nations Convention on the Law of the Sea – defines the rights and responsibilities of nations in their use of oceans, establishing guidelines for businesses, the environment, and the management of marine natural resources.
'Issues-free relationship' with Asean
"We have a very strong defense cooperation with some of the Asean countries," Saran said. "But what is the beauty about our relations with Asean and each of the Asean countries is that it is without any problems. It is an issues-free relationship. There are no irritants in our relationship. In fact there is a greater desire on the part of each of the Asean countries and Asean as a regional grouping to do more business with India."
She was referring to the recent India-Asean commemorative summit last Jan. 26, which coincided with India's Republic Day. It was attended by all Asean heads of state, including Philippine President Rodrigo Duterte.
Saran said that the partnership between India and Asean encompasses political, security, defense, maritime, economic and cultural cooperation.
With India being one of the fastest growing world economies, growing at 7.5 percent this year and expected to grow by 8 percent in 2019, the country provides an opportunity for Asean countries to access goods and services.
"As far as India is concerned, we feel that the Asean region is our natural partner," Saran said. "There is a lot of dynamism in the Asean region itself. Individually each of your countries are doing exceedingly well economically and we feel there are complementarities in our economies."
ADVERTISEMENT
"The Asean way of doing business is of consensus," she added. "We are aware that Asean is deeply committed to peace and prosperity in the region and we feel that India is a natural partner for Asean in this desire for attaining peace and prosperity in our region which is why we remain very hopeful that our relations will only improve and issues-free that we see elements positive in our economic growth that there is a greater desire [among] Asean countries for India to be more active and actively participating, not just in economic activities but also in security cooperation."
Common challenges
She said that India and Asean face common challenges of terrorism, piracy, maritime terrorism, extremism, and natural disasters which "come straight out of over exploitation of maritime resources, of our natural resources."
India has developed standard operating procedures on providing humanitarian assistance in responding to natural disasters as well as disaster risk reduction management, looking at natural calamities as a cause of concern and an important area of cooperation with the Asean-member states along with the development of the so-called blue economy.
The blue economy involves the fisheries and aqua-culture sectors as well as the use of maritime resources, including oil and gas.
It was, she assured, without spoiling the environment, "because India remains very strongly committed to sustainable development."
"We feel that  if we have to grow, to provide decent standards of living to our people, our 1.2 billion people, we cannot do so at the risk of damaging our environment," she said. "Our growth is not at the expense of somebody else's exploitation."
"We are very mindful and remain very sensitive to concerns relating to sovereignty and territorial integrity," she added.
Among areas in maritime cooperation that India hopes to explore with Asean is disaster risk reduction and management, joint patrols and exercises, and other maritime capacity-building activities.
She said India and the Asean countries, individually and collectively, could make arrangements on intelligence sharing to combat piracy at sea, terrorism, and sea-based human smuggling as well as narcotics trafficking.
Security cooperation important for India and Asean
For its part, the Vivekananda International Foundation said that it would be vital for India and Asean to explore areas of security cooperation, particularly where the "lack of order in the South China Sea" is concerned.
"Our security, prosperity, development, everything depends upon the order of the sea," VIF senior fellow Anil Wadhwa said. "It is very important that India and Asean should begin to look at security cooperation."
"It is not a new idea. It is an idea that has been incrementally gaining ground but we also notice that there has been hesitation on the part of some Asean countries, because of obvious reasons, to take this cooperation farther," he added.
He assured that India would ready to have a serious security cooperation – particularly through maritime joint exercises – with Asean, individually and collectively, but any arrangement would have to be within the level of comfort of the Asean-member states.
But Wadhwa stressed that any arrangement should not be viewed as moves to oppose any country.
VIF senior fellow and research coordinator Vinod Anand observed a wavering Philippine stance on its claim to territories in the South China Sea despite securing a favorable ruling from the Permanent Court of Arbitration.
In the July 2016 ruling, the court found that the Philippines had exclusive sovereign rights over certain areas in the West Philippine Sea and that China had no historic rights to resources within the areas falling within its nine-dash line map, which has been invalidated.
Without invoking the arbitral ruling, the Philippines has since pushed for the drafting of a code of conduct in the South China Sea involving China and all other claimant-countries.
Nevertheless, Anand pointed out: "India supports freedom of navigation or flight and unimpeded commerce and international law, the UNCLOS. Any dispute should be resolved through peaceful means without threat or force… The Indian position is quite clear