http://indianexpress.com/article/explained/in-likely-new-military-base-in-pakistan-chinas-great-game-move-5018195/


The question now is whether New Delhi should put all its eggs into the US basket to combat China and Pakistan.
Written by Jyoti Malhotra |Updated: January 10, 2018 8:21 am

The speed with which China is implementing its grand Belt and Road vision makes it likely that India will find it difficult to catch up.


In a corner of Gwadar Bay, 34 km from the Iran-Pakistan border, is the small town of Jiwani. According to legend, Queen Victoria had expressed a desire to watch the sunset from this edge of the British Empire — the Pakistan Coast Guards still maintain a "Victoria Hut" in Jiwani.
The town on Pakistan's Makran coast finally looks set for its date with history. China plans to build its second military base overseas — after Djibouti at the mouth of the Red Sea — in Jiwani. Only 90 km to the east is the Gwadar deep sea port, a culmination point of the ambitious China-Pakistan Economic Corridor (CPEC), which will be able to handle 13 million tonnes of cargo annually within five years — and an astounding 400 million tonnes annually by 2030 — to be transported to landlocked Central Asia and to western China.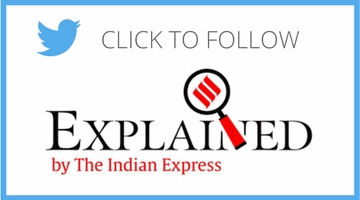 The first report naming Jiwani as a possible site for a Chinese joint naval and air facility appeared on December 12, 2017 on the web site of the Pakistani Urdu TV channel 7 News. China had, in late November, offered special training courses to Pakistan, including to its Special Security Division, to secure the CPEC, the report said.
Reports over the last month in Pakistan, the US and Hong Kong have pointed out that while Gwadar is being readied as a civilian port, a key takeoff point on China's mega Belt and Road Initiative, the proximity of both Djibouti and Jiwani to crucial oil and shipping lanes will allow Chinese warships to keep an eye on a region of great geostrategic importance.
So, when US President Donald Trump tweeted on January 1 that the US had given $ 33 billion in aid to Pakistan but had received only "lies and deceit" from that country in return, two things happened.
First, a Chinese spokesman criticised Trump for castigating Pakistan, which "had made great efforts and sacrifices for combating terrorism", and the Global Times daily observed that should the US and Pakistan fall out, "Islamabad will be forced to move closer to China and Russia", and "since China and Pakistan enjoy an all-weather strategic partnership of cooperation, Beijing will without doubt not give up on Islamabad".
Second, the day after Trump's tweet, the State Bank of Pakistan announced that both public and private sector companies were free to use the yuan in bilateral trade and financing transactions, bringing the Chinese currency on a par with the US dollar. Pakistan's Interior Minister Ahsan Iqbal had told reporters at the launch of the Long-Term Plan (LTP) for CPEC on December 19, 2017 that "we are examining the use of the yuan instead of the US dollar for trade between the two countries".
Following Trump's tweet, the Global Times remarked that "Washington could (now) rope in New Delhi more closely", adding that a BJP spokesman had welcomed the President's post. While Trump's critical comments on Pakistan are music to India's ears, it is a truism that New Delhi must remain both watchful and cautious. The Pakistan-China axis is old and solid, with Beijing transferring both equipment and nuclear and missile technology to Islamabad. Certainly Trump's impetuous tweet will now allow Pakistan to do publicly what it has done behind the scenes for some time — walk out on the US and move decisively into the circle of influence of its "iron brother".
Pakistani analysts privately concede that the first overtures to China on Jiwani were made soon after President Barack Obama ordered the raid on Osama bin Laden, who lived within shouting distance of the Pakistani military academy in Abbottabad. Writing in the conservative Washington DC-based news and opinion web site The Daily Caller, retired CIA officer Lawrence Sellin pointed out that the Special Security Division seconded to protect the CPEC "from internal and external threats" is a Pakistani military command of 15,000 personnel that was set up in 2016. It is composed of nine Pakistan Army infantry battalions, six "Civil Armed Forces" elements of Army Rangers and Frontier Corps units, and a maritime security command led by the Pakistan Navy, which includes the Maritime Security Agency and the Pakistan Marines, Sellin wrote.
On December 18, according to The Washington Times newspaper, 16 officers of the Chinese People's Liberation Army met with 10 Pakistani military officers in Jiwani to cement plans to build a Chinese base there. Last week, the Hong Kong-headquartered South China Morning Post quoted Zhou Chenming, a military analyst based in Beijing, as saying that "China needs to set up another base near Gwadar for its warships because Gwadar is now a civilian port." A naval base was necessary for a "Chinese naval flotilla patrolling the Gulf of Aden and other warships escorting Chinese oil tankers in the Indian Ocean", Zhou said.
Indeed, a new version of the Great Game is unfolding in the region. Some 400 km west of Jiwani, on the other side of the Iran-Pakistan border, lies Chabahar port in which New Delhi has invested $ 100 million for two berths on a 10-year lease. India hopes to circumvent its Pakistani headache by sending goods by sea to Chabahar, and then onwards to Afghanistan and Central Asia.
But the speed with which China is implementing its grand Belt and Road vision makes it likely that India will find it difficult to catch up. It is unclear how many Chinese military and security trainers are being positioned in Pakistan along the CPEC, but the numbers are expected to be considerable. The question now is whether New Delhi should put all its eggs into the US basket to combat China and Pakistan. But it may already be too late to ask that question.
jyoti.malhotra@expressindia.com