http://balochwarna.com/2017/11/10/balochistan-pakistani-forces-abduct-seven-people-including-an-elderly-man-and-a-teenage-student/#.WgXQfHiBFOs.whatsapp
Balochistan:
27 minutes ago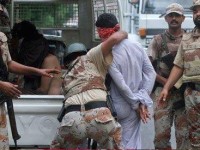 QUETTA: Pakistani security forces have abducted at least seven people including a teenage student and a 60-year-old man from district Kech and Turbat Balochistan on Thursday.
The FC (Frontier Corps) and intelligence agencies of Pakistan conducted a raid in Kech Bazar and abducted Rashid Raza son of Shakhi Dad resident of Shapuk.
In Tump's Nizarabad region Pakistan forces raided several houses and harassed women and children. Two men named Nadil son of Gull Mohammad and Ashraf son of Yousaf were abducted during this unwarranted raid.
In a separate incident, Pakistan forces abducted 60-year-old Murad son of Gull Mohammad and youngster Badar son of Mohammad Saleh from Gawak area of Mand Balochistan.
Badar was previously abducted by Pakistani but he was released later.
Meanwhile, Pakistani forces also abducted Samiullah Wadhela s/o Raheem Baksh from his house in TTC Colony, Gwadar Friday night. Victim Samiullha is a student of 10th grade.
Another Baloch man, named Yaseen son of Ganguzar, has also been abducted from Baloch Colony Gwadar on Friday night.
All the abducted persons were still missing at the time of filing of this report.
It is pertinent to mention that Pakistan forces have lately intensified that abduction of teenage Baloch students.
Last month Pakistani rangers and intelligence agencies abducted at least nine students from a house in Karachi whose whereabouts remains unknown.
Three teenage students were also abducted from Quetta. They are also still being held by Pakistani forces in their undisclosed interrogation and torture centres