http://balochwarna.com/2017/11/05/hunger-strike-for-restoration-of-baloch-students-at-qau-continue/

about 6 hours ago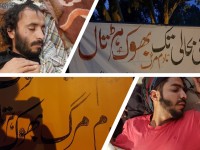 ISLAMABAD: The condition of two Baloch students of Quaid-i-Azam University (QAU) deteriorated as they continue their hunger strike for the restoration of the expelled friends in Islamabad.
One of the students, Saddam Baloch, was shifted to the Pakistan Institute of Medical Sciences (Pims) on Friday to due to deteriorating health issues.
Students sitting on hunger strike said that Saddam Baloch lost conscious and his health is rapidly falling.
On Saturday evening, the health of Norouz Jamali Baloch also worsened, and he too reportedly lost conscious.
Outside, the hunger strike protest of Baloch students' banners and placards read: "the hunger strike until the restoration of the expelled students will continue, give us education or death, education is our human rights, and dying to live."
The students associated with the Baloch Students Council went on hunger strike six days ago.
According to Dawn.com, The Baloch students have been demanding the restoration of students who were expelled and rusticated by the university for being involved in a clash with Sindhi students in May this year.
The Pims official confirmed that the student Saddam Baloch was brought to Pims on Friday where medical aid was provided to him and he was out of danger.
However, the Baloch students say that the health condition of their friends continues to deteriorate, and the University administration will be held responsible if anything happens to them