https://www.bloomberg.com/news/articles/2017-10-13/xi-s-silk-road-dream-may-need-lot-more-than-one-dollar-debt-sale




By 
Lianting Tu
October 13, 2017, 9:25 AM GMT+5:30
A one-off dollar bond sale by the Chinese government may not be enough to pull down costs for the nation's quasi-sovereign issuers, especially if they are to support the world's biggest infrastructure initiative.
For Andy Seaman, chief investment officer at Stratton Street in London, a 30-year bond would help provide a better benchmark for notes from the nation's state-owned enterprises, which are expected to ramp up dollar debt issuance for President Xi Jinping's One Belt, One Road initiative. So far, more than 60 countries have signed on or appear inclined to participate in Xi's signature ambition to deepen China's economic ties with Asia, Europe, and Africa.
China's Ministry of Finance saidWednesday that it will sell $1 billion of five-year notes and the same amount of 10-year debt "soon." A person familiar with the matter told Bloomberg News that the offering could come as soon as this month.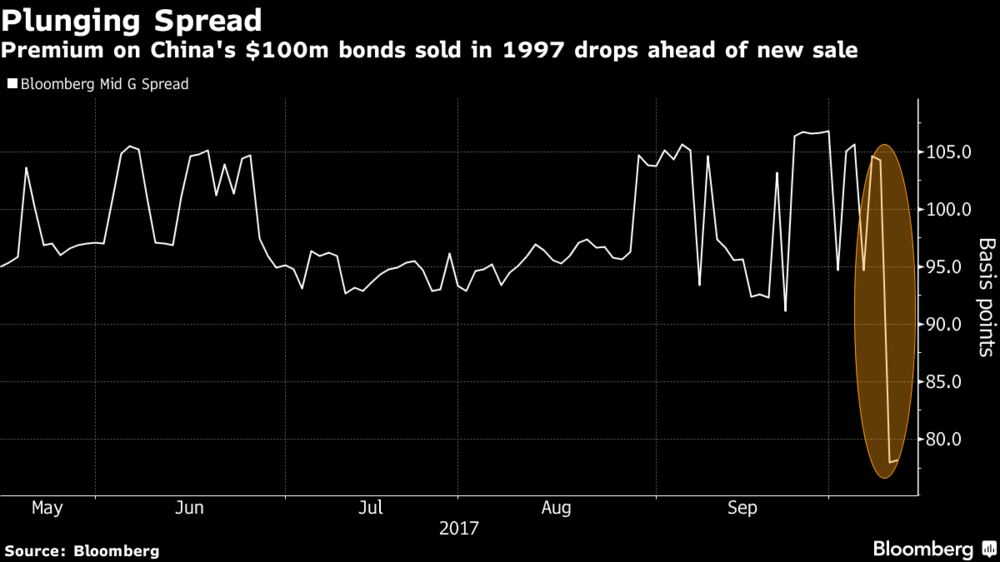 More sales and tenors from the Chinese sovereign would better support pricing of Chinese investment-grade and quasi-sovereign bonds, according to Thomas Kwan, Hong Kong-based chief investment officer at Harvest Global Investments Ltd., a Chinese fund manger with $110 billion under management