http://www.breitbart.com/national-security/2017/09/06/vietnam-protests-chinese-military-drills-disputed-south-china-sea/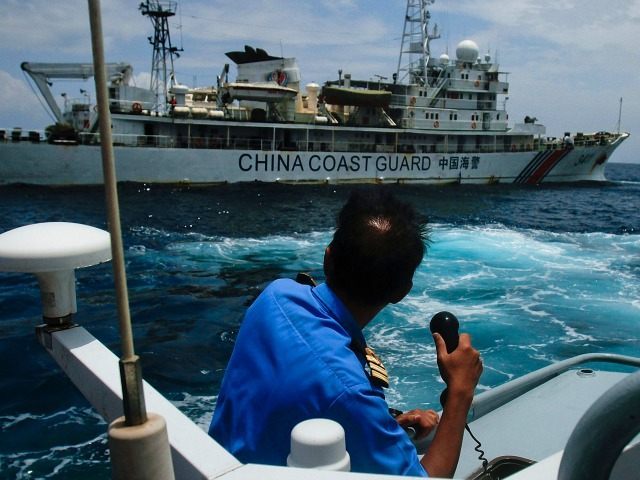 Rahman Roslan/Getty Images
Vietnam condemned Chinese live-fire military drills near disputed islands in the South China Sea this week, but the complaint was dismissed by a Chinese official who implied Hanoi was acting irrationally.
China conducted drills in an area including the Paracel Islands, which Vietnam also claims. The dispute was vigorous enough for China and Vietnam to fight a battle over the islands in the 1970s and has heated up again in recent years as relations between Beijing and Hanoi deteriorate. Vietnam has strenuously objected to Chinese cruise ships running through the Paracels in the past, so its displeasure with military drills using live weapons is easy to imagine.
advertisement
The Southern Baptist Theological Seminary
Southern Seminary - Master of Divinity Online
Sign up for more information about our Master of Divinity Online and receive Dr. Timothy...
LEARN MORE
Some more scenes from that deteriorating Beijing-Hanoi relationship, courtesy of the South China Morning Post:
Tensions have flared in recent months, with Vietnam suspending an oil exploration project operated by Spain's Repsol in an area off its coast claimed by Beijing.

A meeting between top Vietnamese and Chinese generals over border issues was abruptly cancelled in June, with both sides citing a sudden scheduling conflict.


Then came China's announcement of "regular military training" in the South China Sea, which Vietnam denounced in a firm but polite manner.
"Vietnam strongly rejects China's move and seriously requests China to respect Vietnam's sovereignty over the Hoang Sa archipelago," said the Vietnamese Foreign Ministry on Tuesday, using Vietnam's preferred name for the Paracel Islands.
"We will resolutely protect our sovereignty and our legitimate rights and interests in the East Sea through peaceful measures that are in accordance with international laws," the Vietnamese declared.
advertisement
"The drills themselves are not unusual. China does several military drills in the South China Sea each year, including frequently in the Gulf of Tonkin and around the Paracels. And Vietnam protests them anytime they occur in waters that Hanoi considers to be disputed," Gregory Poling of the Asia Maritime Transparency Initiative at the Center for Strategic and International Studies told Vietnam's VN Express.
However, Poling added that "the language of the objection from Vietnam highlights that tensions are high right now."
China's Foreign Ministry was equally firm and polite in telling Vietnam to pound sand. "We hope the relevant side can regard the drills calmly and reasonably," sniffed a Chinese Foreign Ministry spokesman on Wednesday.
China is Vietnam's top trade partner, takes advantage of cheap Vietnamese labor for its manufacturing concerns, and pumps a steadily increasing amount of money into the Vietnamese economy through tourism. The UK Express suggested this economic relationship is one reason relations between the Vietnamese and Chinese governments have gotten worse: because Vietnam is "fiercely independent" and worried about influence over its own politics and those of its neighbors.
Voice of America News speculated that Vietnam is actually suppressing much of its anger over Chinese provocations because it knows it lacks the allies necessary to win either a diplomatic or economic war with China. However, Vietnamese politicians are also acutely sensitive to the demands of their constituents for defiance against China.
The result can be seen in China's breezy dismissal of the complaints Vietnam felt obliged to register about the Paracel Islands. Politicians in Hanoi get to check the "stand up to Beijing" box on their resumes, while China continues to act as if it has undisputed ownership of every inch of South China Sea real estate it claims.