https://www.thenews.com.pk/latest/230604-Gwadar-port-lucrative-for-Tajikistans-import-export-Pakistan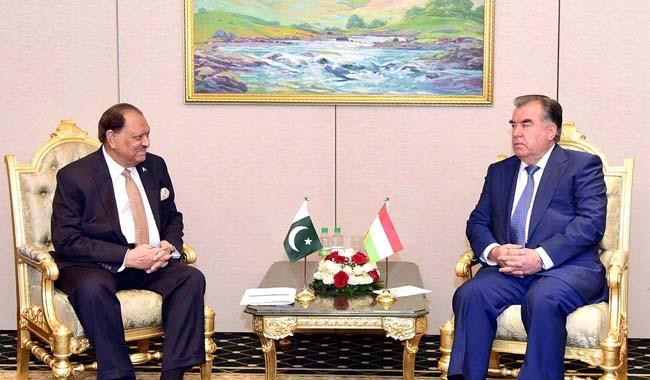 ASHGABAT: President Mamnoon Hussain on Sunday said, Pakistan offered excellent opportunities to Tajikistan for its imports and exports through Gwadar port and invited the country to benefit from the trade route of China-Pakistan Economic Corridor (CPEC).
In the meeting, Mamnoon Hussain with Tajikistan's President Emomali Rahmon, hoped that the legal process for Tajikistan's entry into Quadrilateral Traffic-in-Transit Agreement (QTTA) would provide the Central Asian country a legal framework to access Pakistani seaports through CPEC. The QTTA is a transit trade deal between China, Pakistan, Kyrgyzstan and Kazakhstan with a road project under the umbrella of CPEC.
The two leaders, who met in Turkmenistan's capital on the sidelines of 5th Asian Indoor and Martial Arts Games (AIMAG), discussed cooperation in energy sector, regional connectivity and trade.
President Mamnoon said, Pakistan have attached great priority to the timely completion of CASA-1000 (Central Asia South Asia) by 2018 and looked forward to importing electricity from Tajikistan.
Mamnoon further called for expediting the implementation phase of CASA-1000 and initiating physical work on the flagship project for its timely completion.
President Mamnoon said Pakistan have also attached great importance to its relations with the Central Asian countries particularly Tajikistan, as two countries enjoyed fraternal ties, shared common goals of peace and prosperity for their people and the region as a whole.
He stressed the need to finalize the Bilateral Transit Trade Agreement, which he said would create a win-win situation by creating road links between Pakistan and Tajikistan.
President Mamnoon said bilateral trade between Pakistan and Tajikistan was highest among the Central Asian countries and emphasized on tapping its true potential.
He mentioned that three Pakistani Trade Exhibitions had been organized in Dushanbe since October 2015 besides holding of two business forums, the latest one was in May 2017. President Mamnoon apprised his Tajik counterpart that, Pakistan was holding tenth Edition of Expo Pakistan this November and suggested that Tajikistan could also send a trade delegation to Expo Pakistan, to which President Emomali Rahmon agreed to.
He said Tajikistan was a gateway to Central Asian countries and emphasized that establishment of air and road links would promote bilateral trade and tourism.
He said resumption of direct air link between two countries, in May 2016, was a big step forward and stressed the need for resumption of flights by Tajikistan's Somon Air which had been suspended within three months of its launch.
President Emomali said, "Tajikistan and Pakistan were celebrating 25 years of their diplomatic relations", and mentioned that the bilateral accords signed in last four years had enriched the legal framework of relations.
He agreed to command his government for resumption of Somon Air flights to Pakistan.
He thanked Pakistan for providing counter-terrorism training to Tajikistan's defence, security and police officials that helped improve their professional capacity.
He further said though the trade volume between Pakistan and Tajikistan was the highest among all Central Asian states, but he emphasized to further boost it.
President Emomali extended the invitation of President Mamnoon to visit Tajikistan in future, which was accepted by President Mamnoon.
Minister of State for Petroleum Jam Kamal and Pakistan's ambassador to Turkmenistan Murad Ashraf Jamal were also present in the meeting