http://news.abs-cbn.com/news/08/21/17/duterte-wont-fight-china-over-sandy-cay



Dharel Placido, ABS-CBN News
Posted at Aug 22 2017 01:48 AM | Updated as of Aug 22 2017 05:55 AM
Save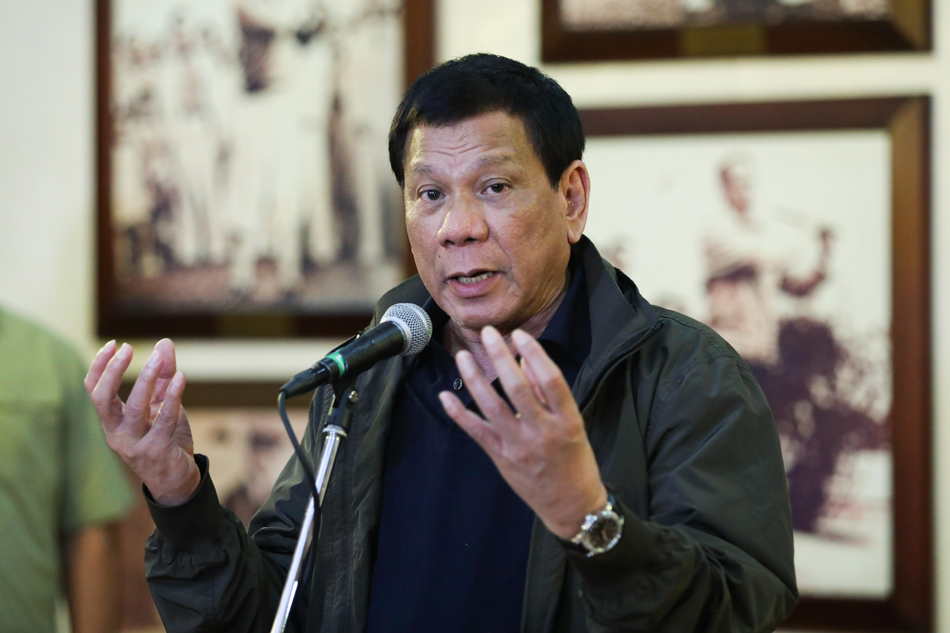 President Rodrigo Duterte talks to the Malacañang Press Corps at the Malago Clubhouse, Malacañang Park in Manila on Monday night. Robinson Niñal, Jr, Presidential photo/handout
MANILA – President Rodrigo Duterte on Monday said he would not confront China over the reported presence of Chinese ships in Sandy Cay, a geological feature near the Philippine-held Pag-asa Island (Thitu Island) in the West Philippine Sea.
Supreme Court Senior Associate Justice Antonio Carpio earlier said that Sandy Cay, located some 2.5 miles off Pag-asa Island, was being "seized – to put it mildly – or being invaded – to put it frankly – by China."
Asked to react on the alarm raised by Carpio, Duterte said he was given assurances by Chinese Ambassador to the Philippines Zhao Jianhua and the Chinese Foreign Ministry that Beijing has no plans to occupy or build structures over Sandy Cay.
"Hindi naman nag-iinvade eh. Hindi naman totoo yung sinasabi ni ano (Carpio). They are just there but they are not claiming anything," Duterte told reporters.
The President also labeled as untrue Carpio's claim that Chinese ships were preventing Filipino fishermen from approaching Sandy Cay.
"Free for all iyan. Because it is claim by them and it is claimed by us," he said.
With the ties between Beijing and Manila vibrant, Duterte also appeared lukewarm on filing a diplomatic protest over the presence of Chinese ships in Sandy Cay.
Duterte again said that the Philippines cannot afford to confront China, an economic and military superpower, chiding Carpio and other critics for telling him to assert Manila's claims to the disputed South China Sea.
"We will not win," Duterte said.
"It would be a great sacrifice. I'm sure di natin kaya. I'm a realist. Don't push me into the realm of impossibility. Patulak-tulak ka, udyok ka ng udyok, pagka nagkaptukan dito, safe naman kayo diyan sa opisina niyo."
It was Magdalo Rep. Gary Alejano who first revealed the presence of Chinese ships near Pag-asa Island, which is part of Kalayaan town in Palawan that is home to a military detachment and a village of about 100 Filipinos. 
Foreign Affairs Secretary Alan Peter Cayetano then scored Alejano and other critics of the presence of Chinese vessels near Pag-asa island, saying China is not an enemy of the Philippines. 
Alejano's claim was later backed by satellite images from American think tank Asia Maritime Transparency Initiative (AMTI) of the Center for Strategic and International Studies (CSIS) which showed 9 Chinese fishing vessels and 2 Chinese Navy ships near Pag-asa island. 
AMTI said it was impossible to know if the ships are affiliated with China's maritime militia, but it noted that at least 2 of the ships appeared to be fishing with nets in the water.
Since assuming the presidency, Duterte has sought to downplay Manila's maritime dispute with Beijing, in pursuit of warmer ties with the economic giant.
The President has also chosen to set aside Manila's arbitration victory against Beijing which invalidated the latter's 9-dash line claim to the West Philippine Sea. 
China claims almost the entire South China Sea, through which about $3 trillion worth of trade passes each year. Brunei, Malaysia, the Philippines, Taiwan and Vietnam also have claims to parts of the sea