http://maritime-executive.com/editorials/normalizing-military-operations-in-the-s-china-sea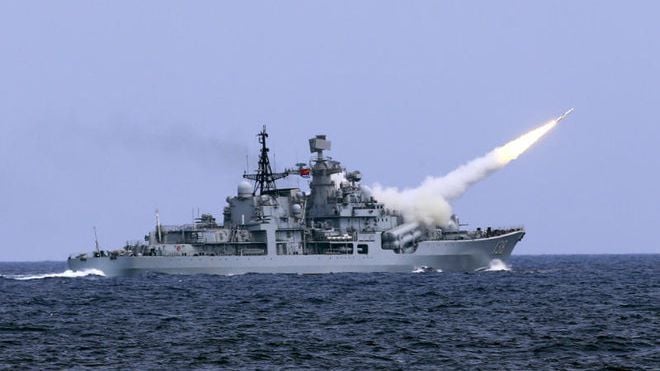 File image
By CIMSEC 2017-06-22 21:29:58
[By Brandon Hughes]
On December 22, 2016 Hainan Airlines flew its first chartered flight to Woody Island (Ying Xing Dao), one of the many disputed islands in the Paracel Island Chain in the South China Sea. For a mere 1200 Yuan (roughly $173 USD), a patriotic Chinese tourist could purchase a one-way ticket to visit the controversial island outpost. Less than a week later, China sailed its first aircraft carrier, Liaoning, around Taiwan, accompanied by an escort of five People's Liberation Army Navy (PLAN) warships, amid vocal protests from the Taiwan and Japanese governments.
Though decades behind the more advance U.S. Nimitz and Gerald R. Ford class carriers, the deployment of China's newest power projection platform sends a clear strategic message. The series of moves by Beijing are not only tactical decision points, but part of a broader strategic narrative aimed at regional competitors, periphery countries, and the United States. Beijing is sidestepping concerns over its militarization in the region by simply continuing on its own agenda. By downplaying controversial decisions and promoting "standard" and "scheduled" actions or exercises, Beijing is shaping the narrative to its benefit. 
China's militarization is as much a domestic issue as it is a blunt approach to international diplomacy. The ever-growing military prowess of Beijing is steamrolling weaker countries and brushing off critics. The CCP does subscribe to the age-old analogy using both the carrot and the stick in global diplomacy. For example, in the Philippines case, Beijing has had an on again off again charm offensive, supporting President Rodrigo Duterte, and sidestepping disputes over the Scarborough Shoal. The remarkable policy shift in the Duterte administration has allowed Beijing to continue development of the Shoal without widespread pushback. 
Officially, the United States declines to take sides in the territorial disputes, and continues overflight surveillance and Freedom of Navigation Operations (FONOPS).  Leadership in Beijing does not seem to possess a sense of urgency to resolve the South China Sea disputes, nor does it have enough external pressure to do so. In fact, the first U.S. FONOP patrol since President Trump took office was only conducted on May 24, 2017.
Since 1949, China has settled disputes with nearly every country along its borders. These have not always been in Beijing's ultimate favor, but were instrumental in allowing the CCP and PLA to refocus time and resources towards Taiwan and other core interests. The South China Sea may be seen as a flash point by many, but there remains plenty of room to negotiate. The South China Sea is one of the last disputed "borders" that Beijing has to contend with, and given the sheer volume of untapped natural resources, centrality of international trade, and over-fished Chinese littorals, it is in Beijing's interest to maintain its position and continue to expand its footprint in the region.
Capabilities and Possibilities
By wielding this defiant attitude and increased military aptitude, Beijing hopes to grow its footprint farther from its borders. Emplacement of HQ-9 surface-to-air missiles on Woody Island and the likelihood of increased air defense and intelligence capabilities in the region are small moves towards a tactical asymmetric proficiency. Additionally, a recent article quoted U.S. military officials as having assessed that China's Hainan Island harbors a robust system of air defense missile systems, including the SA-21 system with a 400km range. Once these emplacements are finalized, the accompanied C4ISR infrastructure refined, and defenses fully hardened, these small outposts will most certainly be incorporated into a notional South China Sea air defense identification zone.
In the event of a Taiwan or South China Sea contingency, the possibility for China to declare a no-fly zone over the disputed islands is a near certainty, albeit one that will present significant difficulties in execution. A functioning aircraft carrier forward deployed into the South China Sea, active patrols by Chinese attack submarines, and Chinese fighters launching and recovering from the Paracel Island Chains, increase the possibility for China to blockade, inhibit, or force the hand of its Asia-Pacific neighbors if a crisis emerges. Emplacing Signals Intelligence (SIGINT), Electronic Warfare (EW), and SAM assets on these islands sets conditions for China to be able to enforce stronger coercive options. Granted, these systems function perfectly in theory, and in the absence of outside interference, but will be stressed by the offensive capabilities of the U.S. and their allies in the event of an escalating conflict. A blockade or any sort of crisis places in jeopardy trillions of dollars in trade that pass through the South China Sea each year. The likelihood of a large-scale action is unlikely; however, smaller disputes have the potential to erupt if left unchecked.
Conclusion
The Chinese strategy is to probe, test, and normalize its economic and military efforts while reinforcing a strategic message characterizing these operations and policies as normal part of statecraft. Actions by the U.S. and other regional stakeholders have been unsuccessful in bringing about significant changes to the current dynamic. FONOPs by the U.S. Navy are met with stern rebuttals from Beijing, but do little to change Chinese policy. The continued Chinese development of artificial islands in the South China Sea will offer a jumping off point for both civil maritime and military operations. This also adds a geographic buffer zone against Western influence. So far, none of the artificial islands are assessed to be capable of handling a deep-water port limiting the amount of force projection capability the islands can provide.  However, Beijing has more options should the deployment of its submarine fleet from the Sanya base in Hainan require additional coverage. The buildup of the island and the capability does not greatly increase China's force projection capability, but it does offer something more valuable – a permanent foothold in South China Sea. The U.S. has few options which may alter Beijing's path but the longer this policy goes unchecked the more dug in reality becomes. Countering the Beijing narrative is crucial but concrete steps must be taken by the U.S. and the ASEAN countries before these small outposts become bigger militarized stepping stones.
Brandon Hughes is a Senior Regional Analyst-Asia for Planet Risk and has previously worked with the U.S. Army, the Carnegie-Tsinghua Center for Global Policy, and Asia Society. He is a combat veteran and has conducted research on a wide variety of regional conflicts. 
This article appears courtesy of CIMSEC and may be found in its original form here.