https://www.thenews.com.pk/latest/212946-Naval-Chief-spends-a-day-with-troops-at-coastal-areas-of-Balochistan



Web Desk
June 25, 2017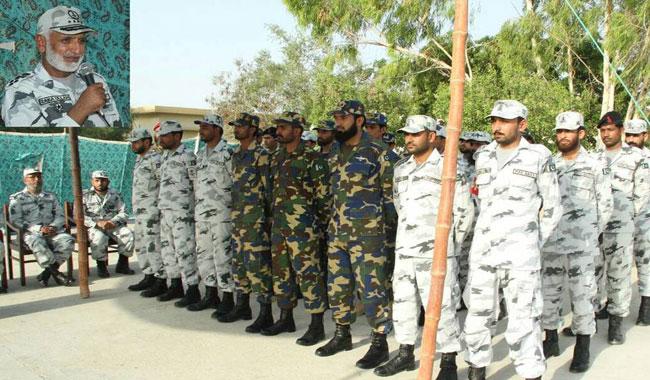 KARACHI: Chief of the Naval Staff Admiral Muhammad Zakaullah spent a day with Pakistan Navy troops deployed in coastal areas of Balochistan, comprising Jiwani, Pasni, Gwadar and Ormara.  
Admiral Zakaullah visited naval installations at Jiwani and interacted with the officers and men. During interaction, the Admiral applauded their professionalism and dedication in safeguarding the maritime frontiers of the country.  
While citing the recent terrorist attack on PN vehicle, the Naval Chief said that cowardly acts of terrorism cannot dent our morale and no stone will be left unturned to neutralize the country from all forms of terrorism.  
Subsequently, Chief of the Naval Staff went to Gwadar where he had Iftaar with PN personnel stationed at Gwadar port and other PN units.
The Naval Chief, while lauding professionalism and commitment of the deployed troops, expressed his entire satisfaction on the port security measures and operational preparedness of PN in area of responsibility.
Later in the evening, Chief of the Naval Staff Admiral Muhammad Zakaullah visited Jinnah Naval Base Ormara and spent night at Base. In the morning, the Naval Chief had Sehri with troops. During interaction with the troops, Admiral Muhammad Zakaullah expressed his satisfaction over their Operational readiness and preparedness.
Later, he visited Pakistan Navy ship Muhafiz and boarded PNS Shamsheer where he also had detailed interaction with officers and men while at sea. The Naval Chief highly appreciated their dedication and devotion to the duty in order to make Maritime frontiers of the country impregnable