https://www.thenews.com.pk/print/192537-CPEC-will-have-vast-connectivity-with-Chinas-One-Belt-One-Road-strategy-CM


March 16, 2017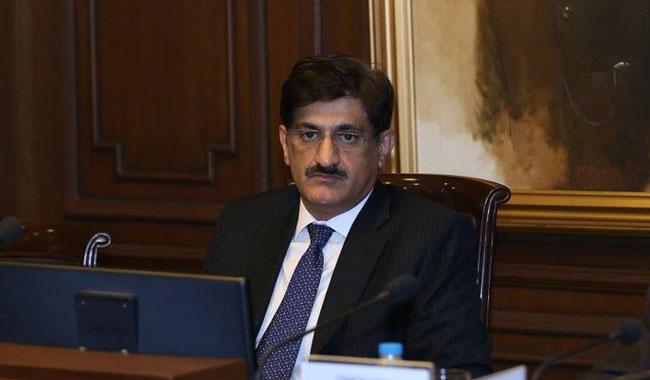 The Sindh chief minister said on Wednesday that the China-Pakistan Economic Corridor was not simply a road from China to Gwadar but would have vast connectivity with other projects of China's One-Belt-One Road initiative.
Speaking at a seminar titled 'CPEC', Murad Ali Shah said China had worked a 1,000-year plan known as the One Belt-One Road initiative through which it would connect over 64 countries physically, commercially and culturally.
He said the Southern Corridor began from Guangzhou, a city in South Central China. This route connects Kashghar with Pakistan at Khunjarab. The Central Corridor starts from Shanghari and connects with Tashkant, Tehran and onwards to Bandar Imam Khomeini on the Persian Gulf.
One of its branches goes towards Europe up to France. The Northern Corridor starts from Tianjin and Beijing passes through Moscow and links it to European cities, Berlin and Rotterdam, Netherlands.
Talking about the benefits of the CPEC, the chief minister said that China's sea trade dependency on the narrow sea channel of the Strait of Malacca in Malaysia would end here as Pakistan would provide an alternative land route for Chinese trade. The travel time would reduce between Xinjiang province in China and the Middle East through Gwadar.
Giving a break-up of the allocations for different projects of CPEC, Shah said the energy sector-priority (10,400MW) had an allocation of $15.506 billion, the energy-active (6,645MW) $18.287 billion, roads (832 kms) $5.900 billion, rail (1,736 kms) $3.690 billion, Gwadar (sea, air, land links) $0.662 billion, transportation (Orange Line) $1.600 billion, cross-border optic fibre system $0.044 billion, the DTMB Pilot $0.002 billion. The total comes to $45.651 billion.
The chief minister said nine CPEC energy projects were based in Sindh. They are the PQA Electric Company (coal-fired) 1,320MW, the SECM coal mine Block-II Thar coal field 7.6mtpa, the SSRL Thar Coal Block-1 6.5mpta, the CPIH 1320MW power plant in Thar, the 50MW Dawood Wind Farm Bambhore, the 100MW UEP Wind Farm Jhimpir, the 50MW Sunnec Wind Farm Jhimpir and the 1,320MW Oracle Thar coal mine and power plant.
The chief minister said he had attended the JCC meeting in December last year in China in which he successfully managed to include three important projects – the Karachi Circular Railways costing $2.609 million, the Keti Banadar Power Park including its transmission line, road, railway and jetty worth $5,000 million and the Dhabeji Exclusive Economic Zone for which a feasibility study was under way.
"These projects will not only change the face of Karachi, but of the entire province in terms of transport facilities and power generation.
The chief minister said that he was working hard on these projects. "Sindh has also launched its transmission and despatch company which would transmit power from Nooriabad to Karachi for K-Electric and we are going to inaugurate it shortly," he announced.
The chief minister said he had the honour of being associated with the CPEC from the time when it was conceived and now he was part of its implementation process. "Its largest portfolio is energy sector which is bigger in terms of the allocation of funds."
Shah said the spade work of CPEC was carried out by former president Asif Ali Zardari and Prime Minister Nawaz Sharif had signed the MoU for CPEC in July 2013, just after two months in power.
"Therefore, we say that the wisdom of our leadership, our hard-work and our close relationship with China that founded by Shaheed [Zulfikar Ali] Bhutto and cemented by Shaheed Benazir Bhutto and Asif Zardari translated into the CPEC, a mega project and a game changer in our economy and strength."
Sindh governor Mohammad Zubair, MNA Dr Farooq Sattar and the consul general of China also spoke on the occasion