http://balochwarna.com/2017/02/28/balochistan-two-women-and-a-child-killed-in-kahaan-military-attacks/



about 16 hours ago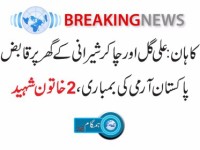 QUETTA: Pakistan forces have been carrying attacks several areas of Kohistan Marri including Kahaan in past five days. At least four people including two women and a child have been killed.
According to details, Pakistan forces backed by gunship helicopters have been pounding several areas of Kahaan Balochistan.
At least two women and an 8-year-old child were killed during attacks on the houses of Ali Gull Sherani Marri and Chakar Sherani Marri in Sabzbadi region of Kahaan.
Another two women and two children have been wounded because of indiscriminate bombardment on their houses.
Meanwhile, sources told Balochwarna News on Tuesday that the military attacks continued for the Fifth consecutive day.
The most affected areas include Peeshi, Shehaji Tall, Nisao, Soren Kaor and other adjoining regions.
A mutilated and badly burnt dead body was found from Shehaji Tall area of Kahaan on Tuesday. The body could not be immediately identified because of disfigurement.
Moreover, a 10-year-old nephew of Chakar Sherani Marri succumbed to death on Tuesday morning. He was wounded on Monday when Pakistani forces bombed their houses.
Several people have reportedly been arrested and taken to undisclosed locations.
"The number of dead and wounded may rise given the intensity of air strikes and heavy shelling on villages," a source from Sibbi told Balochwarna News.
However, the affect areas are still under military attacks and siege. The military blockade and lack of communication, it is difficult to report the exact happenings in those far-flung regions.
Many houses have been set on fire and hundreds of livestock of the Baloch villages have been looted and taken away by Pakistani forces